UK broadband speeds continue to climb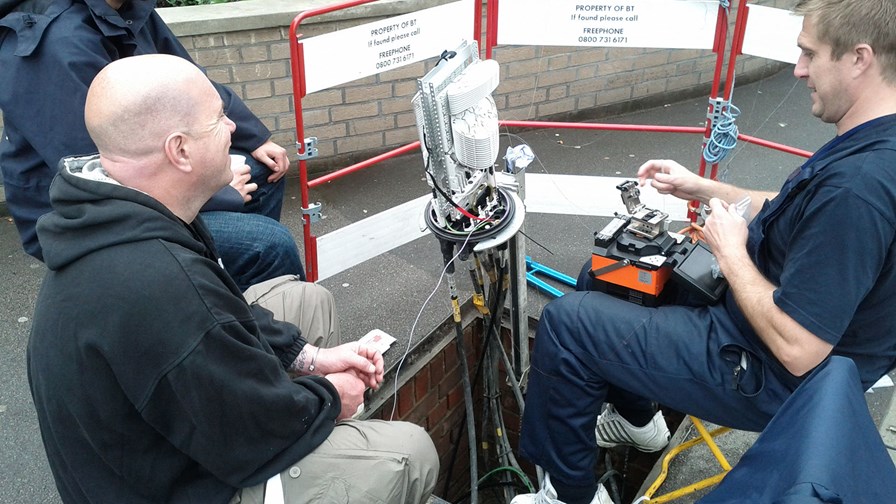 More good news for UK broadband customers, as service speed and availability of FTTC continue to increase, although ADSL still accounts for more than two-thirds of all connections. Plus, York is about to become the UK's first gigabit city.
The average actual fixed-line residential broadband speed in the UK is now 17.8Mbit/s, according to new research from telecoms and media regulator Ofcom, up from 12Mbit/s a year ago. The measurements were taken in November last year, from consumers' actual broadband connection speeds, as opposed to the inevitably misleading headline advertised speeds. A total of 735 million separate test results were recorded in 2,391 homes.
Now in its tenth year, Ofcom's annual report (PDF link) revealed that one in four UK residential fixed broadband connections is now classed as 'superfast' (offering headline speeds of 30Mbit/s or more), and that the average superfast connection speed is now 47.0Mbit/s.
The average download speed of FTTx connections was 42.9Mbit/s, in contrast to the average ADSL speed of just 6.7Mbit/s – although ADSL remains the main broadband delivery technology, accounting for 69 per cent of UK residential broadband connections. The average download speed of residential cable broadband connections increased by 5Mbit/s in six months to 40.2Mbit/s, largely a result of Virgin Media having now completed its 'double speeds' upgrade programme.
But as usual, it's the rural areas that suffer. Whilst the average urban download speed is now 31.9Mbit/s (up 21 per cent since May), average speeds in rural areas increased from 9.9Mbit/s to 11.3Mbit/s in the period. Of course, getting a download speed of over 11Mbit/s is pretty reasonable for most uses, although not so good if you are a rural home-based business that increasingly relies on access to the web for your revenues.
Then there's also the fact that 'rural' is something of a catch-all definition for anything smaller than a mid-sized town. So much depends on the distribution of exchanges and their coverage areas – ADSL speeds reduce as the distance from a home to the nearest enabled telephone exchange increases – and the availability of superfast broadband services.
Problems with slower broadband speeds are not just confined to rural communities but can also affect urban areas. Ofcom will be publishing research into the issue of urban broadband variability later this year.
"The growth in superfast broadband and the rise in average speeds is testament to the investment in the sector, but the benefits are not shared evenly across the UK," said Ed Richards, Ofcom CEO. "There is more work needed to deliver wider availability of broadband and superfast broadband, particularly in rural communities but also in some locations within cities to enable wider access to fast internet."
The UK government has made improving speeds in rural areas a priority and has committed funding to ensure superfast broadband is more widely available across the UK. It has reported it is on course to reach 90 per cent superfast coverage by early 2016 and recently announced an extra £250 million investment to extend superfast coverage to 95 per cent of premises by 2017.
Broadband uploads
Ofcom's research also examined upload speeds, which are particularly important to those consumers or home-based businesses (especially the increasing number of companies that rely on a distributed network of home workers) needing to share large files or use real-time video communications. Average actual upload speeds increased to 2.3Mbit/s in November 2013, an increase of 0.5Mbit/s compared to the 1.8Mbit/s recorded in May. However, the research found that fibre connections with headline download speeds of 'up to' 76Mbit/s delivered the fastest upload speeds at 17.4Mbit/s on average.
There are, of course, other factors that affect users' actual broadband speeds. A lot depends on the home network, especially where wi-fi modems are concerned. How many people rely on a single, direct Ethernet connection to their router? Probably a very low percentage. Ofcom's tests, conducted with the excellent Sam Knows monitoring company, used a dedicated piece of hardware that plugged into the router. When you introduce wi-fi, multiple concurrent applications, and mixed versions of the wi-fi standard, you will inevitably see your actual speeds (per device) fall.
And it's not just the free wi-fi modems or routers that service providers tend to hand out that's the problem (although they certainly don't help and by and large should be consigned to the dustbin). For example, in May 2012 Ofcom discovered anomalous results from a number of BT Infinity FTTC connections, where download speeds fell to less than 1Mbit/s at certain times. BT found that the low speeds were due to a software problem with some of its Home Hub routers, which has now been resolved.
For a consumer who wants to maximise their broadband availability, it's not just a case of plug and play. It's very difficult to audit your home use; checking all of your devices, avoiding weak signal spots, ensuring channel separation, maximising dual-band coverage, and so on. It's far easier to simply start with as much broadband capacity as you can get, and then accept that you will end up losing some of it. The trouble is, you are paying for the full amount.
Perhaps Ofcom can help out?
Gigabit cities
Meanwhile, residents of the fabulous City of York (yes, I am biased…) will soon be able to benefit from a 1Gbit/s network. Sky and TalkTalk are collaborating with CityFibre to create a new company that will deliver FTTP broadband services in the city. The new network will be based on CityFibre's existing metro fibre infrastructure, with Sky and TalkTalk offering competing retail broadband services from 2015.
The new network will be built by Fujitsu and be fully independent from BT Openreach's infrastructure. Once completed, it will be the UK's first city-wide gigabit network.
"This announcement makes York the digital infrastructure capital of the UK," said James Alexander, Leader of City of York council. "Gaining ultra fast broadband across the city is a huge boost for our economy; providing significant new opportunities for businesses based here and better quality and value to our residents."
All parties intend to offer a similar service to two further cities in the UK, as yet unnamed.
Email Newsletters
Sign up to receive TelecomTV's top news and videos, plus exclusive subscriber-only content direct to your inbox.