Telstra stuck between a rock and hard place on fixed broadband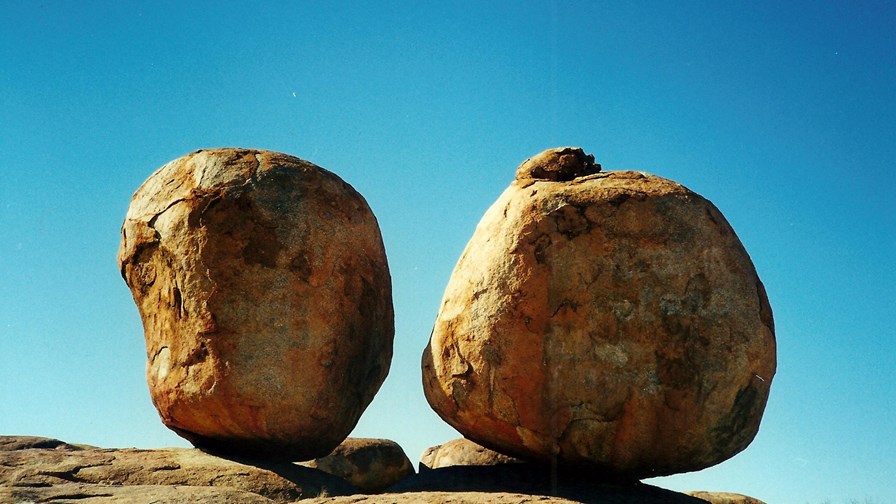 NBN migration hits Australian telco's numbers
CEO Andy Penn has "20 bucks" per fixed broadband customer after NBN cost
Renews calls for lower wholesale prices
Threat of retail price rises seems unlikely in short term
The cost associated with connecting customers to Australia's National Broadband Network is taking its toll on Telstra's fixed broadband operations and frankly there's not a lot CEO Andrew Penn can do about it.
Telstra – and its rivals – are left with around A$20 to spend on each fixed broadband customer once the cost of NBN connection is taken into account and as a result the prospect of making any margin in the broadband business is diminishing, Penn claimed on Thursday, as he presented Telstra's latest set of half-yearly financials that showed declines in both revenue and profit, attributable in no small part to NBN migration.
The Australian incumbent's net profit for the first half of the current financial year fell by 27.4% on the year-ago period to A$1.2 billion, while EBITDA slid by 16.4% to A$4.3 billion and revenues were down by 4.1% to A$13.8 billion. Fixed revenues fell by 9.3% to A$2.68 billion due to NBN migration, competition and ongoing legacy decline.
"On the fixed side, margins look as though they're going to zero," Penn said, due to the wholesale prices Telstra is having to pay to connect customers to the NBN. "That's not sustainable," he said. "An industry which is not making any money at all from fixed broadband customers is not a good thing."
Telstra's average bundle ARPUs on fixed broadband at present are around A$75, Penn said. Meanwhile, NBN's target ARPU is A$51, which, while clearly not being the same as price, is a decent metric to work from, he said. "That basically means that there's about 20 bucks or a little over...for any fixed operator to cover off the cost of sales, the stores, the cost of service, quite often modems and those sorts of things as well, and putting all the arrangements in, and that's why essentially all the margins are under this sort of intense pressure."
NBN reduced its target ARPU to A$51 by 2022 in August, having previously aimed for A$52 by the same date. It is worth noting that it reported ARPUs of A$44, up from A$43 the previous year, in its most recent annual report. It believes the rise will come from an increase in willingness to pay on the part of end users, as well as growth in take-up of higher-speed plans, data consumption, and penetration in the SME segment.
Waiting game
The dynamic has to change...and "I believe in the long-term it will," Penn said. But in the meantime, his options are limited as to how to tackle the problem.
At present there doesn't seem to be any great incentive for NBN to reduce its prices – it too has ARPU targets it is looking to hit – and certainly not to the level Telstra is looking for; Penn told ABC News that he wants to see prices come down by more like A$20 than A$2.
That leaves it up to the retailers to figure out how best to monetise their services, which, let's face it, is their job after all. But it is a new position for companies like Telstra, which is used to controlling both the wholesale and retail side of the business.
Penn might be keen to use the threat of retail prices to try to force the government's hand and/or garner public support for his situation; "Ideally what we don't want to see is increased fixed-line prices for customers, but that's inevitably what will happen if the input costs broadly stay where they are." Realistically, though, it's not an option that is open to him at present...or certainly not a palatable one. The competitive dynamic in the market at present gives the retailers very little wiggle room.
There are more than 100 retailers offering services based on NBN. While big names like Telstra, Optus, TPG Telecom and Vodafone account for a sizeable share of customers, there are numerous small players offering attractive bundles in a bid to lure customers. Raising prices against that backdrop is not a tempting prospect.
History suggests that a margin squeeze could well drive out more of the smaller players – indeed, some have already fallen by the wayside – leaving the likes of Telstra with scope to look at it pricing strategy. But in the meantime, it's something of a waiting game.
THE TRANSFORMATION JOURNEY: TELSTRA
Telstra is facing challenges in its core telecoms business but is pushing ahead with initiatives designed to mitigate the impact of those challenges and position it for future growth.
TELSTRA, IN ITS OWN WORDS...
Telstra unveiled T22, or its latest three-year strategic plan, last summer, building on a plan it announced two years earlier to spend A$3 billion on digitising the business and rolling out future networks. Under T22, amongst other things it aims to simplify its product offerings and customer experience based on digital platforms; it says it is on track to reduce the number of consumer and small business plans to 20 by the end of the current financial year.
THE TELECOMTV VIEW
Telstra is making the right noises about the digitisation of the network and creating all-digital experiences for customers, but the main focus of its T22 plan is cost-cutting.
The company is embracing new areas, through IoT for example, announcing various new services and partnerships over the past year or so. It is doing a good job of talking up its ventures outside of the core telecoms space, but ultimately it is difficult to point anything that sets it apart from any other major telco. Telstra is heading in the right direction but has some way to go.
TRANSFORMATION JOURNEY MILESTONES
September 2018
Telstra Broadcast Services adds new partners to the Telstra Global Media Network (GMN)
July 2018
Merger of investment arm Telstra Ventures with global private markets investment specialist HarbourVest to create a new technology-focused fund.
June 2018
Launch of Telstra2022 (T22) strategy designed to simplify operations, improve customer experience and reduce costs.
January 2018
Formally announces deployment of narrowband technology in IoT network, opening up connectivity to range of new devices
November 2017
Acquisition of GPS and telematics fleet management solutions provider MTData
KEY DATA
FY 2018 (year to end-June)
Revenues: A$29 billion (up 3%)
EBITDA: A$10.1 billion (down 5.2%)
Net profit: A$3.5 billion (down 8.9%)
CEO: Andrew Penn
Email Newsletters
Stay up to date with the latest industry developments: sign up to receive TelecomTV's top news and videos plus exclusive subscriber-only content direct to your inbox – including our daily news briefing and weekly wrap.