Remote Cornwall is now one of the best-connected rural economies in the world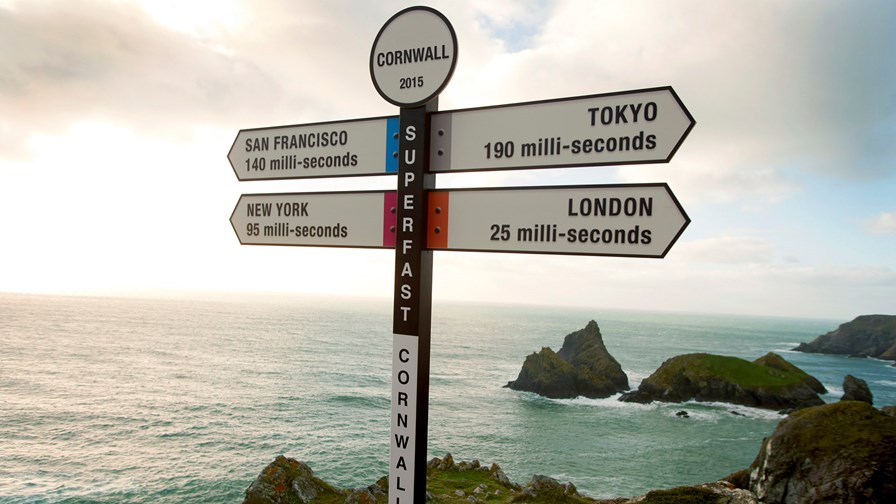 In the UK one of the big TV hits of the year to date has been 'Poldark', now being shown around the world and bringing the remote county and Celtic nation of Cornwall to the attention of a global audience. The beautifully filmed bodice (and shirt) ripper is set in a fantasy 18th Century Far West of England where it seldom rains, peasants dance in the fields and at night a full moon gleams of a shining silvery Atlantic Ocean for months on end.
The programme (a second series is already in production) has pushed up the price of property in parts of a beautiful, predominantly rural and often neglected county where jobs are scarce, wages are low, prices are high, travel is difficult, infrastructure is creaky and locals, especially the young, are often excluded from the property market by wealthy metropolitan incomers who pay ludicrously over-the-odds prices for quaint country or coastal cottages and then live there only a few weeks a year.
No, it's not all beer and skittles in Kernow, or even cider and sardines. The county needs all the help it can get, not least in the provision of broadband infrastructure and affordable Internet access that will allow the county to have meaningful, ubiquitous access to the digital economy and the electronic services that are now commonplace in other parts of the UK.
And now new independent research published by Plymouth University and Buckman Associates shows that "Superfast Cornwall" a fibre-optic broadband initiative funded by the troika of Cornwall Council, the EU and BT, has resulted in 95 per cent of Cornwall and the Isles of Scilly (an archipelago 28 miles off the southwestern tip of the Cornish peninsula) now having fibre broadband coverage. That has created 4,500 jobs and boosted Cornwall's economy by close to £200 million. That is forecast to increase to £250 million by next year when hundreds if not thousands of business presently without broadband will join the 12,000 Cornish enterprises that are already connected to and enjoying the benefits of being connected to the new network.
Broadband business
"Superfast Cornwall" has been running since 2010 and has well-and-truly beaten all its original targets and in the process has overseen the creation of one of the best-connected rural economies in the world.
The original research was conducted by SERIO at Plymouth University and involved more than 2,000 separate survey responses and is believed be the UK's most advanced piece of research to date into the economic impact of fibre broadband.
Of the Cornish enterprise respondents connected to superfast broadband for a minimum of a year, 79 per cent said that their business performance has improved as a result while 49 per cent said broadband had enabled them to develop new products and services. Overall the superfast broadband connected businesses showed an average of more than four times more growth in revenues over the same period than non-connected businesses.
Some 258,000 residences and businesses in Cornwall are covered by the open access high-speed network built by BT Openreach. More than 67,000 homes and enterprises are now connected, through 60 different internet service providers.
Supply and demand
The net result is that Cornwall is experiencing some of the highest take-up of fibre technology found anywhere in the UK while some areas that were upgraded early in the project are seeing take-up in excess of 40 per cent.
Nigel Ashcroft, the Superfast Cornwall programme director for the Cornwall Development Company, the economic development arm of Cornwall Council, commented, "This is great news for the Cornwall economy and it vindicates the brave decision by Cornwall Council over five years ago to invest in partnership with BT and the EU on a superfast broadband project, far ahead of most other areas in Europe. We always had faith that faster broadband would be a catalyst for growth, innovation and prosperity – but the scale of the progress we're making is now both unquestionable and staggering, which shows just what can be achieved through partnership and collaboration. Cornwall is attracting great investment and talent because it has the natural beauty and digital infrastructure to compete with anywhere in the world."
He added, "Whilst 95 per cent coverage is a remarkable achievement for Cornwall, we have not forgotten about the remaining most rural and hardest to reach five per cent, which is why the council recently announced a further project that aims to bring access to superfast broadband to at least 99 per cent of premises in the region."
Email Newsletters
Sign up to receive TelecomTV's top news and videos, plus exclusive subscriber-only content direct to your inbox.