Ofcom provides evidence of broadband growth as voice revenues decline
UK regulator Ofcom has published two reports that seek to place the country's internet economy in context. From Ofcom's findings, it believes the UK leads the EU's five biggest economies for broadband take-up, usage and "superfast" broadband coverage, and its internet economy is generally one of the strongest in the world.
Total retail telecoms revenues increased 1.7 per cent to £613 billion across Ofcom's 18 comparator countries in 2013. Mobile services contributed 66.4 per cent of retail revenues in the year, while fixed voice revenues decreased by 8.4 per cent to £100 billion. Fixed broadband revenues increased by 8.9 per cent to £106 billion. Total mobile voice revenues were down 4.1 per cent to £232 billion, despite mobile voice call volumes being up 7.5 per cent. Mobile data revenues (including SMS) increased by 13.3 per cent to £175 billion.
Monthly telecoms revenue per capita in the UK was £37, which was higher than all of its measured European competitors. However, Australia (£58), Japan (£56), Singapore (£51), the US (£47) and Sweden (£39) lead in absolute terms. Interestingly, all those countries also have significantly higher 4G penetration, in terms of a percentage of all mobile connections (20, 22, 24, 23 and 11 per cent respectively) compared to the UK's rather paltry 4 per cent.
Ofcom defends the UK's record on 4G, despite being late to the auction party, by saying that the biggest 4G deployments are in those countries with high population concentrations, such as Singapore and Sweden, but that the UK is catching up with a 46 per cent gain between 2012 and 2013 to reach 63 per cent of the population.
Ofcom also found that mobile data use had increased across its survey group. In 2008, it noted that the average mobile data use was 70MB per month per connection, but by 2013 this had increased to 426MB. In the UK, the average is 251MB, but this is swept into insignificance by Sweden, which boasts a staggering 2.3GB per connection per month.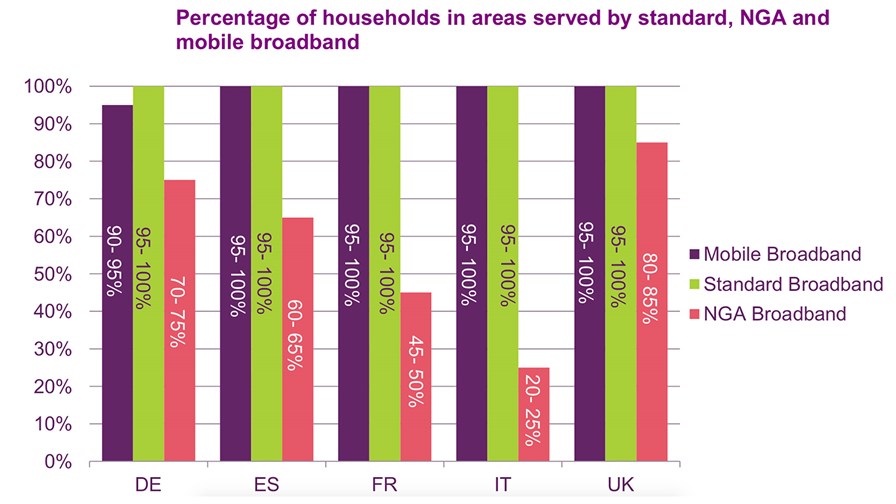 The UK also has the highest coverage of superfast broadband (download speeds of 30Mbit/s or more) among Europe's five leading economies – France, Germany, Italy, Spain and the UK – with nearly eight in 10 homes able to access superfast broadband.
Ofcom says that the UK's Next Generation Access broadband coverage has risen from up to 75 per cent of households to 85 per cent in a year because of the result of infrastructure programmes by commercial network operators and the Government's broadband investment programmes. BT Openreach and Virgin Media's networks account for over 99 per cent of all homes passed by superfast broadband. The UK Government has committed to funding the further expansion of 24+Mbit/s broadband coverage and has made funding of £530 million available, with the aim of achieving coverage of at least 95 per cent by 2017.
Not surprisingly, given the legal requirement to bundle a fixed-line phone with broadband, the UK's fixed-line penetration has remained unchanged for five years, at 59 per cent, despite falls elsewhere in the world.
Ofcom also believes that the UK has the highest e-commerce spending among the nine major nations surveyed (UK, France, Germany, Italy, the US, Japan, Australia, Spain and China), with consumers paying almost £2,000 on average online for goods each year. This was significantly higher than the next-highest valued market of Australia, at £1,356 per head. Related to this, 40 per cent of advertising spending in the UK is online, which is more than any of the other countries analysed.
"The internet has never been more important to the lives of people in this country, and the demand for better connections keeps rising," said Ed Richards, Ofcom Chief Executive. "We are making significant progress in this area, as these country comparisons illustrate. However, we all acknowledge that there is more to do, and this will be the challenge for the coming years."
The UK communications sector, which includes telecoms, TV, radio and the good old postal service, had collective earnings of £1,205 billion in the year, with 2.1 per cent annual growth. Telecoms had the largest revenue growth, up £18 billion to £842 billion.
Both reports are available to download for free: the International Communications Market Report and the European Broadband Scorecard.
Email Newsletters
Stay up to date with the latest industry developments: sign up to receive TelecomTV's top news and videos plus exclusive subscriber-only content direct to your inbox – including our daily news briefing and weekly wrap.