Facebook takes to the skies with Aquila to deliver Internet.org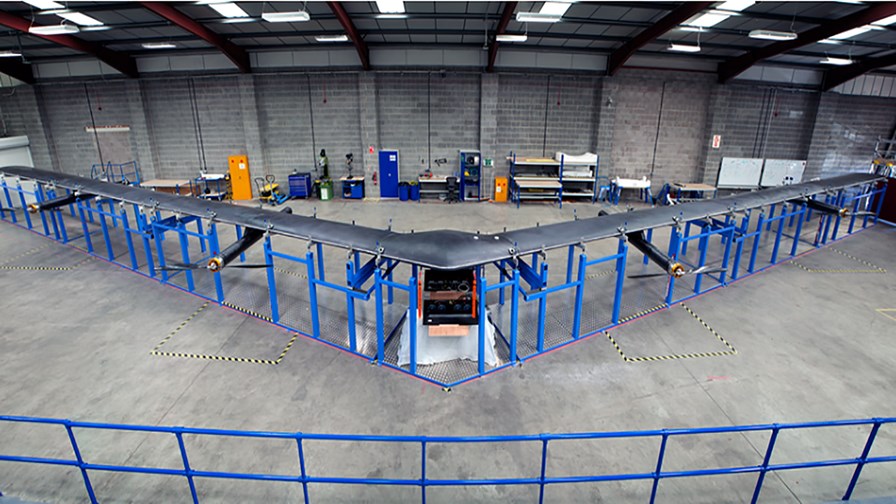 10% of world's population live in areas without internet infrastructure
Laser-targeted communications to multiple Aquila drones
90-day flight duration for pilotless drone
Laser communications of 10s of GB at 10 miles
You've got to hand it to Facebook CEO Mark Zuckerberg; when he has an idea, he pursues it. Case in point is his Internet.org initiative to connect the unconnected – some 4 billion people, according to the company. It went down like the proverbial lead balloon when it was first announced, with telcos less than impressed with this latest OTT scheme. But since his keynote at MWC this March, Zuckerberg is beginning to make new friends in the telecoms community, although the idea of zero rating selected services (er, Facebook perhaps?) is still proving rather unpalatable to many.
Facebook has announced two new milestones in its grand scheme for circumventing the traditional approach to internet delivery, using airborne routers to provided connectivity to remote locations. Whilst some of the four billion unconnected live within range of cellular coverage, Facebook calculates that 10 per cent of the the world's population lives in regions with no cellular, fibre or copper cable, and the rollout of this traditional infrastructure may be a challenge to deploy cost-effectively in these regions.
"Our goal is to accelerate the development of a new set of technologies that can drastically change the economics of deploying internet infrastructure," said Jay Parikh, VP of Global Engineering and Infrastructure at Facebook's Connectivity Lab. "We are exploring a number of different approaches to this challenge, including aircraft, satellites and terrestrial solutions. Our intention is not to build networks and then operate them ourselves, but rather to quickly advance the state of these technologies to the point that they become viable solutions for operators and other partners to deploy."
Stratospheric base stations
It's first announcement is Aquila – the high-altitude, long-endurance aircraft designed by Facebook's aerospace team in the UK (who know there was such a team?). A full-scale version of the pilotless solar-powered drone has now been constructed and is ready for flight testing. Aquila has the wingspan of a 737 commercial aircraft but weighs hundreds of times less. When deployed, Facebook's team believes it will be able to circle a remote region for up to 90 days, providing connectivity to people on the ground from an altitude of 60,000 to 90,000 feet (which, incidentally, is double the cruising altitude of the 737, and pretty much at the edge of space).
Meanwhile, Facebook's laser communications team in Woodland Hills, California, has designed and lab-tested a laser that can deliver data at 10s of Gb per second (they haven't given precise details) to a target the size of a coin from more than 10 miles away. The Connectivity Lab team is now starting to test these lasers in real-world conditions. When finished, the idea is that the laser communications system can be used to connect to an Aquila aircraft, which will then communicate with other craft in the stratospheric network, and each plane will then use wireless technology to provide data coverage to the remotest regions of the world.
"We still have a long way to go in this work, but we are excited by our early progress," said Parikh. "And much like we've done with the Open Compute Project, we plan to engage with the broader community and share what we've learned, so we can all move faster in the development of these technologies."
Sounds far-fetched? Perhaps, but don't underestimate the resolve and determination of the cash-rich internet entrepreneurs to push the rate of technological advancement in areas which have traditionally been seen to be prohibitively expensive and not cost effective. If Elon Musk can do, so too can Mark Zuckerberg.
Incidentally, the knowledge graph on Google Search cites Elon Musk's occupation as "Business Magnate", which is rather appropriate and friendly, but poor old Mark Zuckerberg has to make do with "Computer Programmer". Let's hear it for the open Internet, free of proprietary interference, yeah!
Email Newsletters
Sign up to receive TelecomTV's top news and videos, plus exclusive subscriber-only content direct to your inbox.