BT connects first customers in its G.fast broadband trial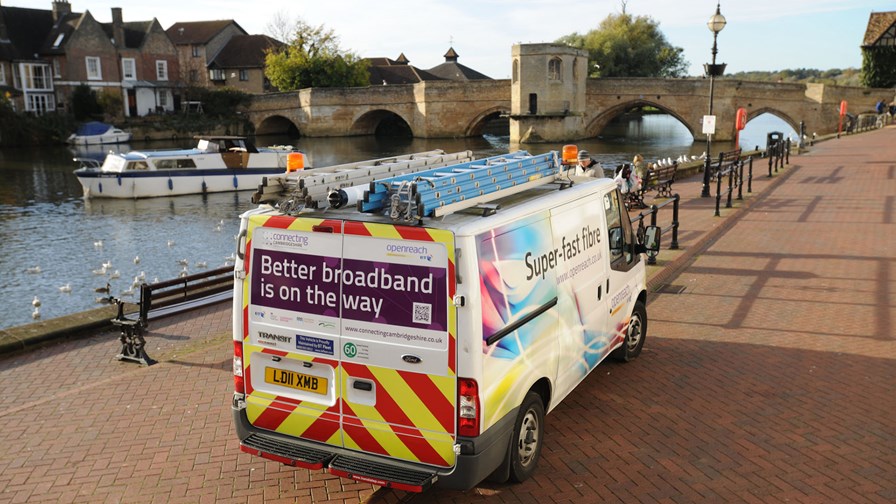 G.fast trials to 2,000 premises
Commercial deployment planned for 2016/17
Target of 500Mbit/s by 2025
UK telco BT has announced that residents of the Cambridgeshire market town of Huntingdon have became the first in the UK to take part in the field trial of G.fast technology. Two thousand homes and businesses will be covered by the trial, delivered by Openreach and open to all ISPs, delivering speeds of up to 330Mbit/s.
If the trials prove successful (and there's another planned for next month in Newcastle), then Openreach plans to start deploying G.fast in 2016 and 2017 alongside its FTTC and FTTP services. However, there's a caveat – BT notes that UK regulation must continue to encourage investment. In other words, hands off Openreach, do not separate it fully from BT, and we'll continue to work on broadband upgrades. Otherwise, we have a problem…
BT also added further detail to its deployment plans, and now says that G.fast will enable it to make speeds of "a few hundred megabits per second available to millions of homes by 2020" and deliver "up to 500Mbps to most of the UK within a decade" as the technology is developed further. So, not exactly Gigabit UK then, even by 2025. TelecomTV is filming an interview later today with Mike Galvin, MD of Service Strategy and Operations with BT, and we'll be putting this point to him. It should be on the TelecomTV website later this week.
"We want to stay ahead of the competition and so it's good to see this continued investment and innovation in the industry," said Joe Garner, CEO of Openreach. "Today is the start of a new chapter in building Britain's connected future. This is the largest trial of G.fast technology in the world and it builds on the pioneering research of BT's world-class R&D teams."
Open trials from Openreach
The trial will run for between six and nine months, allowing Openreach, and its eight communications provider trial partners, as well as BT's R&D division, to assess the technical performance of the technology across a large footprint. Various methods of deployment will be used to provide an insight into how the technology can be used on a day-to-day basis, including how usage might grow over time.
"We conducted the world's first G.fast trial in 2013, and our experts have been heavily involved in creating global industry standards for this technology," added Garner. "We're now eager to support all our service providers in learning how customers enjoy the service. The people of Huntingdon will play an extremely important role in helping us gauge how the technology performs, and how we might deliver ultrafast speeds to more of the UK over the coming years."
BT has pioneered research into G.fast technology since 2007 and has been heavily involved in driving the creation of the ITU-driven global industry standards in that time. It is working on the trials with Adtran, Alcatel-Lucent and Huawei, and also with chipset manufacturers and global standards bodies.
Back in May, BT moved its G.fast its trials away from the safety of its labs at Adastral Park in Suffolk to real-world conditions in Swansea, although this was limited to 100 premises in apartment blocks and business offices.
BT has already demonstrated downstream speeds of 786Mbit/s with upstream speeds of 231Mbit/s. However, the copper lengths involved were a mere 19 metres, which shows how G.fast is ideally suited to closely-packed premises that are next door to a street cabinet – increase the distance and performance falls off a cliff.
Email Newsletters
Sign up to receive TelecomTV's top news and videos, plus exclusive subscriber-only content direct to your inbox.