Broadband provider offers a free Chromecast - the cheapest way to triple play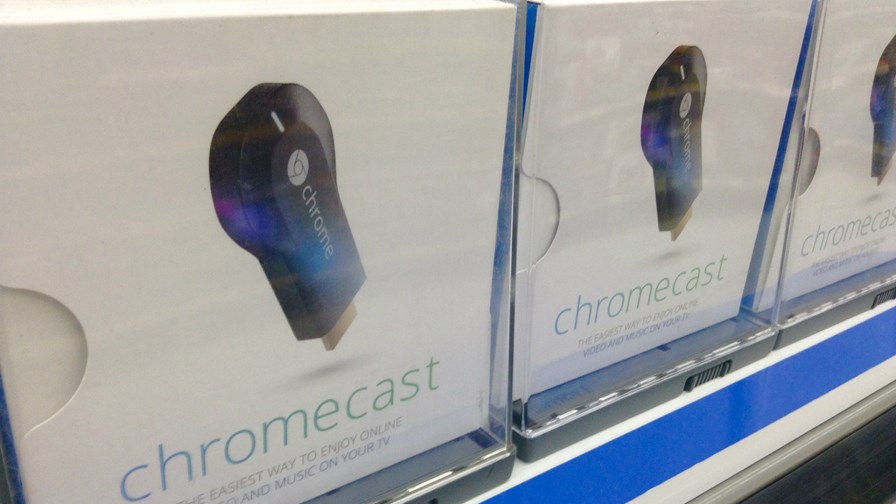 How's this for a bare-bones multi-play? New Call Telecom, which claims it's the fastest-growing UK residential telecoms company, is folding video into its DSL/voice offering via a free Google Chromecast gizmo it's providing to each new customer. Users will be able to stream content via their broadband/WiFi router to their television sets. Cost-effective and increasingly appropriate triple play.
The offer is the standout element in the £2 per month unlimited package which, because the competition is so fierce in the UK, New Call must follow, says Nigel Eastwood, New Call Telecom CEO.
As its name suggests, the company does residential calls and broadband and it unbundles BT's copper, mostly through wholesale deals with other UK competitive players. The broadband is a recent renaming and repositioning exercise, launched in October 2014 under the Fuel Broadband brand. Customers get the first 6 months at £2 and then £4 for the remaining part of a year's contract in addition to the usual monthly line rental charge (around £16). This is a murderous market to currently be in but Nigel Eastwood says he's positioning New Call for the future when the smartphone equipped millennium market gets a little older, buys or rents housing and looks for an appropriate broadband provider.
"I saw how the market is going in the US," he told me. "There you can see the rising consumer habit of downshifting away from old fashioned home phone line and cable (linear TV) and going more for video-on demand. So rather than us going into a me-too business by adding some sort of conventional video and content option in the UK, we're going to stay more attuned to the millennial generation and as they grow up and become home-owners."
For that reason New Call is reluctant to go all 'yoof-oriented' in the way it markets its services (it's not aiming to be a fixed-line Giffgaff). It's customers will be savvy ex-millennials on the look-out for a straight-forwardly good deal majoring on simplicity and transparency.
So what about doing something fancy for this savvy market then? Apps perhaps? Cut-rate WiFi calling, or will that simply cannibalise your existing calls business?
"Well, New Call already has plenty of capabilities in the app area through the other arms in our group," says Nigel, "and we're certainly prepared to launch WiFi calling. In the long run you win by staying just in front of the market."
Email Newsletters
Stay up to date with the latest industry developments: sign up to receive TelecomTV's top news and videos plus exclusive subscriber-only content direct to your inbox – including our daily news briefing and weekly wrap.