AirGig gets closer playing to its first gig outside the family garage - and for paying customers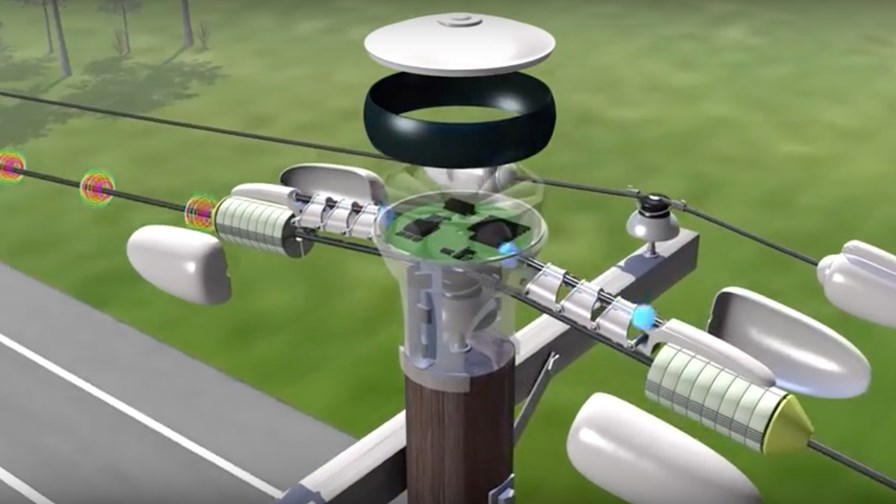 AT&T's 5G "wildcard" could actually be the ace of trumps
A new technology that really could end the US digital divide
Some 30 per cent of the US still without broadband access
Plan is to make gigabit-speed Internet "as widespread as electricity"
Back in 2016, AT&T researchers announced that they had made significant advances in a transformative technology that could deliver low-cost, multi-gigabit wireless Internet access speeds using power lines. AT&T claims that, by using an existing tried and tested infrastructure that reaches into 99.9 per cent of US homes and businesses. Project AirGig will provide a dramatically expanded wireless footprint whilst reducing hardware and deployment costs, and, as an additional bonus, also enable utility companies to detect power line faults and other issues very quickly and with fewer truck rolls.
In fact, the role that US water, gas and electricity utilities have been playing in expanding the footprint of broadband Internet into the farthest reaches of underserved regions such as many parts of remote rural America has been increasing markedly in recent years but Project AirGig, if successful, will be in a different league.
Hopes are that AirGig will deliver last-mile wireless connectivity to any home or handheld wireless device without the need to deploy expensive new fibre-to-the-home and will permit multi-gigabit connections without having to build new cell towers or bury of new underground cable.
With Project AirGig, AT&T has been experimenting with multiple ways to send a modulated radio signal alongside, but not over, medium-voltage power lines. To enable this breakthrough AT&T has invented low-cost plastic Radio Distributed Antenna Systems (RDAS) antennas that can deliver fixed-broadband and mobile broadband services.
Thus, the devices along the power line can be used for both "4G" LTE and 5G multi-gigabit mobile and fixed deployments. The plan is to distribute the new antennas alongside existing power lines to provide a reliable and efficient signal and to chain the antennas sequentially on the utility poles carrying electricity supply wires. What's more mmWave surface wave launchers actually power themselves by using inductive power devices that don't need a power connection thus creating a high-speed signal that travels on or near the power line rather than through it.
Andre Fuetsch, the President of AT&T Labs and the company's CTO said, "We actually have variants of this technology but essentially it rides outside of the wire although in some modes it rides along the wire - picture it like a donut - and another variance is several inches or even a foot or two above the wire. We see this as a new, very economical way to avoid having to physically string fiber and other infrastructure to serve, typically, rural locations or under-served locations. This is a far more effective way to do it."
He added, "We've applied for more than 500 patents for AirGig and conducted field trials both in and outside the United States. And today, we're confident that we're on the cusp of a technology that could potentially help to solve the digital divide in this country."
Initial trial in rural Georgia went well. Second 'real-world' trial will use commercial-grade kit
Last year, AT&T partnered with Georgia Power to get AirGig out of the rarified atmosphere engineering prototyping in the company's Labs and to apply semi-commercial-grade equipment in real-world conditions. To that end a trial was conducted wherein AirGig-based fixed wireless broadband connectivity was supplied to homes of participating residential customers in rural Georgia.
AT&T says it used mmWave and LTE spectrum, along with plastic antenna prototypes installed along utility poles in the tests and observed no degradation of mmWave signals even during prolonged rain and other bad weather. Participants got broadband at speeds of "hundreds of megabits per second" via self-installed receivers that trialists were able to set up and use within 10 minutes of taking the equipment out of the box. AT&T says it hopes to boost the broadband access speeds into the "gigabit range" in due course.
To that and other ends the company is now preparing to mount another field trial which is focus on surface-wave systems, AT&T says it could be "an important ingredient" in 5G networks and systems not least because "Project AirGig and 5G have a lot of natural synergies."
Of course, the notion of supplying broadband access over powerlines has been around for decades but earlier experiments were, ultimately, unsuccessful. However, AirGig which has been described as "a wild card in AT&T's 5G strategy" by industry commentators, could prove to be the ace of trumps if the next trials are successful.
AT&T says it cannot yet set a precise date by which AirGig will become commercially available but wants it to begin to be deployed during 2022 - "if not earlier".
Email Newsletters
Sign up to receive TelecomTV's top news and videos, plus exclusive subscriber-only content direct to your inbox.