Deutsche Telekom uses big data to make parking easier in Pisa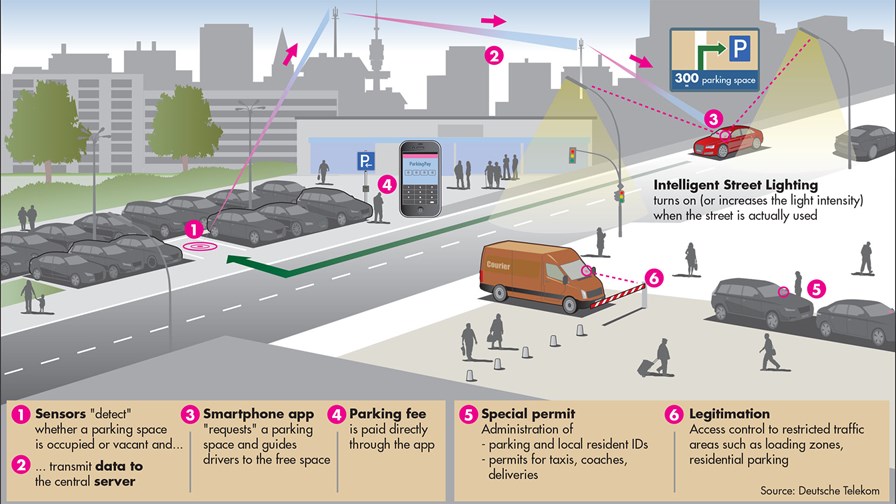 Traffic congestion has become a blight for practically every city in the world, which is why so many local authorities are looking to ICT for smart ways to ease the problem. Whilst certainly not the only factor, parking is a major contributor to congestion, as vehicles slow down and change speeds as drivers hunt for free roadside spots – causing jams in the process.
The Italian city of Pisa yesterday announced a partnership with Deutsche Telekom and mobility specialists Kiunsys to launch a smart city pilot project to optimise inner city parking. As well as a live test of an intelligent parking system, the project will analyze historical traffic data via a big data service.
An intelligent parking guidance system will be installed on Piazza Carrara, located directly on the banks of the river Arno. Sensors on the floor of each parking spot will detect whether they are free or occupied, and data units then collect this information and send it over the mobile network to the city's server infrastructure. It's then sent to street-side indication panels, which guide drivers to a free space.
The solution is also integrated in Pisa's existing Tap&Park app, which drivers can choose to download to take them directly to a free parking space, as well as using to pay for parking.
"The new parking system integrates seamlessly into our intelligent transport system," said Marco Filippeschi, the mayor of Pisa. "It eases the flow of traffic and helps to cut CO2 emissions."
Pisa attracts around 90,000 vehicles per day on its roads, and has been working for several years on a smart mobility policy as part of its Sustainable Energy Action Plan (that includes the goal of reducing CO2 emission by more than 20 per cent by 2020).
"The pilot project is a big stride for Pisa towards improving its traffic situation over the long term," added Filippeschi. "Drivers looking for a parking space make up some 30 per cent of inner-city traffic. So the easier it is for them to find a spot, the less traffic there will be."
Open standards for smart cities
Pisa has already been using a range of modules from Deutsche Telekom's partner company Kiunsys, including the aforementioned Tap&Park app, INeS Cloud management software, and 30,000 'PisaPass' RFID parking badges. As a result, Pisa has already been collecting traffic-related data over the past few years, which will now be analyzed as part of the pilot project. The partners hope to gain a deeper insight into how the traffic infrastructure is used, which will benefit traffic planning in future.
"We firmly believe that the right way to becoming a smart city is to have open standards and take a collaborative approach," said Jürgen Hase, VP of M2M at Deutsche Telekom. "That's why we are particularly pleased to be part of this joint project with the City of Pisa – a leading member of the European ITS standardisation network POSSE."
A report from Beecham Research in March suggested that smart parking could relieve congestion, reduce driver frustration, improve health and give a boost to the future prosperity of cities.
"Early smart parking apps may appear to be a novelty, but they are just the start and alleviating parking congestion could deliver major benefits by helping to eliminate time wastage, cut petrol consumption and reduce harmful exhaust emissions," said Dr Therese Cory, the principal author of the report.
Whilst today's drivers use their smartphone apps to access smart parking data, Dr Cory believes that automotive manufacturers will soon make this feature available from their in-car telematics displays.
"For some cities, keeping traffic moving and providing hassle-free parking is the main aim; while for others, maximising revenues by matching parking fees to demand patterns and driver habits will be a key driver," added Dr Cory. "Lessons learned from smart parking initiatives should augment the understanding of how cities operate and how their citizens behave in order to move towards a truly smarter city."
Email Newsletters
Sign up to receive TelecomTV's top news and videos, plus exclusive subscriber-only content direct to your inbox.