Deutsche Telekom and BMW edge towards the truly connected car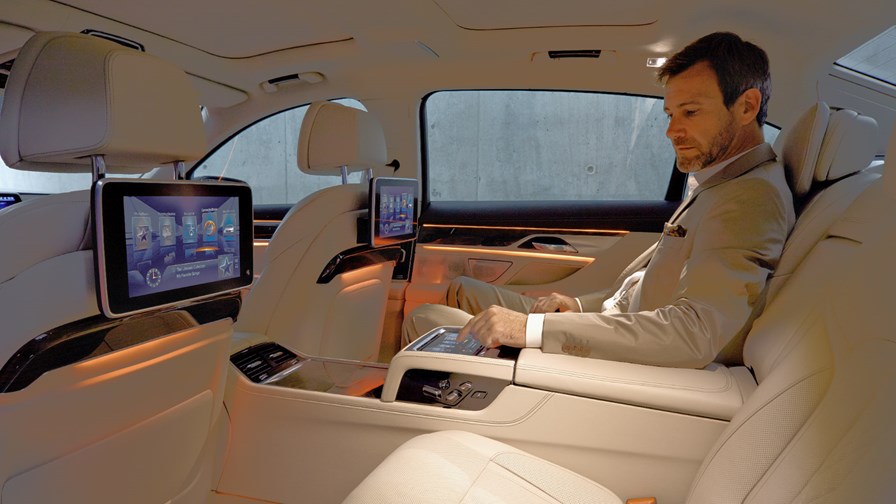 BMW partners with Deutsche Telekom for in-car WiFi hotspots
Car-fitted LTE small cells being introduced
Vehicular CrowdCells being tested by BMW
Deutsche Telekom now putting the eSIM into series production
The connected, autonomous vehicle sector is perhaps the most exciting example of the convergence of telecoms technology with other vertical industries, and has already been identified as the number one use case for 5G. How long it will take for us to achieve true mass-market autonomous driving depends on who you talk to – the car industry is looking at 2030 before we achieve so-called "level 5" complete driverless autonomy, but the tech industry is far more aggressive with its thinking, with some VCs looking at a mere couple of years (see this interview with Chris Dixon of Andreessen Horowitz, who, aside from the rather optimistic timescale, has a lot of spot-on observations and comments).
Whichever timescale you choose to believe, we will be seeing a lot of incremental steps in the journey to the driverless vehicle – and some car manufacturers will be more proactive in this area than others.
BMW is one such manufacturer, who understands the future of transportation. It has just announced a partnership with Deutsche Telekom that uses embedded SIM cards to create wireless hotspots within its vehicles. As of this month, users of BMW ConnectedDrive can now book a WiFi hotspot using Deutsche Telekom's HotSpot Drive portal. The mobile hotspot facilitates the connection of up to 10 WiFi-enabled devices, without any need for them to have their own SIM cards. The system is pan-European, with plans to extend coverage further.
The moving WiFi hotspot was first integrated into new BMW 7 series models in October last year, with integration in other models to follow. However, starting this summer, Deutsche Telekom will be fitting BMW ConnectedDrive systems with LTE technology. For the first time, an eSIM will be permanently embedded into the vehicles. Once installed, it can be updated over-the-air whenever required.
"What we're doing is taking the best network and putting it inside the car," said Reinhard Clemens, member of the Deutsche Telekom Board and T-Systems CEO. "Telecommunication and IT are now providing the basic technology for digitisation of the motor vehicle. As an experienced automotive industry partner, we are proud to be part of this cooperative initiative."
From Small Cells to Crowd Cells
So far, so good, and this probably qualifies as a "quite interesting" development, especially for passengers. But there's a lot more going on behind the scenes. About 18 months ago, BMW was conducting trials with Nokia, Huawei and Vodafone that focused on integrating LTE base stations into their cars. The idea was that they would create a network of LTE small cells – not just for the benefit of the driver and passenger, but available for use by people and devices along the roadside. However, the caveat was that these car-mounted small cells would only operate when the vehicle was parked up and stationary.
Its work was one of the test bed projects under the European Union's METIS programme, which concluded last June. BMW called the concept, "dynamic nomadic node", and have since refined the service as "Vehicular CrowdCell" – and introduced it at MWC earlier this year. BMW has been working with Peiker and Nash Technologies to craete a prototype of the Vehicular CrowdCell integrated into a BMW research vehicle.
"The Vehicular Small Cell will optimise in-vehicle connectivity of mobile devices for our customers," said Dr. Peter Fertl, project manager at the BMW Group. "At the same time, the integration into a network of Vehicular CrowdCells will enable the ubiquitous and seamless availability of high-quality mobile radio connections outside the vehicle as well."
The Vehicular Small Cell being introduced now is a femtocell built into the vehicle that both improves connection quality inside the car and significantly reduces radiation and battery use in the end device. The Vehicular CrowdCell extends this concept to boost the mobile communications network in the area around a vehicle with a built-in femtocell as needed. For example, the eCall automatic vehicle emergency call system, which European manufacturers are required to install in new models starting in 2018, uses the mobile network to transmit the necessary data, so network coverage suddenly becomes critically important.
"With the Vehicular CrowdCell research project, we are taking the subject of connectivity to a whole new level," said Reinhard Kromer-von Baerle, MD at Peiker. "It's no longer just about connecting a vehicle to the outside world – our automotive expertise is now also helping to boost coverage and performance in the mobile communications network for the outside world, too."
But there's no need to stop there. What if these mobile cells could operate whilst the vehicle was moving? Suddenly you have a dynamic network that improves with the volume of vehicles. And what if these cells could be meshed, or use roadside core network relays? Now throw in the ultra-low latency capability of 5G and add the possibility of car companies acquiring or leasing new 5G spectrum. Suddenly you have disrupted the entire mobile network, at precisely the same time as autonomous, electric vehicles are becoming mass market. Now it gets interesting…
Email Newsletters
Stay up to date with the latest industry developments: sign up to receive TelecomTV's top news and videos plus exclusive subscriber-only content direct to your inbox – including our daily news briefing and weekly wrap.