Catch-up TelecomTV: How to accelerate video processing at the edge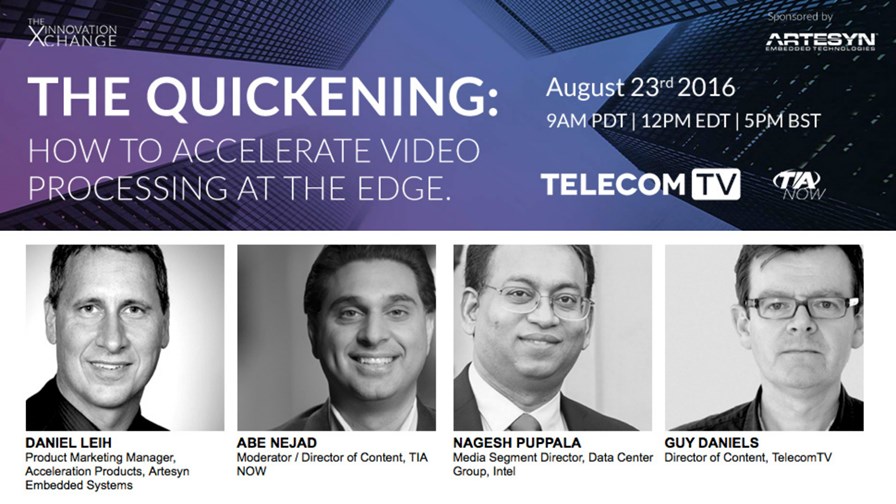 Why the video flood won't be mitigated by simply adding more infrastructure
New technologies and architectures - NFV, SDN, MEC - must come to the rescue
Watch our webinar to understand the problem and identify the solutions
There are challenges looming with the inexorable rise in the consumption of video over the Internet. Not just 'classic' so-called OTT video, but video game streaming, delivery of conventional broadcast TV over IP networks via set top boxes and connected TVs. Then there's the growing number of 'other' applications - surveillance and traffic cams, for instance.
Cisco's famed VNI forecast, for instance, predicts overall IP traffic will be 1.1 zettabytes in 2016. Another frightener: IP video traffic will be 82 per cent of all consumer traffic by 2020.
That's just the known knowns. There are known unknowns as well - for instance, how quickly and how greedily will virtual and augmented reality applications and usage expand by 2021? The unknown unknown are even more frightening (we imagine).
In summary, there's lots of video now; there's going to be even more of it in a few years' time. How to cope?
That rate of growth is such that just adding more servers and bandwidth, though highly necessary, is unlikely to be sufficient. There needs to be some innovation applied and the two most obvious things to innovate around are video compression and the art of distributing video storage and processing closer (where possible) to its consumer.
Compression reduces the amount of raw data that needs to travel; distributing storage to the edge (or closer to it) reduces the average distance video has to flow and that in turn reduces the burden on the network and improves the performance of the application.
Fortunately there are new technologies and developments - Network Functions Virtualisation (NFV), Mobile Edge Computing (MEC), Software Defined Networks (SDN), new transcoding platforms and more - that can be applied to build new standards and architectures to mitigate the rampant video problem.
Putting those capabilities to work is the subject of our Webinar...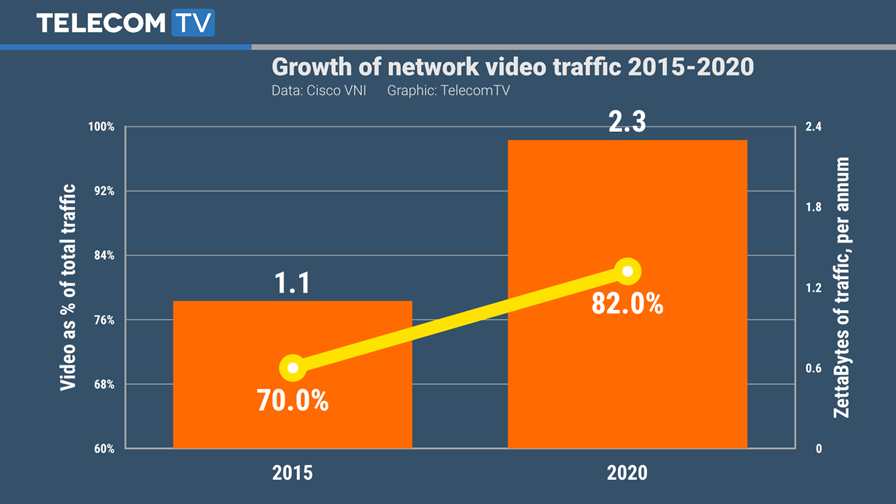 'How to accelerate video processing at the edge', sponsored by Artesyn
This Webinar went out live as part of our Innovation Xchange programme on August 23, 2016. Now you can join our distinguished panelists in the 'catch up' video of the webinar to find out:
How hardware acceleration improves performance of processing functions whilst remaining compatible with software on general processors
How to improve cost and performance of creation and delivery of video on x86 processors
How Artesyn's virtual network functions (VNF) platform shows a 20x performance improvement using open source and open standard software and hardware.
Click HERE to get free access to How to accelerate video processing at the edge
Email Newsletters
Sign up to receive TelecomTV's top news and videos, plus exclusive subscriber-only content direct to your inbox.