When AI is discussed, what are we talking about?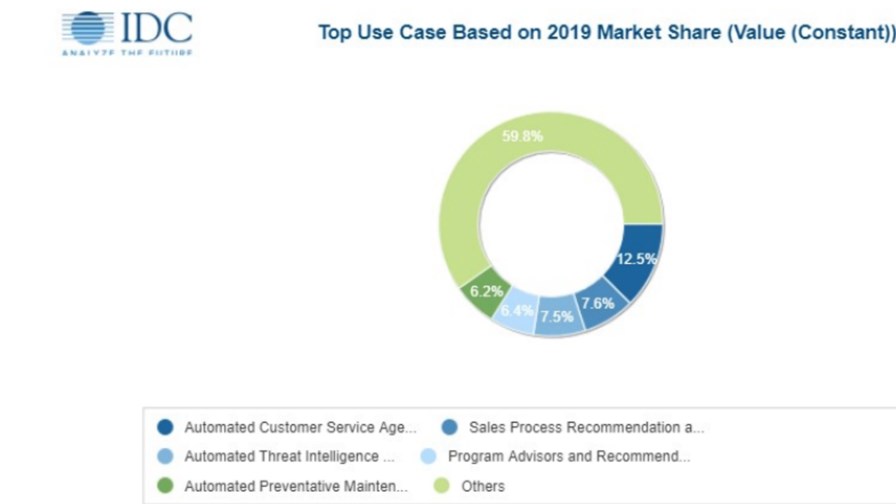 AI is being mentioned everywhere and is being magic bulletized by and for every sector and segment in IT
For instance, in telecoms networks, AI is seen as the ultimate answer to complexity-busting network management.
IDC has put numbers to the liveliest growth segments
As Nick Wood pointed out last week one problem with AI is that our industry is attempting cast a catch-all term at what are very specific multiple technologies, none of which can actually lay claim to fitting the original definition of artificial intelligence.
This week IDC has come to a rescue of sorts with one of its spending guides. A spending guide needs spending categories before guidance can be delivered so what we have here is a useful breakdown of the AI effort which answers the question: when AI is discussed what telco customers are we talking about?
Growth
First the big numbers. The full spend on AI Systems is set to grow by 44 per cent to $35.8 billion in 2019 and will double to $79.2 billion in 2022.
The biggest spending sector will be retail industry, claims IDC, where the technology will be set to work at a cost of $5.9 billion, on solutions such as automated customer service agents and expert shopping advisors & product recommendations.
Banking will be the second largest industry, it claims, with $5.6 billion going toward AI-enabled solutions, including automated threat intelligence & prevention systems and fraud analysis & investigation systems.
Then we have discrete manufacturing, healthcare providers, and process manufacturing.
When it comes to the fastest growth in AI systems spending over the 2018-2022 forecast period, government spending on AI is running at around (44.3% CAGR), while personal and consumer services (43.3% CAGR), are growing well, as is education (42.9% CAGR).
"Significant worldwide artificial intelligence systems spend can now be seen within every industry as AI initiatives continue to optimize operations, transform the customer experience, and create new products and services", said Marianne Daquila, research manager, Customer Insights & Analysis at IDC. "This is evidenced by use cases, such as intelligent process automation, expert shopping advisors & product recommendations, and pharmaceutical research and discovery exceeding the average five-year compound annual growth of 38%. The continued advancement of AI-related technologies will drive double-digit year-over-year spend into the next decade."
Where is the investment going?
The AI use cases that will see the most investment this year are automated customer service agents ($4.5 billion worldwide), sales process recommendation and automation ($2.7 billion), and automated threat intelligence and prevention systems ($2.7 billion).
Five other use cases will see spending levels greater than $2 billion in 2019: automated preventative maintenance, diagnosis and treatment systems, fraud analysis and investigation, intelligent process automation, and program advisors and recommendation systems.
IDC says software will be the largest area of AI systems spending in 2019 with nearly $13.5 billion going toward AI applications and AI software platforms. AI applications will be the fastest growing category of AI spending with a five-year CAGR of 47.3%.
Hardware spending, dominated by servers, will be $12.7 billion this year as companies continue to build out the infrastructure necessary to support AI systems. Companies will also invest in IT services to help with the development and implementation of their AI systems and business services such as consulting and horizontal business process outsourcing related to these systems. By the end of the forecast, AI-related services spending will nearly equal hardware spending.
For more stats and geographic spending breakdowns see original press release
Email Newsletters
Stay up to date with the latest industry developments: sign up to receive TelecomTV's top news and videos plus exclusive subscriber-only content direct to your inbox – including our daily news briefing and weekly wrap.