Vodafone and Ericsson introduce drone surveys to speed up network upgrades
The two companies are working together to trial the use of drones and Lidar-based 3D technology to speed up network planning and site upgrades.
Drones will collect high-definition imagery and use Lidar technology to help build 3D digital twin model of sites.
The 3D digital twin model can be analysed by radio engineers and network design teams in a virtual environment, reducing visits and travel time to site and enabling a more efficient planning process.
This new technology saves time and money, speeding up network deployment across the UK, while also helping Vodafone reduce its carbon footprint.
Drones can enable surveys of difficult-to-reach rural and city centre sites, saving time and money, as well as reducing the potential health and safety risks associated with surveys. With fewer engineers visiting sites, and fewer visits needed thanks to more accurate data being collected on first attempt, Vodafone's carbon footprint will also be reduced.
The trial will use a drone equipped with a high-definition camera, alongside Lidar (light detection and ranging) technology, to capture accurate data that can be used by the network engineering team to perform site upgrades. Vodafone and Ericsson will capture data from 70 different sites that are due to be upgraded.
Virtual site meetings
As part of the process of upgrading a mobile network site, several Vodafone and Ericsson engineers would usually have to travel to the site for data collection and critical assessment purposes. Radio and transmission planners, acquisition agents, structural engineers and site designers would all form part of a standard site visit.
With the assistance of Ericsson's Intelligent Site Engineering and through the use of drone and Lidar technology, information on structural conditions and line-of-sight measurements can be collected by a single engineer, with all the data captured then accessible via the cloud as a digital twin model.
This digital twin is then used to perform a virtual site meeting, allowing all stakeholders to be on site virtually at the same time from a remote location. This process has already been used as part of Vodafone's network deployment programme during the COVID-19 pandemic, with more than 70 sites visited in this way.
The introduction of drones and Lidar technology offers several advantages:
More efficient planning process , in turn speeding up the deployment of network infrastructure in countryside and city centres, bringing vital connectivity and high-performance networks to new locations across the UK.
Reduces the health and safety risks associated with surveys by reducing the need for engineers to climb towers.
The carbon footprint of each site can be reduced thanks to lighter equipment and the fewer people travelling to the site for each visit, and the total number of visits decreasing. Vodafone estimates CO2 emissions can be reduced by 1.5 tonnes per person per 100 sites.
More measurements and more accurate data , reducing the number of sites that have to be revisited to collect additional data or reaffirm measurements.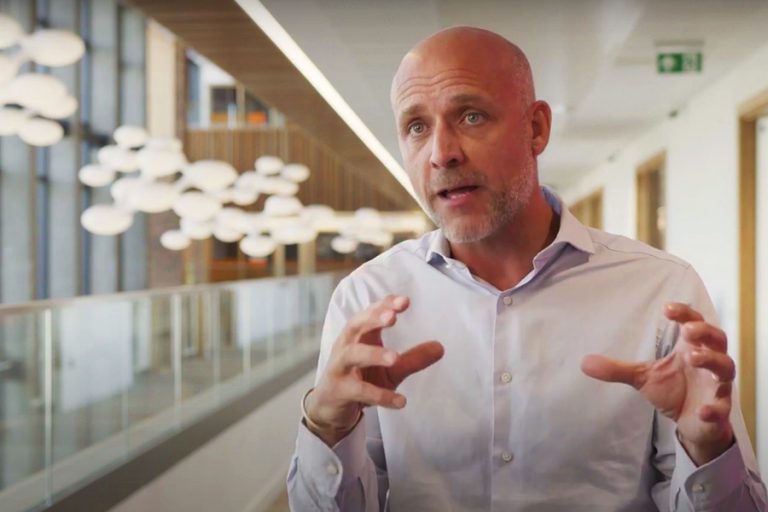 Vodafone UK Network Director Andrea Dona says virtual site visits will help reduce costs and carbon emissions
Andrea Dona, Chief Network Officer, Vodafone UK, said: "The introduction of new technology to improve our processes has significant benefits for our own operational efficiencies and reducing our carbon footprint, but it also allows us to deliver on our promise to customers faster.
"The less time which is wasted travelling to sites, the more time can be invested in valuable tasks that improve the digital experience for our customers."
Björn Odenhammar, Chief Technology Officer, Networks & Managed Services, Ericsson UK & Ireland said: "Our partnership with Vodafone to explore the benefits of Intelligent Site Engineering ensures that speed and sustainability are at the heart of our network rollout in the UK together.
"This is a demonstration of our rapid network delivery capabilities and our commitment to build a world-class digital infrastructure that will bring vital 5G connectivity to new regions, boost innovation and provide a foundation for the UK's future economic success."
In the future, drone and Lidar can also assist the team in planning the construction of new infrastructure. Drone imagery can offer insights on the suitability of the site, as well as provide line-of-sight measurements at different heights. The Lidar technology could be used to build a virtual site to troubleshoot problems ahead of time and assist in the planning and procurement process.
Technical details
Drone-mounted camera DJI Mavic Pro 2 UAV, a professional grade camera on a small, easy-to-use and portable drone platform. 20 megapixel sensor, semi-automatic flight modes enables camera positioning to capture data on all parts of the site. Quickly and easily photograph antennas, microwave dishes, RRU (remote radio unit), as well as capturing antenna line-of-site photographs not possible using conventional climbing methods of capturing data.
LIDAR Leica BLK360, a portable, easy to use laser-scanning camera capturing 360,000 laser points a second to create a high-definition 3D digital twin model of the site. It also captures panoramic Images of whole site, enabling a virtual site visit at any time, from any location in the world.
This content extract was originally sourced from an external website (
Vodafone Media Centre
) and is the copyright of the external website owner. TelecomTV is not responsible for the content of external websites.
Legal Notices
Email Newsletters
Sign up to receive TelecomTV's top news and videos, plus exclusive subscriber-only content direct to your inbox.