Vivendi vents as Telecom Italia approves €18.8bn NetCo bid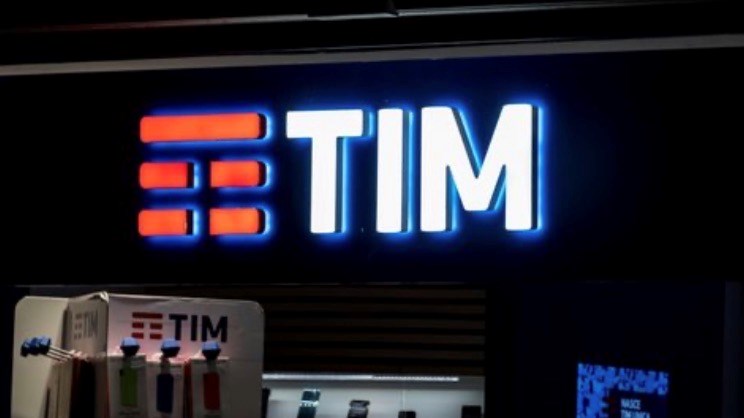 The Telecom Italia board has approved the binding offer from private equity firm KKR for NetCo, its domestic fixed access network
The bid values NetCo at €18.8bn, though Telecom Italia may receive a further €3.2bn in earn-out payments
The board has decided not to give Telecom Italia shareholders the chance to vote for or against KKR's offer
This has incensed the Italian telco's single largest shareholder, Vivendi, which is now threatening legal action
Telecom Italia (TIM)'s largest shareholder, French technology and media giant Vivendi, is threatening legal action after the Italian telco's board approved a €18.8bn acquisition offer on Sunday from private equity firm KKR for the operator's domestic fixed line network business that comprises the bulk of its NetCo division.
Vivendi, which owns 24% of the telco's shares and has long said it would not support any merger and acquisition (M&A) offer that valued the national broadband access network (also known as FiberCop) at less than €30bn, is furious that the Telecom Italia board has given the green light to KKR's offer and will not be putting the deal to a shareholder vote.
"Vivendi deeply regrets that TIM's board of directors accepted KKR's offer to buy TIM's network without first informing and requesting a vote from its shareholders, thus contravening applicable governance rules," noted the French company in a statement issued late on Sunday. Vivendi listed a number of reasons why it believes Telecom Italia's board has contravened multiple rules and regulations and described the telco's approval of KKR's offer as "unlawful".
The French company added that with "all appeals to reasonableness having gone unheeded, Vivendi will use any legal means at its disposal to challenge this decision and protect its rights and those of all shareholders."
While Vivendi fumes, the Telecom Italia team is pressing ahead with the KKR deal (which is supported by the Italian government) and hopes to complete it by the summer of 2024. The agreement sees Telecom Italia receive €18.8bn for the domestic fixed line network (15.8 million connections, of which 8.2 million are fibre-to-the-premises lines) and its associated operations, a deal that will enable the telco to reduce its debt pile – which currently stands at about €26bn – by €14bn.
Reducing the telco's debts has been the main driving force behind the strategy introduced by CEO Pietro Labriola early last year that saw Telecom Italia effectively split into two separate entities – NetCo and ServCo (see below).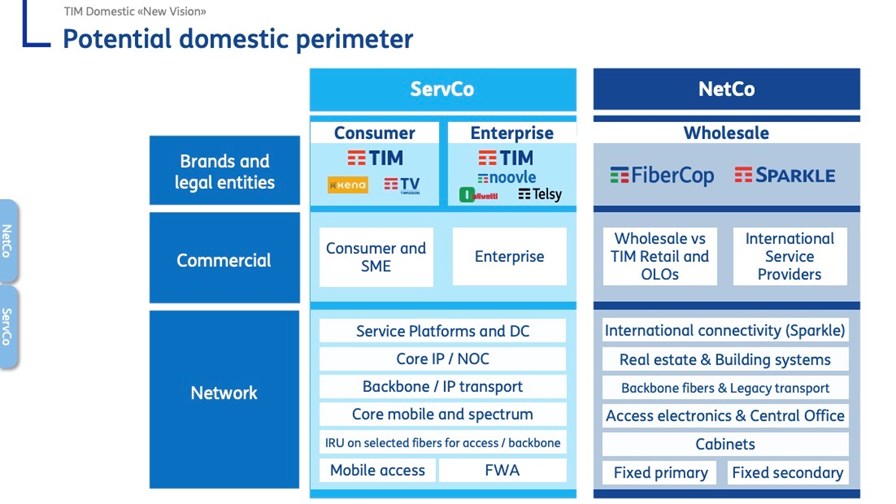 As part of the KKR deal there is also the potential for multiple additional payments, or earn-outs, of up to €3.2bn linked to potential events, the main one being the merger of the NetCo broadband access network with that of its main domestic wholesale fibre broadband rival, Open Fiber. An agreement to merge the networks to create a national unified fibre-to-the-premises (FTTP) network was struck in May 2022 but can't be acted upon until the current NetCo ownership saga is resolved.
Following the board meeting, Labriola stated: "Two years of headlong work are coming to an end with a historic decision: Launching two companies with new development prospects. Both will be the reference point for the digital transformation of our country. Thanks to this operation, they will be able to accelerate technological development in the telecommunications sector. This is not the end of our journey but a new beginning. With this operation, in fact, we are breathing life into the network infrastructure and, at the same time, enabling the new TIM to focus on the technological innovation needed to govern the complex digital services market and play a leading role."
He added, in a very clear message to Vivendi: "I say to all of our shareholders that we are giving TIM back the chance to look towards a sustainable future and to be ready to seize the opportunities that lie ahead. Our goal is to continue along the path mapped out by the approved plan with the support of our major shareholders, always remaining open to dialogue and to the proposals submitted to us, in particular by the most important shareholders. We are convinced that the strength of our group, together with what we believe in, will lead to the company growing and generating value for everyone."
While KKR's binding offer for the fixed access network has been approved, Telecom Italia's board did not accept KKR's non-binding offer for Sparkle, the international networks and services unit that comprises a small part of the NetCo division, which is believed to have been in the region of €650m. Labriola has been tasked by the board with negotiating an improved and binding offer from KKR by 5 December.
Telecom Italia also noted that the board considered the recent alternative M&A offer from Merlyn Partners and RN Capital Partners but dismissed it as "not in line" with the current strategy.
- Ray Le Maistre, Editorial Director, TelecomTV
Email Newsletters
Sign up to receive TelecomTV's top news and videos, plus exclusive subscriber-only content direct to your inbox.