Red faces all round as UK government seeks to offload OneWeb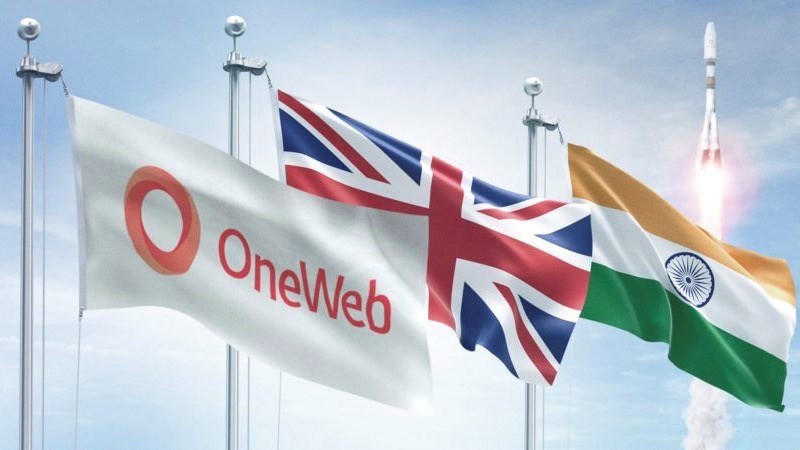 Sunday – UK prime-ministerial hopeful Rishi Sunak said China is public enemy number one
Monday – it was announced that the OneWeb satellite system, in which Britain has a significant stake, could be acquired by Eutelsat, part-owned by China
At least the deal means the British government will not be called upon to invest more in the OneWeb system
Merged company plans to compete aggressively with rivals, such as Starlink
Eutelsat investors are mortified by the idea

The future ownership of low-earth orbit (LEO) satellite operator OneWeb looks set to be dragged into the battle for the Conservative Party top spot and Prime Minister of the UK, following the leisurely and serpentine departure of Alexander Boris de Pfeffel Johnson. Here's why.
The two remaining candidates fighting it out to take over residence at 10 Downing Street are: Ultra-smooth billionaire Rishi Sunak, the UK's former Chancellor of the Exchequer; and Liz Truss, the current UK Foreign Secretary who has been in the House of Commons for 12 years and has risen almost without trace (asked today about Ms Truss's contribution to national life, the Work and Pensions Secretary, Therese Coffey, one of her most ardent supporters, boasted she was "the first person to actually reintroduce beavers", a revelation that says a great deal about the current level of political discourse in the UK and that will no doubt come as a great surprise to the majority of UK residents that don't watch wildlife TV programmes). Sunak and Truss are hell bent on out-trumping one another over who will have the toughest foreign policy, whilst knowingly making promises they will not be able to keep. Over the past weekend and as part of the relentless frenzy of soundbites designed to grab media headlines, Sunak described China as "the biggest long-term threat to Britain" and "the largest threat to Britain and the world's security". He accused China of "stealing our technology and infiltrating our universities" and vowed to "stand up to China at home and abroad".
The supreme irony here is that only hours later it has emerged that OneWeb, part-owned by the UK government and once ill-advisedly trumpeted as a home-grown alternative to Europe's Galileo global-navigation satellite system, is set to be acquired by Eutelsat, the geostationary satellite operator that is part-owned by multiple countries, including… China.
Paris-headquartered Eutelsat has confirmed that it is on the verge of acquiring what it calls its "smaller participant", OneWeb, in a deal that is being presented as a merger rather than a takeover and touted as a cunning wheeze to enable France and the UK to compete more aggressively and efficiently against rival US systems. Originally, OneWeb was promoted by the UK as a serious alternative to Elon Musk's huge Starlink satellite broadband system when, after Brexit, the UK was unceremoniously booted out of Galileo having already spent many millions of euros on helping to develop the system.
Currently, the British government owns nearly 20% of OneWeb and estimates are that the project needs at least $3bn more in investment to complete its system. At least the proposed merger will mean that the UK won't have to pump any more money into OneWeb. Meanwhile, the French and Chinese governments hold stakes of 20% and 5%, respectively, in Eutelsat.
Apparently, the proposed all-shares deal is that Eutelsat and OneWeb shareholders will each have half of the combined company, with OneWeb stockholders exchanging their stock for Eutelsat shares. The financial markets immediately took against the idea, as Eutelsat's share price fell by 17.5% to €8.65 on Monday.
Yesterday, before the stock price fell, the UK government, or whichever part of it is still working, calculated that if the "merger" goes ahead, the UK state's stake in OneWeb would be worth $600m, giving the national exchequer a notional profit of $100m on the government's original $500m investment. But that was yesterday – it isn't worth that much now.

As usual, empty promises abound
The Johnson administration first invested in OneWeb back in the summer of 2020, when it stumped up the aforementioned half a billion bucks to try to keep the company from bankruptcy after it failed to get the $2bn investment it needed (and which had been promised by SoftBank of Japan) to build its mooted 648 satellite constellation. In November 2020, OneWeb emerged from bankruptcy with $1bn of new capital and the UK's $500m bought a 33% stake in the revivified company: That dropped to 19% as other investors chipped in later. The plan was for OneWeb to start to provide internet access across the UK at the end of last year. As July 2022 draws to a close, would-be subscribers are still waiting.
There certainly was a lot of talk and sputters of PR bugle oil being expended on stories about a "planned 2022 global rollout" of OneWeb services but, following Russia's unprovoked invasion of Ukraine in late February, the Russian satellite agency Roscosmos, which was contracted to launch OneWeb satellites into orbit from the Baikonur spaceport in Kazakhstan, suddenly demanded cast iron guarantees (how appropriately Stalinist) that OneWeb satellites would a) not be used for military purposes and b) that the British government would relinquish its stake in the system.
The UK government told the then head of Roscosmos to 'do one' and, a while later, in another example of irony writ large, OneWeb did a deal with Elon 'Starlink' Musk's Space X to launch the remaining satellites of the constellation on Falcon 9 rockets. There are 458 WebOne satellites now in orbit of the planned 648. There are some 2,700 of Elon Musk's Starlink satellites in orbit of the planned first phase deployment of 4,408. Several launches comprising payloads of at least 50 Starlink satellites per loft are being orbited each month.
As part of the OneWeb 'merger' with Eutelsat, the UK government (in a ghostly echo of some of its Brexit claims) says it has wrung concessions out of Eutelsat, including the right to veto sales of services deemed by the British government to pose a risk to UK national security, to have a further veto over Eutelsat moving its OneWeb's headquarters out of the UK and claiming 'preferential rights' over "supply chain, manufacturing and launch opportunities" that could be pertinent to British enterprises.
And, in a final bit of good news: The combined OneWeb and Eutelsat will "soon" issue 'secondary listing' shares on the London Stock Exchange. The taxpayers' cup runneth over with riches.
And if Sunak gets the nod to be the next UK Prime Minister, he may well soon be found in the bowels of the Downing Street kitchens trying, ever so quietly, to eat his words.
Email Newsletters
Sign up to receive TelecomTV's top news and videos, plus exclusive subscriber-only content direct to your inbox.