Project Kuiper LEO constellation to expand to 7,774 satellites as Zephyr goes for a handful of stratospheric UAVs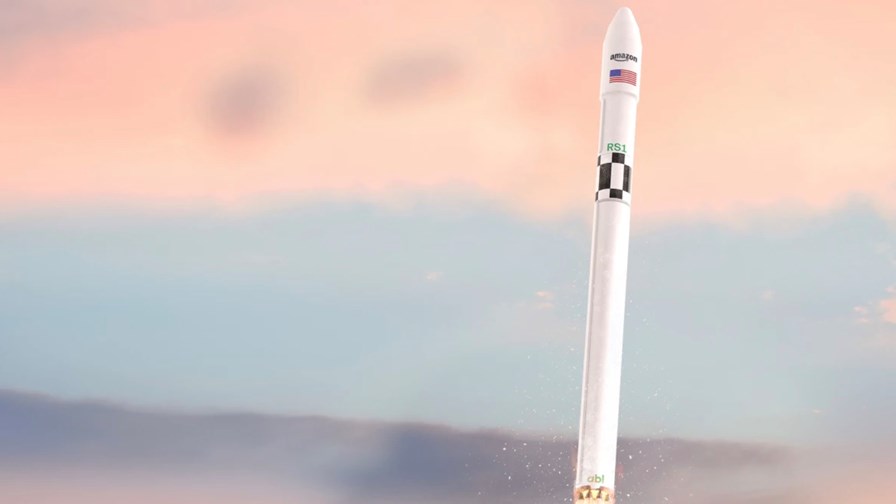 Amazon plan gets doubly grandiose as NTT DoCoMo and Airbus stay much more down to earth
Meanwhile, the Net Zero Space initiative formed to "mitigate" in-orbit debris. Now there's a job-and-a-half...
NTT DoCoMo and Airbus partner to trial the (comparatively) cheap and cheerful Zephyr High Altitude Platform Station
Hot on the heels of the recent news that Amazon's Project Kuiper wireless broadband LEO system is to more than double in size to become a monstrous constellation of 7,774 satellites comes the announcement that the partnership of NTT DOCOMO of Japan and Airbus of Europe have successfully demonstrated wireless communications from the stratosphere to smartphones via their Zephyr High Altitude Platform Station (HAPS).
We should be grateful that the Zephyr effort is taking place within the earth's atmosphere: The way the Kuiper thing is growing, Amazon might just as well wrap a gigantic great tinfoil muffler around the entire planet and have done with it, a bit along the lines of the work of the conceptual artists Christo and Jeanne-Claude who, in 1995, wrapped the Reichstag in Berlin in aluminium-faced polypropylene fabric, but just so much more expensive, impressive and befitting of the status of the biggest and important most corporation the Universe will ever see.
Someone at Amazon has been at Alice-in-Wonderland's "Eat Me" cake, a key ingredient of which, apart from worm fat and a cup of sugar, was two tablespoons of wishful thinking. Not a single Project Kuiper satellite has been hoisted yet but, like Topsy, the constellation just keeps on growing. Originally designed to comprise 3,236 satellites, Amazon now wants to add 4,538 more and has applied to the US regulator, the Federal Communications Commission (FCC) for permission to do so.
The application reveals that, "Utilizing V-and Ku-band frequencies, the 'Kuiper-V System' will be comprised of 7,774 satellites in five altitude and inclination combinations between 590 and 650km, including two polar shells, and will provide high-speed, low-cost, and low-latency broadband services to tens of millions of customers domestically and internationally." It will also cripple classical astronomy, because the visible stars won't be stars at all, but thousands of satellites chasing one another endlessly across the skies.
Communication satellites are wonderful things but it's time to start reining-in such grandiose and, yes, vainglorious endeavours. A few years from now, outbound astronauts will have to park up and do a spacewalk with a crowbar to lever their module's way through all the circulating metal before progressing on to the lunar bases. Seriously though, with every passing year the likelihood of a devastating accident increases.
Borne like a Zephyr on stratospheric air
Meanwhile, lower down in the ether, NTT DOCOMO and Airbus have proved the concept of their solar-powered Zephyr High Altitude Performance Station, successfully delivering wireless broadband at various speeds across a maximum distance of 140 kilometres. The trial was held in the US in August but the result have only just been released. It used Airbus Zephyr S aircraft which are lightweight solar-powered Unmanned Aerial Vehicles (UAVs) that, currently, can stay airborne for 26 days without needing to land to refuel. They can fly at upwards of 75,000 feet, have a wingspan of 25 metres, weigh just 165 kilos (including 24 kilos of batteries) and carry a radios transmitter payload of five kilos. It is hoped that with further development the craft will be able to remain airborne for years.
The object of the tests was to prove the feasibility of direct device-to-device connectivity and worked well with test data captured at various altitudes and at different times of day and night. The trial also focused on determining the effects that stratospheric weather conditions have on connectivity and the relative efficiency of different UAV flight patterns and elevation angles. Tests were also made at a variety of different bandwidths to simulate direct-to-device service from the HAPS to end users using low, nominal and high throughput. They showed that the 2GHz spectrum is well-suited to HAPS-based services and that the use of a narrow 450MHz band to provide connectivity resulted in a viable range of ups to 140 kilometres.
"Billions of people across the world suffer from poor or no connectivity. These tests show us the viability of the stratosphere to bridge this divide and provide direct to device connectivity via Zephyr without the need for base stations or extra infrastructure," Stephane Ginoux, Senior Vice President, Head of North Asia region for Airbus and President of Airbus Japan.
Takehiro Nakamura, the General Manager DOCOMO's 6G-IOWN (Innovative Optical and Wireless Network) says HAPS will be an excellent solution for expanding 5G coverage as well as for 6G and that the experiment demonstrated "the effectiveness of HAPS, especially for direct communication to smartphones, through long-term propagation measurements using actual HAPS equipment. Based on these results, we would like to further study the practical application of HAPS in 5G evolution and 6G with Airbus," he added.
Remember, the Loon was a balloon, and it burst...
Given the clutter of working and defunct satellites orbiting the planet and the staggering amount of space garbage hurtling around the place, it is good to be able to report that Eutelsat, the large European satellite operator, is joining the "Net Zero Space" initiative to deal with the ever-increasing amounts of space debris. The aim is, by 2030, to "maintain sustainable outer space environment through mitigation of in-orbit debris generation" and is an urgent need
Eutelsat stresses that it is committed to a safe and uncluttered orbital environment and, since 2005, has had its own, company-specific and constantly-updated space Debris Mitigation Plan in place. Under its terms Eutelsat has 95 per cent success rate de-orbiting its spacecraft, which is far and away ahead of others in the satellite sector. Eutelsat is also in full compliance with the requirements of the France's "Space Act", one of the most stringent pieces of legislation in preventing the formation of space debris. Eutelsat is also an active member of the Space Data Association and an ISO 9001 certified company for its satellite control operations.
The international Net Zero Space initiative is brand new being a mere few days old but already has 10 supporters in addition to Eutelsat, with more expected to join. Those already signed-up are, Arianespace, Astroscale, CGSTL/Chang Guang Satellite, CNES, EU SST, Eutelsat, International Institute of Air and Space Law, Isispace, Planet, Share my Space and Space. Like they say at the end of all the best articles, "Watch This Space" for more...
Email Newsletters
Sign up to receive TelecomTV's top news and videos, plus exclusive subscriber-only content direct to your inbox.