Fibre now as critical as 5G to operators: Nokia's Guillén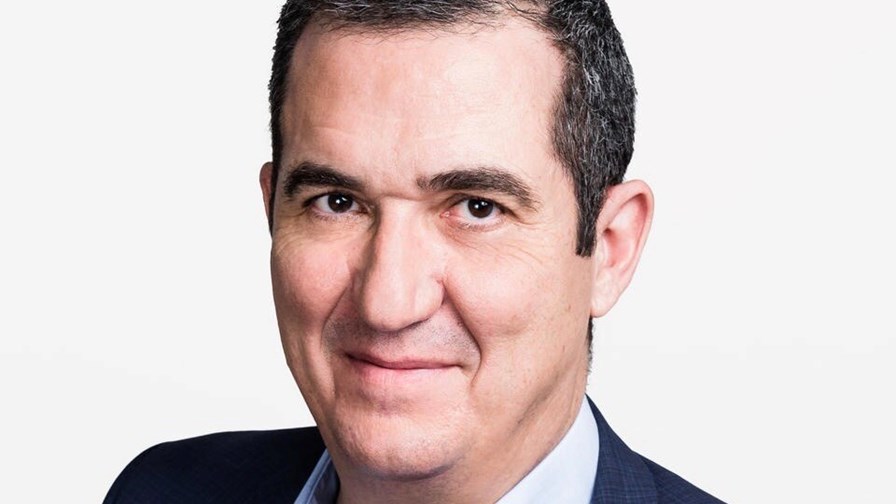 FTTx is as hot as 5G, says Nokia's President of Network Infrastructure
Federico Guillén has submarine, optical, IP and fixed access in his portfolio
Fixed access market demand for 10 Gbit/s PON is ramping fast
Growth potential is there, but so is the competition
When Nokia CEO Pekka Lundmark announced his restructuring plan and new executive management team in October last year, all eyes were on the Mobile Networks unit and whether Tommi Uitto would retain leadership of the vendor's largest and arguably most important division, with sales of €10 billion in 2020, nearly 46% of total revenues – he did.
There was less industry fanfare around the consolidation of the vendor's fixed network units under the Network Infrastructure business group, but with €7 billion in revenues last year and a strong position in its key sectors (fixed broadband access, IP routing and optical infrastructure), long-time senior executive Federico Guillén picked up a prime role, and one that has become increasingly important during the past year as the value and importance of the long-haul, metro, packet transport and fixed access infrastructure (particularly FTTx) elements of telco networks has been reassessed and given appropriate credit.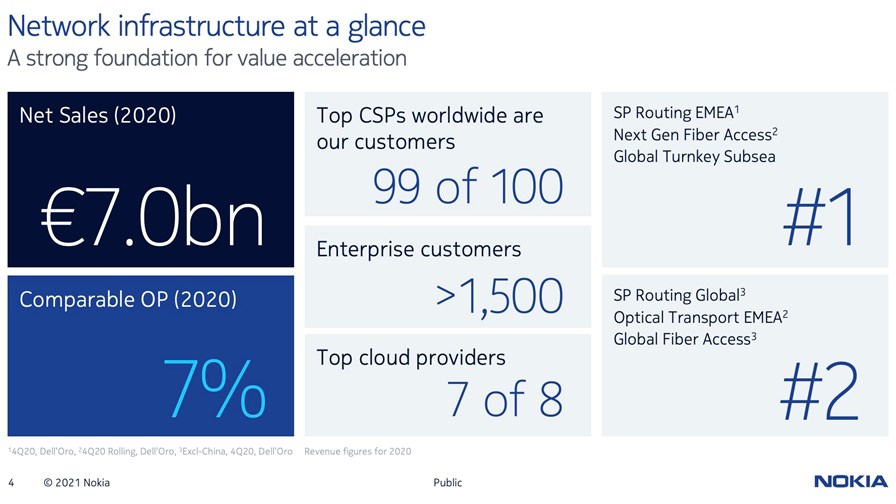 Guillén even claims that network operators are now attributing as much importance to their fibre network plans and investments as they are to their next generation mobile broadband infrastructure.
"Customers say the fixed network is more important than ever – some have seen traffic volumes go up by 50%, as much as 75%, and it will not go down," noted Guillén during a recent conversation with TelecomTV. "Also, the profile of the traffic in the networks is changing because now we have more upstream than in the past because now everybody's doing video conferences… I believe we are going to make more use of the technologies that we have learned during Covid times."
That's one of the reasons that customer priorities are being reassessed, he says. "Customers used to tell us that 5G was their number one priority, but while 5G continues being a priority, fibre is as important as 5G these days for two reasons: One, to support the growing traffic volumes; and two, when you go deep with 5G and you're going to millimetre wave, you're going to need to backhaul all the small cells that are deployed, and you cannot do that with point-to-point fibre – you will need point-to-multipoint, and that's the reason why our technologies are [evolving to] 25 Gbit/s PON for the right level of latency. The demand is clear, and we are serving multiple customers across the world with fixed access, with [optical] transport and with IP, because the pipes are getting filled…. the priority one year ago was 5G, and it was the only priority – now there are two priorities and equally important."
Well, yes, of course his customers would say that and, of course, so would Guillén. But it's logical that telcos would have to invest in fibre and IP transport to support cloud, streaming video and [ultimately] 5G traffic, otherwise the bottlenecks would destroy their business: As a result, major operators have been investing more in their fibre-based fixed access infrastructure for a few years now and there are also much greater competition in many markets, driven quite often these days by the involvement of private equity investors, which now have a growing appetite for digital infrastructure investments. That fuels new demand for the likes of Nokia's Network Infrastructure unit and also acts as the catalyst for additional investments from incumbent operators, most of which are Nokia customers.
And according to Stefaan Vanhastel, CTO of Fixed Networks at Nokia, the demand for 10 Gbit/s fixed broadband ports is now booming.
"For us, XGS is our 10 Gbit/s [technology of choice] and we built two types of line card – a pure XGS line card, and a multi-PON line card, which supports multiple flavours, including GPON, XGS 10 Gbit/s and 25 Gbit/s," he explains.
"What we saw happening in around Q2 and Q3 last year was that [demand for] the multi-PON line cards overtook the pure XGS line cards by far," driven in part by increased levels of home working during the pandemic in Europe, the US and elsewhere. "And this is important because it shows a shift in the thinking of operators, because as long as you deploy a pure XGS line card, it's a tactical 10 Gbit/s deployment, because what you do is you insert the XGS line card in an OLT here and there, and then whenever you need 10 Gbit/s you multiplex the 10-Gig wavelength into the PON, but that's really a tactical deployment – it's a port here and there. If you switch to multi-PON line cards, you get 10 Gbit/s on every port, and it's really striking that we're starting to get massive volume on the multi-PON line cards, which simply means that operators see that now is the time where you need 10 Gbit/s on every port. So this year we're ushering in the mass adoption of 10 Gbit/s," added Vanhastel.
"And it's not just residential, it's business services, and mobile transport, and that of course links to the evolution of 25 Gbit/s. For us this is all on the same line card – GPON, XGS and 25 Gbit/s, so that makes for a very easy introduction, but the interest is there… the scaling of the residential network to 10 Gbit/s, and then the reuse of that network for business services and for mobile transport," he adds.
So where's this demand particularly noticeable? Exact detail isn't forthcoming from the Nokia execs, but Guillén notes that operator customers are "pushing the pedal to the metal on fibre" in European countries that don't have big penetration of fibre…Germany, Belgium, Netherlands, UK, Italy, France," he says.
It's possible some of that activity will show up in Nokia's first quarter 2021 financial statement, which hits the wires on Thursday (29 April).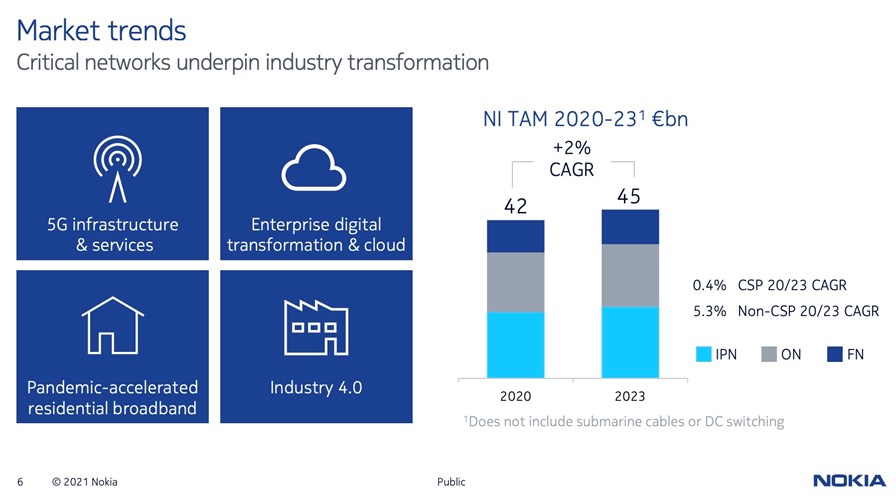 There's certainly optimism at Nokia that the Network Infrastructure business will grow, as the overall market is expected to grow (see chart above) and Huawei, a key rival across all sectors, is struggling to hang on to existing customer relationships in many markets: Guillén declined to discuss specifically whether Nokia is snapping up new business as Huawei falters.
But of course Nokia doesn't have the fixed, IP routing or optical markets to itself and Huawei isn't the only rival: In fixed access ADTRAN has been doing well, while Calix has just reported first quarter financials that were much healthier than anticipated, and DZS under the stewardship of Charlie Vogt is increasingly aggressive; Cisco and Juniper are still major rivals in IP routing; and in optical Ciena, Infinera, ADVA and others are also benefiting from positive market trends.
Under Nokia's new structure, Guillén now has full P&L responsibility for the Network Infrastructure unit, so its success (or otherwise) will rest fully on his shoulders: The potential is there for the unit to deliver an increasing slice of Nokia's pie and help prop up the Mobile Networks division while it takes a margin hit this year. If that can be achieved, then maybe the spotliohgt will fall more often on the fixed side of Nokia's house.
- Ray Le Maistre, Editorial Director, TelecomTV
Email Newsletters
Sign up to receive TelecomTV's top news and videos, plus exclusive subscriber-only content direct to your inbox.