Denmark is the most connected country in the world, Burundi the least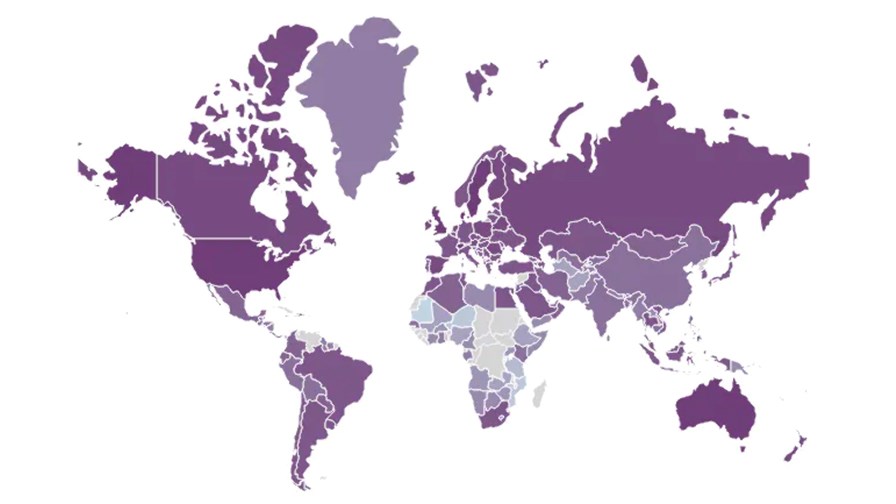 Internet Accessibility Index 2021 covers 169 countries
Different kind of scorecard based on 10 variables casts a different light on the online world
Western European nations come out well
US consumer access prices remain eye-wateringly high
The recently-published Internet Accessibility Index 2021 from UK comparison service Broadband Choices provides an interactive up-to-date scorecard for 169 countries with global rankings calculated via 10 different criteria, including the percentage of population with broadband and mobile Internet access, upload, download and average Internet speeds, the price and relative affordability of domestic broadband packages, and the cost of 1GB of mobile data. Also measured are geographical coverage and the availability of free WiFi hotspots per capita of population and the percentage of web pages written for, and available in, the first languages each country. This heady mix of criteria make for interesting reading with some expectations taking a hit and preconceptions needing to be revised as a result.
Taken together and collated, the points of reference combine to provide a list of world's most and least connected countries. Top of the list is Denmark, while Burundi languishes at the bottom of the table. Both the US and the UK are doing well overall when all criteria are considered and stand at places three and six in the overall chart respectively (see the chart below).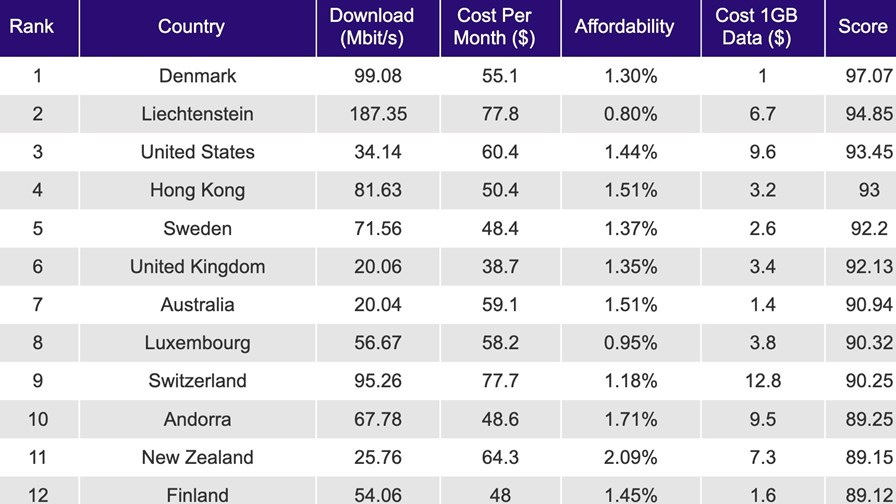 However, the UK and US have slid down the greasy pole during the past 12 months where average connection speeds are concerned: Britain now ranks at 28 in the list while the US is in 13th place, with average connection speeds of 20.06 Mbit/s and 34.14 Mbit/s respectively. That, however, is not the whole of the story: It's all to do with the how global Internet access data is sliced and diced.
Of the countries with the fastest Internet connections, according to data sourced from M-Lab, West European nations account for eight of the top 10 positions: Indeed, West European counties scored very high on the global rankings overall in several aspects. The regional average is 45.8 Mbit/s, but East European nations lag a massive 192 per cent behind their western neighbours with average Internet access speeds of 15.7 Mbit/s.
The Top 10 countries with the fastest average internet download speeds are: Liechtenstein - 187.35 Mbit/s, Denmark - 99.08 Mbit/s, Switzerland - 95.26 Mbit/s, Hong Kong - 81.63 Mbit/s, Sweden - 71.56 Mbit/s, Andorra - 67.78 Mbit/s, Bermuda - 65.01 Mbit/s, Luxembourg - 56.67 Mbit/s, the Netherlands - 54.56 Mbit/s, and Finland - 54.06 Mbit/s.
The countries at the bottom of the speed league are East Timor, with average download speeds of just 0.12 Mbit/s. Behind that, remarkably, comes China, with 0.17 Mbit/s, then Equatorial Guinea with 0.20 Mbit/s, followed by Ethiopia with 0.23 Mbit/s, and Yemen at 0.26 Mbit/s.
Best and worst value for money
Where comparisons of broadband speed set against price is concerned, unsurprisingly, it proves once more that the nations providing the best value for money for Internet connection also figure highly on the accessibility rankings, thus demonstrating yet again that countries deploying new technologies to provide robust widespread connectivity while keeping consumer prices comparatively low are fostering inclusive digital economies and growth.
Again unsurprisingly, of those countries listed in the Broadband Choices Index providing the worst value broadband, seven of the Bottom 10 are in Africa, and six of those seven are sub-Saharan nations, where what broadband there is comes via necessarily more expensive mobile Internet connectivity that puts the price of monthly Internet services bundles way beyond the reach of just about everyone except the political and military elite and wealthy landowners and business people.
Endemic and apparently intractable national and regional poverty, economic mismanagement, corruption, unemployment, vast distances, difficult geographies and rugged terrain, lack of roads and transportation systems and poor, antiquated, overburdened and often repeatedly plundered infrastructure means such countries stay in the broadband slow lane and on the wrong side of the narrowing but still deep digital divide.
As the Broadband Connections report shows, countries such as Burundi, Equatorial Guinea, Mali, Mauritania, Niger and Zimbabwe have some of the most expensive Internet services on the planet, given GDP and average wages. For example, in Equatorial Guinea where economic growth has been in minus figures for many years, the cost of 1Gb of mobile data is US$23.50. More astonishing still is Mauritania, where the cost of a monthly Internet subscription is an unbelievable $773.20!
At the other end of the continuum, the ten countries providing the cheapest Internet access are, in order -- Ukraine, Russia, Romania, Bhutan, Belarus, Iran, Kazakhstan, Moldova, Vietnam and Mongolia. In the Top 10 list for the cheapest 1Gb of mobile, India and Israel come in at one and two at $0.4 and $0.6 per Gig respectively, Russia is at 3 at $0.7, Sri Lanka at 4 with $0.8, Kazakhstan at 5 with $0.9, Kyrgystan, Denmark and Poland at joint sixth with $1.0 dollar, Vietnam at nine with $1.1 and rounding it all out at number ten is Ukraine at $1.1 per GB.
As we all know, Internet access prices in the US are some of the highest in the developed world. With basic plain vanilla connectivity averaging $60. 64 per month in the US, the nation is at 116 in the rip-off league. Meanwhile, the UK average of $38.70 a month puts it in the table at position 65. In the US, 1GB of mobile data is $9.60, amongst the most expensive on earth, while the average in the UK is $3.40. That said, a raft of yet more inflation-busting price rises are in the pipeline for UK subscribers and it seems probable that we will be even further down the totem pole this time next year.
Fully interactive report is well worth a look
Rob Baillie, a spokesperson for Broadband Choices commented: "Our research shows a significant divide in not just the quality of internet access around the world but also it's inclusivity, with a significant number of people being priced out of the market - potentially having huge ramifications on education and employment prospects. While there have been significant advances in communications technology in recent years, more needs to be done to connect rural and economically challenged communities, however, doing so will likely require higher levels of investment and more innovation than we're currently seeing. Reliable and affordable internet access is vital in order to be competitive in an increasingly digital global economy, and with the coronavirus pandemic only speeding up the move towards digital industries, developing countries are at risk of being left behind."
The Internet Accessibility Index and accompanying report is too big and wide in scope to do them both full justice in a short article such as this, but the Index is fully interactive and well worth a deeper dive. You can find it at https://www.broadbandchoices.co.uk/features/internet-accessibility-index. Just click on the column header to sort the Index by individual data points. To reset the table, click the 'Rank' or 'Accessibility Score', or refresh the page. You can also download the data to browse offline.
Email Newsletters
Sign up to receive TelecomTV's top news and videos, plus exclusive subscriber-only content direct to your inbox.