Ciena adds to telco router market disruption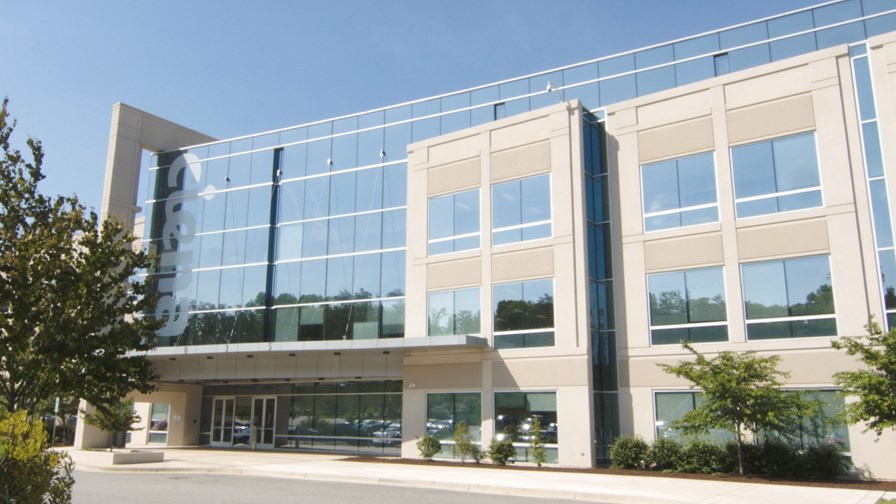 Ciena is primarily an optical systems vendor
But it has been building up its router portfolio and sales in recent years
Now it has gone all in with a new, potentially disruptive platform
The move comes as the sector is already being revamped by virtualisation and disaggregation
It's the latest move in Ciena's stealth growth strategy
Ciena has added to the current shake-up of the telco router platform sector with the launch of a new multifunctional system, the WaveRouter, that the optical systems vendor claims is designed to meet the needs of high-capacity, scalable converged metro networks.
The WaveRouter, which will become commercially available during the third quarter of this year, is something of a beast – this is not something an operator would stick at the very edge of its network: It is a large capacity, 21 rack-unit (RU) unified IP routing and optical transport platform that can handle significant volumes of data traffic, with Ciena claiming throughput of 6 Tbit/s to 192 Tbit/s. You can read about it in this press release.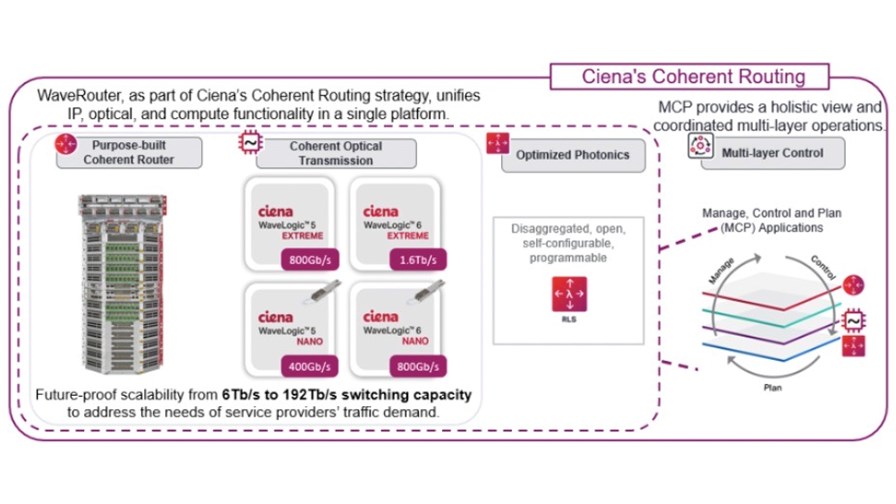 The top-level pitch here is that major network operators need a new approach to shunting their data traffic to and from datacentres and customers (and, of course, between datacentres, which are becoming increasingly distributed). That's because they have increasing volumes of data traffic running through their metro networks (which can cover vast areas in developed markets) as consumers and enterprises use more bandwidth-hungry applications such as cloud-based services, streaming video and online gaming – that's not a new message but it's a pertinent one because it's true and the trend isn't abating. Ciena believes that to deal with this traffic in the most efficient way, network operators need a new type of routing platform, (one that is designed from scratch to include optical networking capabilities) instead of using large legacy routers or stitching together lots of smaller aggregation routing boxes.
According to Ciena's Gina Nienaber, director of product marketing, the new product is an "industry-first platform architecture that has been designed optimally for a specific moment in time. It's this intersection point in the market where IP and optical are coming together," she told TelecomTV. It's worth pointing out here that IP and optical have long been integrated in the same system by multiple network equipment companies, but Ciena appears to be taking a new approach to this using pluggable optical components to provide the DWDM (dense wave division multiplexing) capabilities.
"Traditionally, routers have been designed without thinking about integrating optics or optical capabilities into routing platforms," added Nienaber. "WaveRouter is a new platform design and that type of design gives our customers benefits in the areas of operational simplicity and the area of scalability and in the area of sustainability. We believe it will definitely help our customers meet their business goals to decrease total cost of ownership, increase return on investment, and then help increase their sustainability impact."
The sustainability angle is a particularly hot point for Ciena: It claims a WaveRouter configured for 48 Tbit/s capacity, when compared with achieving 48 Tbit/s capacity using dozens of its existing 8110 coherent aggregation routers, would use 55% less power and take up to 65% less space.
That's all well and good, but a more meaningful comparison would be between the new Ciena product and technology from any of the current major carrier router system vendors such as market leader Cisco Systems, Juniper Networks, Nokia and Huawei, or even disaggregated, virtualised routing platform disruptor DriveNets, which has had great success at AT&T – see AT&T updates on its disaggregation journey.
Indeed, while Ciena's new product is very different in its architecture from that of DriveNets, which has developed its offering on white box servers, it is the virtualisation upstart's success with AT&T, KDDI and other operators that has likely given Ciena the confidence to expand its telco router portfolio with its first very large capacity product. Prior to DriveNets, multiple companies had tried and failed to break into the US$14bn-per-year carrier routing and switching sector, but there's clearly an appetite for alternative offerings that can meet the capacity, scalability and energy efficiency requirements of major network operators.
And it's notable that research firm Dell'Oro recently noted in its latest global service provider router and switch market update that, while not ranking near the top of the market, Ciena was one of the companies with the highest market share gains in 2022.
And it's not like Ciena is just entering the router market with this launch. While it has for decades been one of the optical networking sector's leaders, in recent years it has been steadily building its routing platform capabilities and business, a move that has been reaping benefits. In the first fiscal quarter of its current financial year, Ciena reported routing and switching revenues of US$119.5m, representing 11.3% of total revenues and up by 39% year on year, so it is already a significant line of sales growth for the company. Those sales have come from a portfolio of router products that includes Ciena's family of coherent aggregation routers, which have paved the way for the development of the much larger WaveRouter system.
And there's every reason to think that Ciena will have at least some success with WaveRouter. That's because it's the kind of company that doesn't develop and launch such a product without already knowing it stands a good chance of picking up some notable businesses: This product will have been designed with existing customer input, and, as with Ciena products launches of the past, Verizon (arguably Ciena's most important single customer) is cited in the supporting marketing materials. In a blog published to coincide with the launch of WaveRouter, Verizon's widely respected and very experienced director of network planning, Glenn Wellbrock, is quoted as saying: "As one of the largest communications services companies in the world, we continually strive to deliver more value for our customers with networks that are fast, reliable, secure and efficient. Advances in IP/optical convergence in the metro, as Ciena announced today, are critical to network evolution. As the telecom industry manages to move vast amounts of data over 5G, between machines and to the cloud while reducing our carbon footprint, continued innovation in this space is critical."
And close followers of Ciena's fortunes also believe the vendor can (pardon the obvious pun) make waves with this new product.
Simon Leopold, managing director of the data infrastructure equity research team at Wall Street firm Raymond James, has noted in multiple recent updates to clients that Ciena's decision to go head-to-head with Cisco, Juniper, Nokia and Huawei will expand its total addressable market (TAM) by US$8bn per year and help it to develop a new line of sales growth that will improve its margins, noting that Ciena's ongoing routing and switching sales have "grown nicely" and been "under-appreciated", while the focus has been on its optical portfolio launches and potential to replace Huawei's optical systems in markets outside China (a swap-out that, Leopold believes, is yet to happen but will do so soon, offering up about US$2bn worth of business to those that can replace the Chinese vendor).
This new product launch move looks very much like the latest step in Ciena's stealth growth strategy to test the waters in adjacent markets to see if there is significant new business to be won: It's doing the same in optical access and software-defined edge network functionality – see Ciena's latest M&A moves bolster its PON and virtualisation portfolios.
If the WaveRouter launch doesn't result in major new revenues, then Ciena hasn't bet the bank on the development and it remains a US$4bn+ annual turnover giant that still has growth potential in its core optical transport sector. If these moves do work out then, well, it could soon become a US$5bn-per-year revenues vendor!
- Ray Le Maistre, Editorial Director, TelecomTV
Email Newsletters
Sign up to receive TelecomTV's top news and videos, plus exclusive subscriber-only content direct to your inbox.