Which waveform technology will make it into the new 5G Air Interface?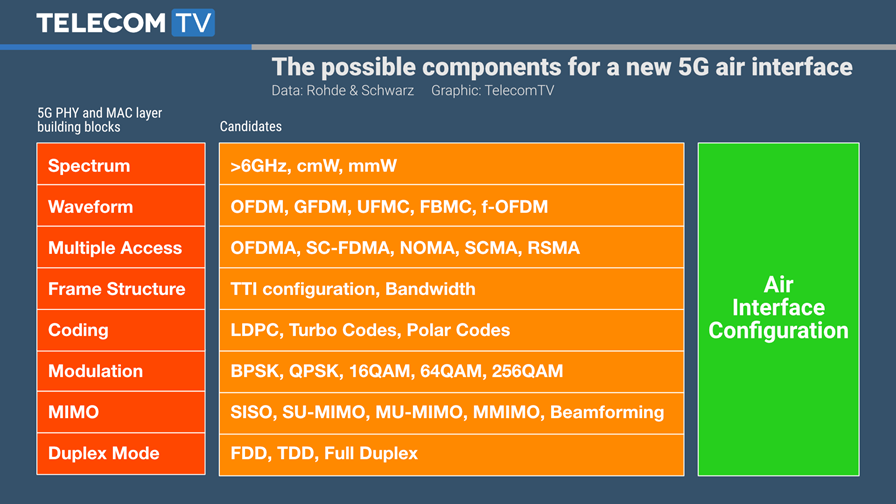 Test and measurement specialists Rohde & Schwarz have published a document that outlines the major potential 5G waveform candidates – vital for air interface design – listing their advantages and disadvantages and comparing them to Orthogonal Frequency Division Multiplexing (OFDM), which is used in LTE and LTE-Advanced.
Rohde & Schwarz have plenty of expertise in this field, and were vital to the introduction of GSM back in the early 1990s (and, incidentally, the subject of my very first telecoms article 25 years ago, when I naively suggested delays in test equipment could jeopardise the introduction of the new digital cellular). So much for 2G, with the forthcoming 5G Rohde & Schwarz is staying well ahead of the game.
The company says OFDM has certain limitations that makes it not the most suitable waveform for all the proposed applications envisioned for 5G. True, its continued use ensures backward compatibility with LTE, but can new services be better supported by an alternative waveform that can complement the weaker aspects of OFDM? Rohde & Schwarz lists the reasons why OFDM is not ideal for 5G, and anyone interested in the technical minutia should read the company's report.
So what will a new waveform scheme have to support? Broadly speaking, we can segment 5G requirements into three areas, each of which have different performance requirements:
Enhanced Mobile Broadband (eMBB)
Massive Machine Type Communication (mMTC)
Ultra-reliable and Low Latency Communications
On top of that, it needs to be noted that the waveform selection is only one part of the air interface design. Other considerations include spectrum, frame structure, coding, modulation and operation mode. That said, an ideal waveform should have:
High spectral efficiency for high data rates and efficient use of the spectrum
Low power ratio for efficient power amplifier design
Be robust against Doppler shift to allow mobility
Support asynchronous transmission and reception
Rohde & Schwarz have looked at the results of the EU's 5GNOW (Non-Orthogonal Waveforms for Asynchronous Signalling) project, which ran from 2012 to 2015 and cost €3.5m, and analysed its top three alternatives. Plus a fourth technology that is based on the current OFDM. So here are the candidates for a new air interface – not the only candidates, as we are some months ahead of 3GPP work – but a good indication of what we could be looking at for eventual IMT-2020 candidate technology.
FBMC: Filter-Bank Multi-Carrier
UFMC: Universal Filter Multi-Carrier
GFDM: Generalized Frequency Division Multiplex
f-OFDM: filtered Orthogonal Frequency Division Multiplexing
For in-depth descriptions of these technologies and to read the early technical analysis of each scheme, then download the report. In short, Rohde & Schwarz conclude that most of the spectral advantages more or less vanish when the signal is amplified and that "much more research, further testing and hardware-in-the-loop experiments are required to preserve the (spectral) advantages that these new waveform types show in typical simulations and make them also visible in reality".
The company also considered the question of Frequency Division Duplex (FDD) against Time Division Duplex (TDD). Given that around 90 per cent of all LTE networks today are FDD based, a fair assumption would be that 5G should also be FDD. Not necessarily though, thanks to the cmW and mmW frequencies being offered up for 5G. These very short wavelengths require phase array antennas to create the precise beams needed to overcome the higher path loss, and they need to be used in both downlink and uplink to achieve acceptable system performance. TDD uses the same frequency for transmit and receive, and so has a clear advantage. But then again, the emerging full duplex mode could change everything.
Email Newsletters
Sign up to receive TelecomTV's top news and videos, plus exclusive subscriber-only content direct to your inbox.