What's up with… Samsung, Nokia, Telefónica, Swisscom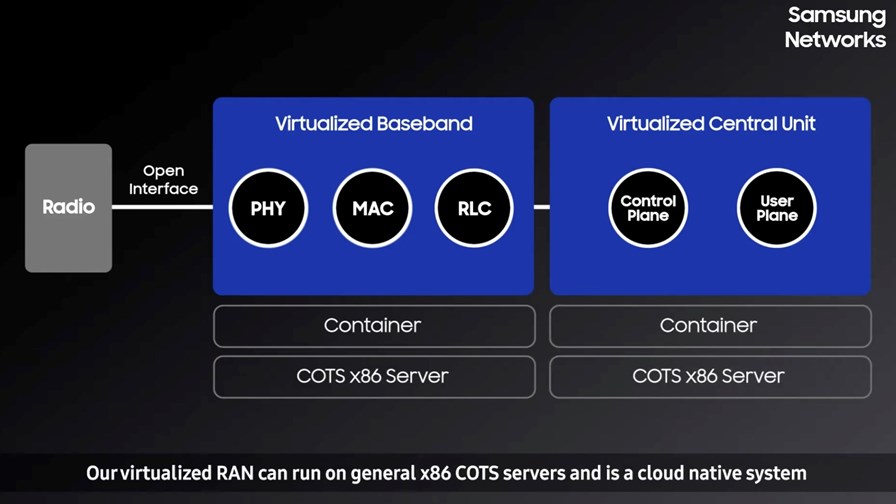 Samsung unveils virtualized 5G RAN
Nokia to support full set of O-RAN interfaces in 2021
Telefónica invests in cybersecurity startup
Swisscom and Telefónica laud their sustainability success
Virtualized and disaggregated 5G radio access networks from Nokia and Samsung, plus a cybersecurity investment by Telefónica are the brightest stars in this galaxy of news updates.
Samsung has unveiled its new, cloud native virtual 5G radio access network (vRAN) solution complete with open interfaces, comprising a virtualized Central Unit (vCU), a virtualized Distributed Unit (vDU), and "a wide range of radio units to enable a smooth migration to 5G." The vendor bullishly states that its "COTS (commercial off-the-shelf) x86-based platform [matches] the reliability of a traditional RAN." That's fighting talk, as Samsung is seeking to grab 5G RAN market share from the likes of Huawei, Ericsson and Nokia.
Nokia, though, is not sitting back and waiting to see if network operators opt for open, virtualized alternatives to those traditional RAN systems – it has been expanding its portfolio to cover all bases. Having announced in late June that its 5G AirScale Cloud RAN solution will be available this year and was "architected for Open RAN," the Finnish vendor has now issued a pledge to add "an initial set" of O-RAN interfaces to its AirScale offering this year and include a "full suite of O-RAN-defined interfaces" in 2021. In a not too subtle reference to its main rivals Ericsson and Huawei, which are cool and hostile to open RAN options respectively, Nokia added: "As the only global RAN provider to commit to O-RAN, Nokia's accelerated investment in and firm commitment to O-RAN provides CSPs as well as regulators and political decision-makers with greater assurance that they can embrace openness to secure their telecom supply chain, without concerns about the competitiveness and/or security of their 5G infrastructure." That boast also plays to the current support for Open RAN options amongst power-brokers in the US market and marks an open invitation too to the likes of DISH, which plans to build a nationwide mobile network in the US with Open RAN gear.
Telefónica has made an investment in Nozomi Networks, which "specializes in protecting operational technology (OT) and Internet of Things (IoT) infrastructures in sectors such as energy, pharmaceuticals, manufacturing, logistics and the automotive industry" by enabling the "real-time visualization of cyber risks, as well as managing and improving the resilience of industrial operations." The investment, which appears to amount to just a few million euros at most, "reinforces the partnership agreement announced earlier this year" between Nozomi Networks and ElevenPaths, the cybersecurity outfit that is part of the Spanish telco's Telefónica tech division.
The Spanish operator is also talking up its green credentials: It says the Climate Bonds Initiative, a non-profit organisation that promotes large-scale investment for a low-carbon economy, has awarded it a prize for being the 'Largest Green ICT issuer of 2019'. The prize "recognises Telefónica's green bond issue at the beginning of 2019, the first in the global telecommunications sector." The €1 billion raised from that bond will be used to finance projects aimed at increasing the company's energy efficiency, including the deployment of fibre in access networks, which is 85% more energy efficient that traditional copper lines.
Swisscom is also beating its environmental chest: It has been voted "the world's most sustainable telecommunications company" by World Finance magazine. The Swiss operator believes there is still room for improvement: "New technologies such as 5G, artificial intelligence and blockchain offer a variety of exciting possibilities to help us meet global sustainability targets," it noted.
Orange grand fromage Stéphane Richard has appointed new CEOs at Orange Polska and Orange Belgium in the form of Julien Ducarroz and Xavier Pichon respectively. In addition, the delightfully-monikered Mari-Noëlle Jégo-Laveissière will take over responsibility for the Europe region, with responsibility for the "European perimeter" that comprises seven countries – Belgium, Luxembourg, Moldova, Poland, Slovakia, Romania and Spain. The rest of the operator's European leadership team remains unchanged. For the full details, see this announcement.
Softbank, until recently the majority owner of Sprint, has apparently managed to wriggle out of its stock price difficulties by actioning what financial observers say is a massive share buyback scheme on a scale not seen since the heady days of the dotcom bubble about 20 years ago. According to Reuters, Softbank's mastermind and CEO, Masayoshi Son, has pledged to plough $23 billion into buying back shares to boost their price, as he did 20 years ago. That ended in a massive crash, of course, wiping out much of Son's fortune. So this time around he surely won't make the same mistake again, right? He'll probably make a different one...
In another sign of the tech power now being deployed by Google comes the news that it has formed a strategic relationship with the giant Deutsche Bank AG. The idea is that Google has the scale and scope to work on the bank's complete cloud makeover, including the creation of new banking products using artificial intelligence and machine learning. The move "demonstrates our determination to invest in our technology as our future is strongly linked to successful digitization. It is as much a revenue story as it is about costs," said Deutsche CEO Christian Sewing.
- The staff, TelecomTV
Email Newsletters
Sign up to receive TelecomTV's top news and videos, plus exclusive subscriber-only content direct to your inbox.