What's up with… NTT DOCOMO, Sony, Samsung, Telstra, Nokia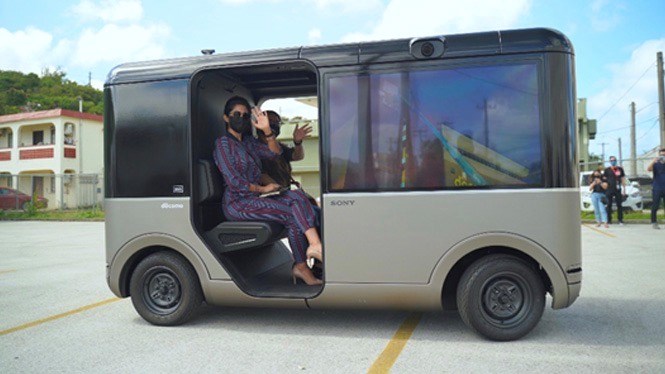 NTT DOCOMO boasts 5G-enabled cross-border driverless vehicle triumph
Samsung gets foot in NTT DOCOMO's Open RAN door
Telstra to create international subsidiary
Nokia boasts 5G SA and network speed breakthroughs
Cross-border, 5G-enabled driverless vehicles and a notable Open RAN gig for Samsung top the bill in today's news roundup.
Japanese mobile operator NTT DOCOMO and Sony have successfully completed a cross-border remote vehicle management trial via a 5G network. The companies managed to control a Sony vehicle (a 'Sociable Cart') that was carrying passengers in Guam, an island in the Pacific Ocean, from a base in Tokyo, more than 2,500 km away. The remote management was made possible by Sony image sensors attached to the vehicle that sent real-time video to a Sony office in Tokyo via a 5G network provided by DOCOMO Pacific in Guam. That's all very impressive, but what's the use case? DOCOMO says it will use what it has learned from the trial to "enhance customer experiences in entertainment fields, including overseas travel, and to address pressing needs such as workstyle reform." For further details, see this DOCOMO press release.
Still with DOCOMO… the operator has selected Samsung as an official supplier of 5G technology, including the vendor's O-RAN Alliance specs-compliant systems. "We are excited to collaborate with Samsung for the next phase of 5G Open RAN and accelerate the expansion of our 'Lightning Speed 5G' coverage," stated Sadayuki Abeta, General Manager of DOCOMO's Radio Access Network Development Department. The deal is significant for the vendor, according to Stefan Pongratz, Vice President at research house Dell'Oro. "NTT DOCOMO has a history of being at the forefront with new and innovative technologies and this announcement cements Samsung's position as a major 5G RAN supplier," stated the analyst.
Telstra, as part of its T22 strategy, is taking its plan to restructure itself and split into a number of self-managing units a step further than previously outlined with the formation of a fourth subsidiary, Telstra International. In November last year, CEO Andrew Penn unveiled a plan to create three units -- InfraCo Fixed (ducts, fibre, data centres, subsea cables and exchanges), InfraCo Towers, and ServeCo (including the active parts of the network, such as the radio access network and spectrum assets). Now it's adding the International subsidiary "to keep that part of the business, including subsea cables, together as one entity." The restructuring plan is a major undertaking for the operator and will require the formation of a new Telstra holding company, a move the operator's shareholders will vote on during the Annual General Meeting this October.
Nokia has announced what it claims is the first 5G standalone (SA) Radio Access Network ("RAN") Sharing network in South-East Asia. The company has been selected by Antina, a joint venture formed by mobile network operators M1 and StarHub, following a competitive tender process, to deploy 5G SA networks across Singapore. Nokia is to equip the initiative from its AirScale portfolio and CloudRAN solution in the 3.5GHz spectrum band. It will supply 5G base stations and its small cells solution for indoor coverage, as well as other radio access products. For further details, see this announcement.
The vendor is also claiming a 5G "speed world record," having achieved a 4.5 Gbit's connection during a trial with Turk Telecom over the operator's 26 GHz mmWave spectrum. Read more.
London, UK-based Digital TV Research, provider of business intelligence to the global television industry, has calculated that the value of OTT services in the Asia-Pacific region will rise by 90 per cent by 2026. It expects revenues from OTT TV episodes and films and other videos for 22 countries across the enormous area to hit US$54 billion within five years, up from the $29 billion recorded in 2020. China's revenues will increase by $8.4 billion, India's will increase by $4.7 billion, a threefold leap, and Japan's will rise by $4.5 billion. China will account for 44 per cent of the Asia Pacific's OTT services revenues by 2026. That is a fall from the 54 per cent recorded in 2020 and a direct result of other countries in the region growing at a fast pace. Meanwhile, China will add a further $5 billion in revenues from AVOD services by 2026 and SVOD will account for a further $3 billion. SVOD (Subscription Video on Demand) is similar to traditional TV packages in that users can consume as much content as they want for a monthly flat-rate subscription payment. AVOD (Advertising-based Video on Demand) is free to consumers, but they have to sit through the sort of frequent and lengthy bombardments of hard-sell advertising that make watching free-to-air US and Australian TV channels such a dispiriting and brain-numbing experience. Unsurprisingly, premium content owners rarely use the AVOD model because it generates considerably less revenue than SVOD. In fact, and again unsurprisingly, SVOD revenues in Asia-Pacific overtook AVOD revenues more than two years ago.
Despite the generally fulsome welcome for Ofcom's approach to UK broadband regulation, it turns out not every network builder is enamoured with its approach. The altnets, having in many cases spearheaded fibre deployment in the UK, now feel they're being sidelined. At least that's the claim from the Independent Networks Co-operative Association (INCA), which says its members' concerns were unheeded when it came to the formulation of Ofcom's plans. "While government recognises the importance of the competitive market, Ofcom seems fixated only on incentivising BT to invest, dismissing the majority of altnets as bit players, recognising few of their concerns in the market review statement." says INCA CEO Malcolm Corbett. "If operators and their investors believe that the regulator is not willing to listen to their concerns and act on them, it risks delaying deployment and undermining the government targets, particularly in more challenging rural areas." Translation: 'Nice little roll-out you've managed to foster there - pity if something were to happen to it.'
The GSMA reports it's deeply concerned about the impact that government restrictions on connectivity and Internet services are having on citizens and businesses in Myanmar. It's calling for the restoration of services there and in any other country affected by service restrictions orders and network disruptions, as soon as possible. The fact is that hindering connectivity has become too tempting a weapon to use against domestic enemies in places like Maynmar, and foot-stamping by the GSMA is unlikely to cause that country's military leaders to change course. The GSMA says it stands ready to work constructively with relevant governments, authorities and stakeholders to assist in the restoration of services or mitigation of adverse impacts in all affected countries.
Last week we ran a story about the market mania surrounding SPACs (Special Purpose Acquisition Companies). These are shell corporations, listed on a stock exchange, whose sole purpose is to acquire private companies and take them public as quickly as possible. In America in 2020, SPACs raised US$82 billion - more than half of all IPO funding achieved in that year. They are very trendy, and 25 telecoms and IT companies combined with SPAC vehicles to list on the US exchanges during the course of the past year. However, as those of you who love cigarettes and whisky and wild, wild living will know, it is possible to have too much of a good thing. SPACs are multiplying even as they swarm around a dwindling number of honeypots. According to Renaissance Capital, the Russia-headquartered investment bank that tracks SPAC listings, 264 of them have raised $75.5 billion in the first quarter of the year and SPAC flotations now outnumber the traditional IPO by a ratio of four-to-one. With so many SPACs chasing a limited number of companies to team-up with, problems loom. If a target company cannot be found and a merger completed within two years, SPACs are legally obliged to dissolve themselves and return the money they raised. As the pressure to identify targets intensifies, SPACs are casting around to find very new, almost unknown and certainly untested start-ups and the valuations they are putting on them are going through the roof. It's starting to look like an unsustainable bubble and there will be casualties – indeed there already have been. For example, take Nikola, an electric vehicles start-up based in Phoenix, Arizona, that went public via a SPAC last summer. Its stock value has fallen by more than 80 per cent after the investment fund, Hindenburg Research, accused the company of lying about its technology, overstating the order book and customer list, and producing an expensive and deliberately misleading advertising video showing a Nikola truck rolling down a gradual slope. However, propulsion was produced by the force of gravity, not an electric motor. What goes around comes around – we used to have vehicles like those in the UK in the 1950s when times were tough and money tight. They were known as the "Rolls-Canardley" as in "it can roll down a hill but can 'ardly get up the other side". Rather like the Nikola. Meanwhile, the company is under investigation by the US Securities and Exchange Commission and the Justice Department and the Executive Chairman and founder Trevor Milton resigned in disgrace.
- The staff, TelecomTV
Email Newsletters
Sign up to receive TelecomTV's top news and videos, plus exclusive subscriber-only content direct to your inbox.