What's up with… 5G in Belgium, Orange, Citymesh, Vivendi & TIM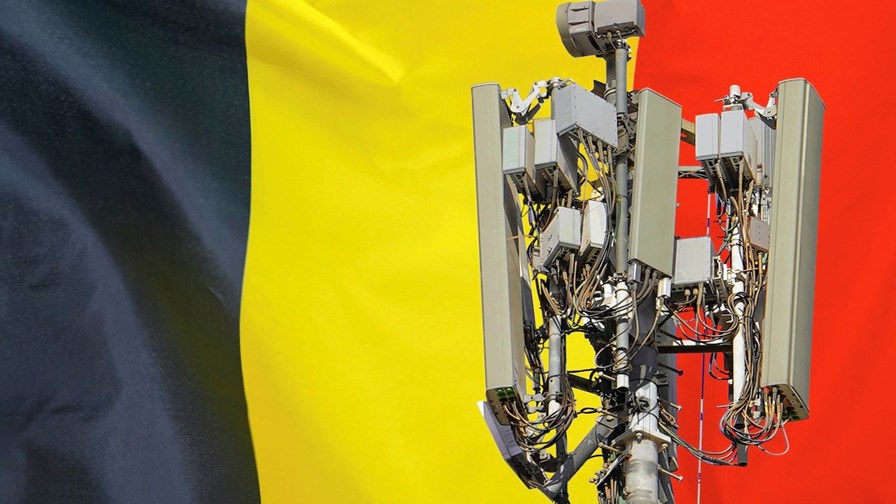 Belgium's initial 5G spectrum auction has completed
With new spectrum on board, Orange Belgium starts to sunset 3G
Newcomer Citymesh to start building fourth mobile network in Belgium
Vivendi is seeking a €31bn valuation for TIM's fixed network assets
In today's industry news roundup: Belgium's spectrum auction results fuel 5G strategies and heralds the arrival of new entrants, as well as impacting 3G switch-off plans; TIM is coming under pressure from lead investor Vivendi over the valuation of its fixed access network; and more!
Belgium's regulator, the BIPT (Belgian Institute for Postal Services and Telecommunications), has completed its auction of 5G spectrum in the 700 MHz and 3600 MHz bands, and spectrum in the 900MHz, 1800 MHz and 2100 MHz bands that is used for 2G, 3G and 4G services. The process raised just more than €1.2bn, comprising about €900mn from the auction process and about €300mn from pre-reserved spectrum, from five network operators, namely Proximus, Orange Belgium, Telenet, and new entrants Citymesh Mobile and ICT services specialist Network Research Belgium (NRB). The 5G spectrum in the 3600 MHz band raised about €209mn, with Proximus, Orange Belgium and Telenet each landing 100 MHz each of capacity, while Citymesh landed 50 MHz and NRB got 20 MHz. The 5G spectrum in the longer-reach 700 MHz band garnered more than €327mn, with Proximus and Orange Belgium each snapping up 10 MHz duplex, while Telenet and Citymesh each landed 5 MHz duplex. The table below shows all of the spectrum allocations and the fees paid. Proximus spent €491mn in total, Orange Belgium spent €322mn, and Telenet spent €264.3mn. Newcomers Citymesh spent just over €114mn and NRB paid just short of €11mn for its slice of the 3600 MHz band. For further details, including what happens with regards to the position of the frequency blocks (a further process that could cost the operators even more in fees), check out this thorough BIPT announcement.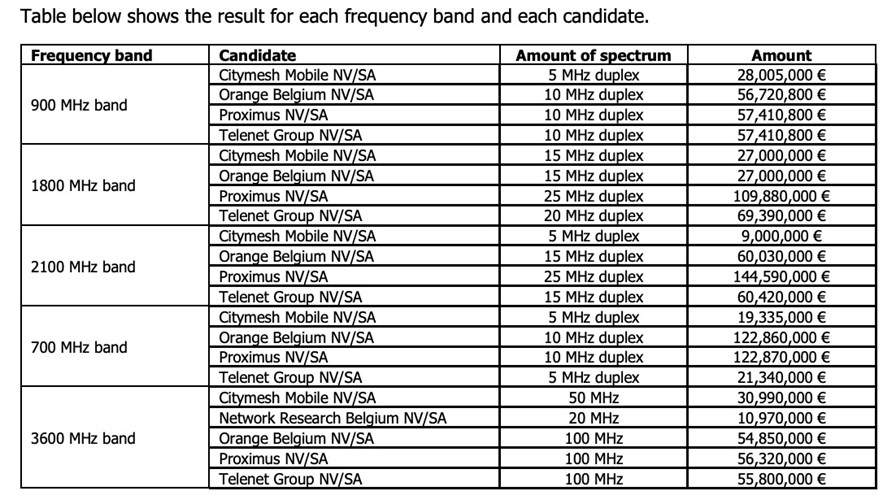 In announcing its new spectrum gains, Orange Belgium noted it will start phasing out 3G from mid-2023 and switch off the 3G network in 2025, while it will retain 2G services until the end of 2028. "Orange Belgium guarantees the continuity of its 4G technology that covers nearly 100% of the Belgian population," it added. Stefan Slavnicu, chief network officer at Orange Belgium, noted: "By phasing out 3G technology we are getting rid of obsolete equipment that consumes a lot of electricity, space and human energy to maintain. 3G data represents today less than 2% of the total data traffic on the network. With this move, we will have networks that are software-based, resilient and automated, ready for future evolutions. By planning that evolution well in advance, we minimise the impact on our customers, and finally on the planet, with the recycling of network equipment and the refurbishing of mobile devices, as well as the commercialization of last generation eco-designed terminals." Read more.
For Citymesh Mobile, which is owned 51% by Citymesh (part of IT services group Cegeka) and 49% by RCS & RDS (part of European IT and telecoms group Digi Communications), the auction result marks the start of its network rollout plans. CItymesh and Digi will jointly fund the network construction and ultimately both use the network for different purposes – Citymesh to target the enterprise sector and Digi to focus on the consumer services market. "Because we start from a blank sheet, we have the opportunity to take advantage of the technological advances of 5G from the start and can optimally plan the rollout," stated Mitch De Geest, CEO of Citymesh. Read more.
Having previously communicated its outrage at TIM (Telecom Italia)'s plan to offload its fixed broadband network assets for about €20bn, French media and communications giant Vivendi, the single largest shareholder in TIM, has reportedly signalled it will block any move that values TIM's broadband network assets at anything less than €31 bn for the planned deal, according to Reuters. The recent valuation for the fixed line assets of €17-21 billion was poorly received at Vivendi headquarters, with the company's CEO, Arnaud de Puyfontaine, stating that Vivendi would never support a plan to sell the business with such a low price tag. Insisting on a €31 billion valuation is a stance could deliver a significant blow to the strategic plans of TIM's recently-appointed CEO Pietro Labriola, who is seeking to restructure the national Italian operator, balance the books and set it on course for profitable growth following a string of profit warnings and operational mishaps. Labriola has laid out a plan to split TIM into two separate entities, ServCo and NetCo, with ServCo remaining as the future of TIM while NetCo's assets, including the fixed line operations (FiberCop) and the international networks and services unit (Sparkle), would be sold. TIM has agreed in principle that FiberCop would be merged with Italy's other main fixed broadband network operator, Open Fiber, to create a new company controlled by state investor CDP, but Vivendi could stand in the way of that deal ever being completed. This is not going to be easy to sort out, clearly...
Talking of complicated, tricky M&A deals... In Canada, Rogers Communications and Shaw Communications are trying to salvage their merger plans by striking a deal to sell Shaw's Freedom Mobile business to Quebecor for C$2.85bn (US$2.2bn), a move that would, in their view, "ensure the presence and viability of a strong fourth wireless carrier in Canada." Rogers and Shaw also hope this will address the "concerns raised by the Commissioner of Competition and the Minister of Innovation, Science and Industry regarding viable and sustainable wireless competition in Canada." Those concerns put a halt to the Rogers/Shaw marriage plans in late May – let's see if the Quebecor agreement can salvage any hope for the planned mega-merger that would create a stronger rival to Bell Canada and Telus. Read more.
- The staff, TelecomTV
Email Newsletters
Sign up to receive TelecomTV's top news and videos, plus exclusive subscriber-only content direct to your inbox.