US adopts 'hearts and minds' campaign to prepare for 5G small cells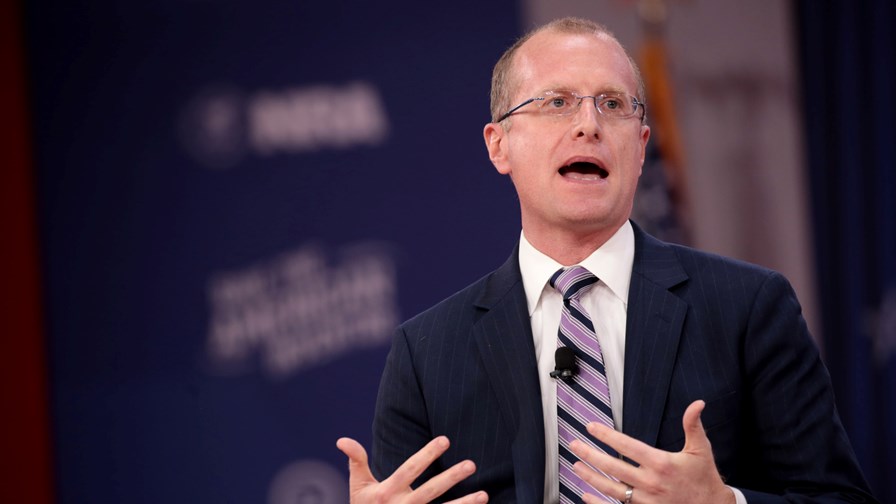 FCC proposes a nationwide plan to reduce small cell deployment regulations
Building upon the existing state-by-state efforts
Commissioner Carr announces his plan in Indiana
5G coming to Pawnee?
There are many differences in how various regions and national governments are preparing for 5G and how they see the technology helping their broader social and economic goals, but there is one aspect in common – they all need it to be successful from the first day of launch. This blind faith in 5G is somewhat disturbing, given that it only represents a continuing evolution of telecoms technology; it was never designed to save the world. Nevertheless, politicians are betting big on 5G, and are doing everything they can to ease its introduction and help it get off to a good start.
This is certainly evidenced in the US, where local governments and municipalities are being stealthily targeted, with telcos and their heavily-lobbied federal government officials seeking to win hearts and minds prior to launch. The main reason comes down to small cells.
A huge number of small cells are going to be needed for 5G deployments, especially as the higher frequency spectrum services come into operation, with their much lower propagation ranges. This means more cell sites in more dense deployments, with many being highly visible in public places. Do you want more boxes and antennas on every pole and mast in your neighbourhood? No you don't, at least not without first being convinced of their benefits. This is America, after all, where citizens cherish their constitutional right to protest and challenge their local government appointees.
And so the campaign continues. This week, FCC Commissioner Brendan Carr travelled to Indianapolis to announce the regulator's next 5G Order – a proposal to cut costs and streamline approval periods for small cells. This issue was identified very early as a major potential obstacle to 5G, and consequently there have been numerous studies, white papers and guidelines published by a panoply of organisations and associations. There's even a pre-drafted 'model code' for municipalities, written by the National League of Cities with help from the National Association of Telecommunications Officers and Advisors.
Economic benefits?
Carr cites a recent study that says his plan will "save $2 billion in unnecessary fees", "stimulate $2.5 billion" through additional small cell deployments, and "create more than 27,000 jobs". It will also, he says "help close the digital divide" – although we've been hearing claims about this for decades now and still nothing has changed, and quite honestly, probably won't. This economic analysis study – which remains anonymous and therefore unchallenged – also apparently shows that Carr's plan will see two million additional homes served by small cells, of which 97 per cent will be in rural and suburban communities.
Hence the trip to Indiana. In a speech at the Indiana Statehouse, Carr urged policymakers to upgrade their regulations. 5G success, he said, would not be measured by how many major cities took advantage of the technology, but by "every community getting a fair shot at 5G".
Carr has adapted his plan from the small cell bills enacted in 20 states across the country, which aimed to reform laws that were designed for larger macro-cells and towers by limiting the fees that localities can charge for construction and speeding up the approval process. He cites the fact that AT&T and Verizon have both identified Indianapolis for early 5G coverage as evidence that these state bills work. He added that in total, network providers have built more than 1,000 small cells in 30 communities across the state.
What would Ron Swanson say?
"Here in Indiana, we believe in minimizing burdensome regulations in order to pave the way for investments of all kinds in our local communities and across the state," said State Senator Jim Merritt, an author of Indiana's small-cell reform legislation. "We made common-sense changes in our state law to encourage wireless investment, and those efforts are paying off in a tremendous way. This new technology is going to change our world significantly, and I believe Commissioner Carr's proposals will have that same positive effect on the rest of the nation."
Of course, just down the road from the state capitol is the local government crazy town of Pawnee – or at least it is on Amazon Prime. Pawnee is the fictional Indiana town in the comedy series Parks & Recreation (you haven't seen it? What? Do so at once. And watch out for Series 7 episode 5 "Gryzzlbox, which is perhaps the best spoof yet on Google, Amazon and our mindless supplication to the Internet gods). Jim Merritt would definitely get Ron Swanson's vote for "minimizing burdensome regulations", although he might not be too enamoured with the idea that 5G technology is going to change our world… Hey, it's Friday, all part of TelecomTV's service to recommend the best comedy shows for weekend binge-watching.
In true Leslie Knope style (we just can't escape the Parks & Rec references, sorry), Carr is all business (and doubtless has detailed his plans in an incredibly well-organised binder…). He wants to build on what he says are the grassroots, commonsense reforms and extend regulatory relief throughout the country. His plan has four main components:
Implement federal law that bars municipal rules that have the effect of prohibiting deployment of wireless service;
Limit fees for reviewing small cell deployments to just recovering costs;
Requires municipalities to rule on small cell applications to 60 days, or for 90 days if a new pole is required;
Places guards on other municipal rules that may prohibit service while reaffirming traditional rights, such as reasonable aesthetic reviews.
On this last point, steps have already been taken by some municipalities (such as the town of Fishers, Indiana) to work with infrastructure companies to effectively camouflage small cell deployments, to meet "aesthetic considerations".
"Too many communities, especially in rural America, feel that they may be left behind," Carr told his audience at the Statehouse. "Their elected leaders have called on the FCC to act because they are concerned that, without federal action, they may not see 4G, let alone 5G service. They worry that the billions of dollars of investment needed to deploy next-gen networks will be consumed by high fees and long delays in big, 'must serve' cities. Success can only be measured when all Americans, no matter where they live, have a fair shot at fast, affordable broadband."
Carr's plan is scheduled to be voted on at the FCC's September 25 Open Meeting.
Email Newsletters
Sign up to receive TelecomTV's top news and videos, plus exclusive subscriber-only content direct to your inbox.