UK faces serious 5G deployment challenges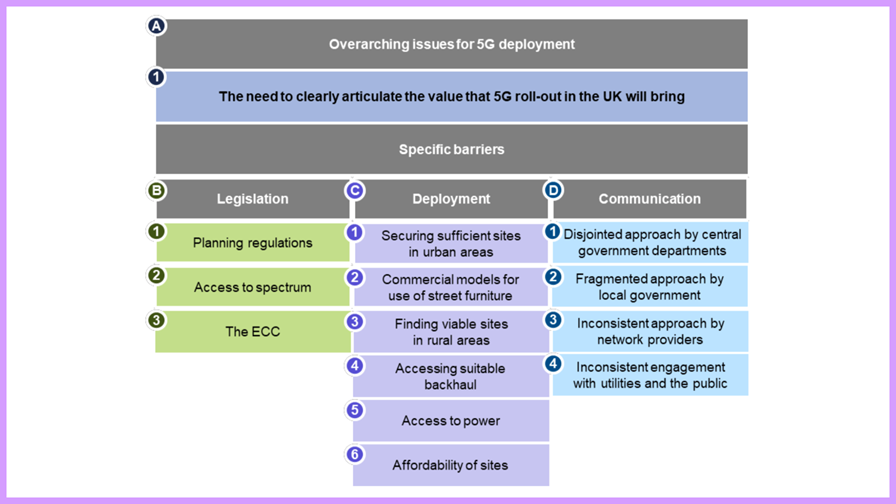 Broadband Stakeholder Group identifies urgent challenges
Report by Analysys Mason identifies 13 specific barriers
UK government not communicating the 5G value
Claims the next 12-18 months are vitally important
First the US, now the UK; governments on both sides of the Atlantic are being warned that they need to do much more to support the successful introduction of 5G? Industry-led lobbying bluster, or genuine concerns over real obstacles? Parking our usual (and often well-placed) cynicism for a moment and with considerable thought and reflection, TelecomTV thinks it's the latter. The evolution of telecoms is proceeding hand-in-hand with the widespread growth of government-imposed rules and regulations – not always for the better.
A new report out today commissioned by the Broadband Stakeholders Group (BSG) and authored by research firm Analysys Mason looks at the barriers to 5G deployment from both industry and local authority perspectives in the UK, identifying key challenges faced during the deployment process. The authors say the report aims to assist the UK Government in delivering its ambition to be a 5G leader by identifying and proposing solutions to current and potential barriers to network deployment.
"The Government is rightly ambitious in wanting to ensure that the UK can benefit from being a global leader in the use of 5G," said Richard Hooper, Chairman of the Broadband Stakeholder Group. "The difficulty lies in how to efficiently deploy the infrastructure that 5G requires and we believe that this report provides a roadmap for how we can do so – removing unnecessary barriers and helping to deliver more investment and ultimately better coverage and capacity for users."
Hooper and his team write that legal barriers, deployment issues and challenges with stakeholder engagement all have the potential to delay the rollout of 5G. Taken together and against a background of uncertainty regarding the business case for denser 5G networks, these could also ultimately limit the deployment of 5G infrastructure. Currently they act as a significant brake on investment due to additional costs and delays, meaning that telcos will have difficulty committing to roll out, without greater certainty of success.
UK not communicating the 5G value
Just as the Accenture study zeroed in on small cells and their essential role in 5G, so too does the Analysys Mason report. It says that many challenges stem from the lack of certainty over the benefits that 5G will deliver for the UK. It recommends that wider articulation of this value will help reduce uncertainty for industry and increase awareness of national priorities for mobile infrastructure within local authorities who have the greatest operational impact on network deployments.
We at TelecomTV have been saying for some time that the UK Government's goal of being some kind of "5G Leader" is somewhat fanciful, given that you can only demonstrate leadership if you have something to show. Yes, significant investment has been made in a number of trials and testbeds, but we're still not sure who they benefit. The commercial co-investors perhaps (the vast majority of whom are not UK based), or the university partners (who will feed their early-stage research into the global marketplace), or the associated vertical industries (again, where are these groups headquartered?). It backs up the report's conclusion that the message needs to be better articulated. Why don't you give us a call, DCMS, and we'll gladly help.
The Analysys Mason report also identifies thirteen specific barriers, reflecting practical challenges in planning and deploying mobile infrastructure for 5G. In fact, there are 21 recommendations for central government, local government and industry stakeholders. The graphic with this article shows the 13 barriers, but you should read the report for the full conclusions, it is well worth a weekend read.
"The next 12-18 months are vitally important for the mobile industry to prepare for 5G deployment," said Matt Yardley, Partner with Analysys Mason. "Easing barriers to deploying that result in lengthy delays in site planning, or increase costs of deployment to unrealistic levels, should be a key priority for Government, local authorities and the industry".
Email Newsletters
Sign up to receive TelecomTV's top news and videos, plus exclusive subscriber-only content direct to your inbox.