The LG U+ 5G Tour Bus makes a stop in Gangnam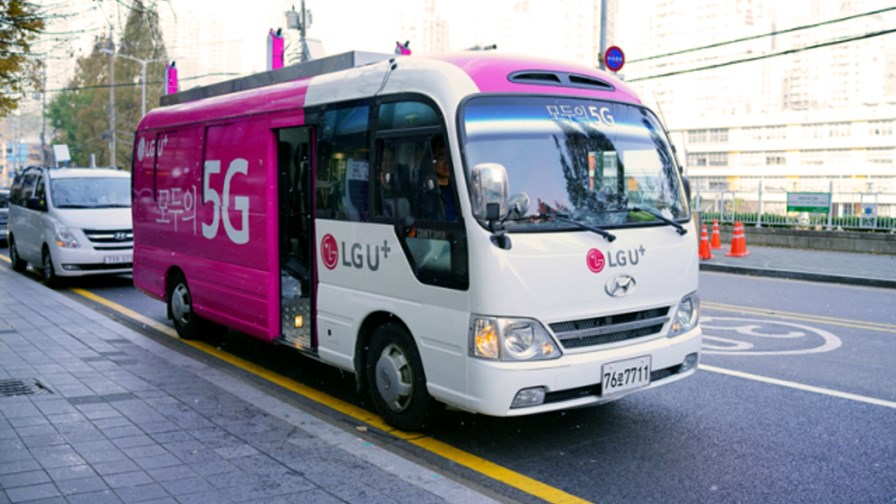 LG U+ and Huawei complete 5G pre-commercial tests
Urban trials in Gangnam district of Seoul using 3.5GHz and 28GHz base stations
Network trial returned average data rates of 1Gbit/s over 3.5GHz
More than 5Gbit/s achieved for dual connectivity, peaking at 20Gbit/s
South Korea telco LG U+ and its vendor partner Huawei have confirmed that they have completed what they say is the world's first large-scale 5G network test in a pre-commercial environment. The test network was situated in the Gangnam District of Seoul and consisted of both 3.5GHz and 28GHz base stations (these being the two most popular frequency bands for 5G globally so far).
The partners said the test also helped to successfully verify the technologies of UHD (4K) IPTV video and other commercial 5G services in a typical dense, urban environment. High-speed mobility, dual connectivity, and inter-cell handovers under continuous networking conditions were also validated.
LG U+ reported that the test results for the end-to-end network trial returned average data rates of 1Gbit/s over the 3.5GHz frequency band and more than 5Gbit/s for dual connectivity over both high and low bands. The dual band configuration returned a peak data rate of 20Gbit/s.
"The world's first large-scale joint 5G pre-commercial test indicated a significant breakthrough in 5G," said Kim Dae Hee, VP of the 5G Strategy Unit at LG U+. "We believe that Huawei is set to help LG U+ implement the world's first Commercial 5G network over 3.5GHz"
The operator took to the road with its 5G Tour Bus, to showcase 4K IPTV (pictured). It also demonstrated a VR drone designed by Huawei's Wireless X Labs and kitted out with what the vendor says is the world's first 5G customer premise equipment (CPE) operating in the 3.5GHz band. The demonstration reportedly showed throughput speeds of up to 1.5Gbit/s whilst the drone was flying at an altitude of over 100m.
"In the Gangnam District of Korea, we have successfully validated the 5G pre-commercial network and released the world's first 3.5GHz CPE.," said Zhou Yuefeng, CMO of Huawei's Wireless Product Line. "This demonstrates that Huawei will maintain its capability to provide competitive E2E 5G network products in 2018. LG U+ and Huawei will continue to conduct further research into 5G technologies and build a robust E2E industry ecosystem to achieve business success in the upcoming 5G era."
Email Newsletters
Sign up to receive TelecomTV's top news and videos, plus exclusive subscriber-only content direct to your inbox.