Telia completes European 5G trials, shows 15Gbit/s peak data and 3ms latency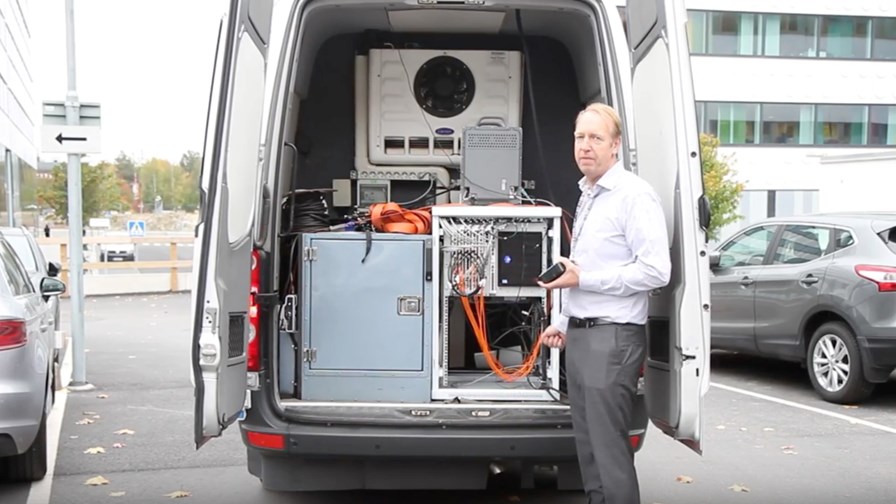 Telia and Ericsson report 15Gbit/s and 3ms latency in Sweden
US Cellular and Nokia report 5Gbit/s and 2ms in North America
Telia wants to introduce "5G services" in Stockholm and Tallinn in 2018
US Cellular wants to compete with the big telcos in mid- and rural markets
[UPDATED – now with added video]
Finally, some news from European telcos regarding "5G" technology trials, after yet another announcement from the US. This morning, Telia published information about its outdoor trial in Sweden. Unsurprisingly, the trial was conducted in partnership with Ericsson and took place in the techno-suburb of Kista – the long-time home of Ericsson.
It's a morsel of good news for embattled Ericsson, which saw its share price drop 20 per cent yesterday after releasing a profit warning. With 5G, the vendor is on much safer ground, as it has historically based its fortunes in recent decades around the "G" evolution cycles. One wonders if the news release was brought forward in a show of Swedish solidarity.
No matter, because the results look encouraging. The two companies say that the outdoor tests were conducted on the first 5G trial system in Europe, as Telia looks to offer 5G services to its customers in Stockholm and Tallinn in 2018 – two years before IMT-2020 standardisation is expected to be completed, so take the term "5G" under caution.
The trial in Kista demonstrated 5G capabilities over a live network and included tests on speed and latency. The system used 800MHz of spectrum in the 15GHz band and achieved test peak rates of 15Gbit/s per user with a minimum latency below 3 milliseconds (however, the press release states "15 gigabits per user", which is somewhat misleading).
"The standardisation and development of 5G has just started," acknowledged Mats Svärdh, Head of Networks and IT Infrastructure, Global Services and Operations, at Telia. "Our knowledge and learnings from testing in a real outdoor environment will be crucial to understand and develop the 5G technology and networks needed to meet our customers' future requirements on our services in a digitalised society."
"Our 5G roadmap will incrementally introduce IoT technologies and 5G concepts that will enhance end user experience and business potential for enterprises and society," added Peter Laurin, Head of Region Northern Europe and Central Asia, Ericsson. "Telia and Ericsson offer consumers and businesses to stay ahead with 5G-like services introductions. We are continuously creating new opportunities leveraging the promise of IoT and 5G and we'll all experience it step by step."
Next week, it is widely expected that the 3GPP standards group will announce a new preferred term of "5G", or at least a short-list of possible candidates, as it becomes increasingly frustrated by the use of the term for marketing purposes rather than for standardised technology. A similar situation emerged with 4G, where "LTE as originally envisioned" took several years and a couple of Releases before finally reaching market.
From Europe to North America
Meanwhile, over in the US, 5G technology trails and tests continue apace. US Cellular is the latest telco in North America to publish details of 5G trials. Working with Nokia, it says it has completed fixed wireless tests in both indoor and outdoor environments, using 28GHz spectrum through an experimental license from the FCC and Nokia's 5G-ready AirScale radio platform. For both tests, they streamed six simultaneous 4K UHD videos to test downlink speeds and latency.
The outdoor tests were conducted at US Cellular's technology centre in Schaumburg, Illinois, where its engineers set up a point-to-point, clear line of sight scenario between a base station and user equipment. To test the impact of a real world environment, impairments such as dry wall, windows and metal panels were introduced, and testing was repeated by moving the base station and user equipment behind trees and foliage. The indoor testing was done in US Cellular's lab.
In both environments, the companies say the tests delivered speeds of 5Gbit/s and ultra-low latency under 2 milliseconds over the 5G wireless link. They now plan further network testing as the 5G standards develop.
"We're excited with this successful 5G testing with Nokia," said Michael Irizarry, EVP and CTO at US Cellular. "We strive to provide our customers in the mid-sized and rural markets we serve with the latest technology that can enhance their lives or businesses. And we will continue to deliver a fast, high-quality network that works whenever and wherever our customers need it."
Email Newsletters
Sign up to receive TelecomTV's top news and videos, plus exclusive subscriber-only content direct to your inbox.