Telefónica tests 5G NR for V2X autonomous driving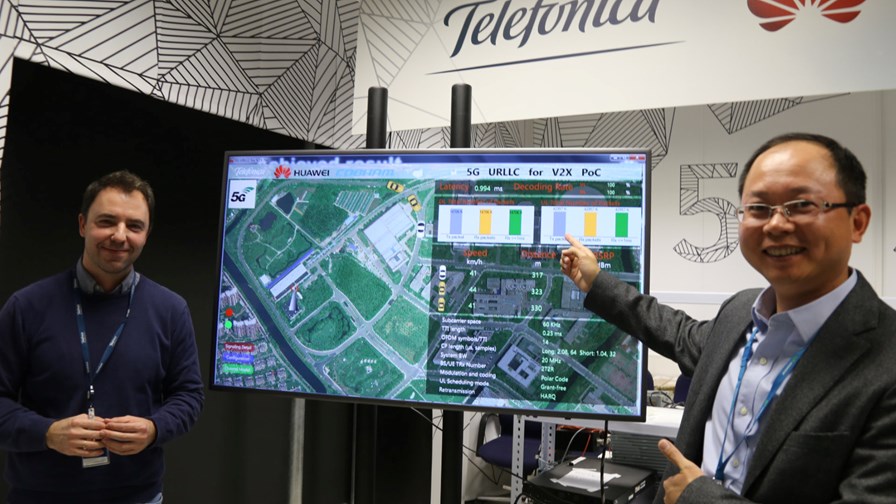 Proof of concept test for 5G uRLLC assisted driving
Based on the 3GPP NR standard
Delivered "five nines" reliability within a 1ms round trip delay
Follows the completion of their joint 5G UCNC trial in 2017
Telefónica and its vendor partner Huawei say they have conducted the world's first proof-of-concept (PoC) testbed for 5G-based vehicle-to-everything communication networks (5G-V2X) in their 5G Joint Innovation Lab at Madrid. The test used the Ultra-Reliable and Low-Latency Communication (URLLC) use case mode for 5G NR, which offers the architectural basis to support the stringent requirements imposed by the high reliability and fast reaction times that characterize autonomous driving.
Communication support for autonomous driving is likely to be one of the early and most significant use cases for 5G. In addition to vehicle-to-vehicle (V2V) communications, autonomous vehicles will also need to communicate with roadside infrastructure and other users, hence V2X. Some of the most advanced 5G-V2X services include vehicles platooning, extended sensors, advanced driving and remote driving, among others.
The test in Madrid for 5G-V2X was based on the latest 3GPP New Radio (NR) specification. Enabling the capability for self-driving will require further enhancements of the 5G NR system, in conjunction with a new NR Sidelink to allow V2V communications.
The partners demonstrated that URLLC can effectively support V2X with higher system capacity and better coverage. The exercise achieved 99.999 per cent reliability with a low latency of 1ms required for autonomous driving in a typical macro cellular outdoor environment, such as dense urban, suburban and rural areas. The PoC test will lay the foundations for large-scale field trials with the upcoming commercial deployments of 5G wireless networks worldwide.
"This PoC between Telefónica and Huawei is another step towards 5G commercialization and a fully connected society," said Enrique Blanco, Telefónica Global CTIO. "We will strengthen our collaboration by verifying 5G key technologies. Multiple novel use cases will be developed and provided to our customers."
In the 5G-V2X PoC, a new self-contained frame structure for radio transmission was used, both from the base station to the vehicle and from the vehicle to another vehicle. Telefónica says this allows much faster transmission feedback, enabling very low-latency communications. The flexibility of the NR system framework allows the support of some advanced features, like Polar coding for small V2X packet error correction, an optimized HARQ (Hybrid Automatic Repeat Request) procedure for increased transmission reliability, or an 'Inactive State' for instantly sending short packets to control the car manoeuvre. SCMA-based (Sparse Coded Multiple Access) Grant Free Access was also tested, to see how it simplifies uplink access procedures to significantly reduce transmission latency.
"We are pleased with our further collaboration with Telefónica in 5G technologies," said Wen Tong, Huawei Fellow and Huawei Wireless CTO. "The 5G-V2X PoC is another joint effort to pave the way for commercialization of 5G and lay a solid foundation to realize the 5G vision of enabling cooperative autonomous driving."
The PoC used vehicle platooning as a typical test case for the advanced V2X services, where the platoon members are controlled by the 5G NR network. The laboratory test has demonstrated that "five nines" reliability can be achieved within a 1ms round trip delay constraint, and the signalling overhead can be decreased by 67 per cent compared with today's most advanced commercial cellular systems.
Email Newsletters
Stay up to date with the latest industry developments: sign up to receive TelecomTV's top news and videos plus exclusive subscriber-only content direct to your inbox – including our daily news briefing and weekly wrap.