SK Telecom signs 5G MoU with Ericsson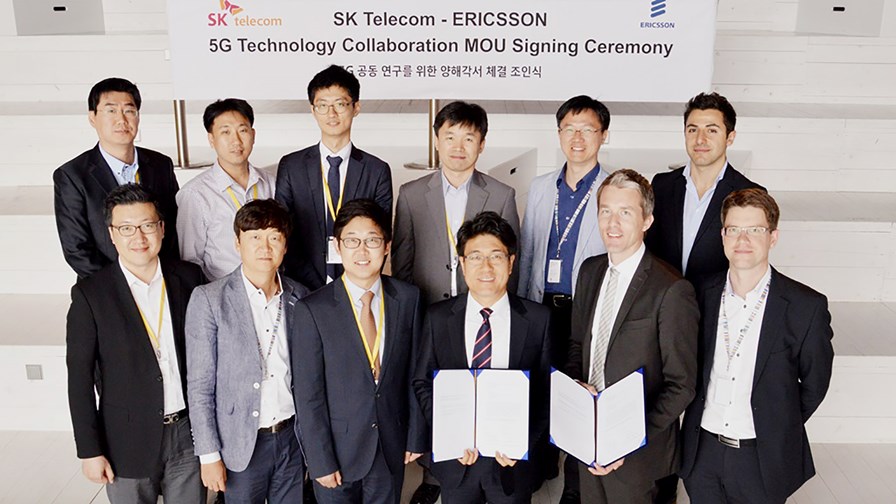 SK Telecom announced that it signed a MOU with Ericsson for joint research on 5G-related technologies. The tow companies agreed to cooperate in studying and developing core technologies that could become standards of the next generation network with the aim of demonstrating 5G at the Pyeongchang 2018 Winter Olympics.
The news follows last week's joint demonstration, with NTT DoCoMo, of 5GB data speeds at 5G-compatible 15GHz. For full details, including videos, see this TelecomTV report.
The two companies say they have selected technologies considered essential for evolution to 5G which include next generation small cells, ultra-wideband, low latency technology, FDD/TDD convergence and gigabyte-level data transmission. Other technologies will be added later, if deemed necessary.
"Korea is clearly leading in the uptake of LTE, in terms of technology and subscriber uptake, and SK Telecom is the largest mobile carrier in their market," said Thomas Norén, VP and Head of Product Area Radio at Ericsson. "They are early drivers of technology and we see them as an important partner in defining new opportunities, innovations and requirements for the continued evolution of LTE and towards 5G."
SK Telecom chairs the '5G Forum', established by Korea's Ministry of Science, ICT and Future Planning, in collaboration with industry and academia, to develop 5G. Last month, the European Commission signed a 'Joint Declaration on Strategic Cooperation in ICT and 5G' with the South Korean government. They also agreed on the need for harmonised radio spectrum to ensure global interoperability and on the preparation of global standards for 5G.
The 5G business model
Whilst there is much frustration that the industry is becoming focused on 5G so early (some of us still don't have 4G, and 3G is regarded as a luxury), there is no doubt that Europe is determined not to repeat the mistakes of 4G, where it saw its lead in GSM erode away and ceded the economic benefits to the US. Make no mistake, this time Europe's political leaders are determined to reap the rewards of the next generation of mobile. And to achieve this aim, it is betting on South Korea's help.
Even though we are still some way from standards agreement (expect them sometime after 2017), that doesn't stop researchers from working on the technologies that will be required – and we are pretty close to determining exactly what will be needed. The same thing happened with 3G and 4G, there's a nine to ten-year cycle between generations – or rather, the agreement of standards.
But whilst we are starting to see demonstrations of air interfaces and transmission technologies, the real work is going to be a little softer. Yes, new air interfaces are needed, as are intelligent and adaptive networks, millimetre wave support, HetNet and cloud integration, etc. But equally important will be the economics and business models to underpin the new range of 5G services.
For example, total cost of ownership has to fall, longer product lifetimes are called for, and CO2 emissions and energy use need to be as low as possible. Network sharing, in whatever guise, will be inevitable, and there needs to be a massive re-appraisal of spectrum allocation and use, bringing unlicensed operations into the fold and allowing for video broadcast.
All this whilst the Internet of Things grows exponentially and introduces many more wireless devices to the mix, and we humans (yes, it's not all about the IoT) come to expect higher reliability and quality of service, with as much bandwidth as we can eat.
Try designing network standards and operating licences that can cover this new multi-faceted wireless world, where every separate service has its own set of ideal requirements.
Just in case, like me, you just can't get enough of 5G, the GSA has created a new dedicated section on its site for 5G related presentations and white papers. Registered users can access the resource here. It also has a 5G discussion group on LinkedIn.
Email Newsletters
Sign up to receive TelecomTV's top news and videos, plus exclusive subscriber-only content direct to your inbox.