SK Telecom gets into top gear with its 5G-connected BMW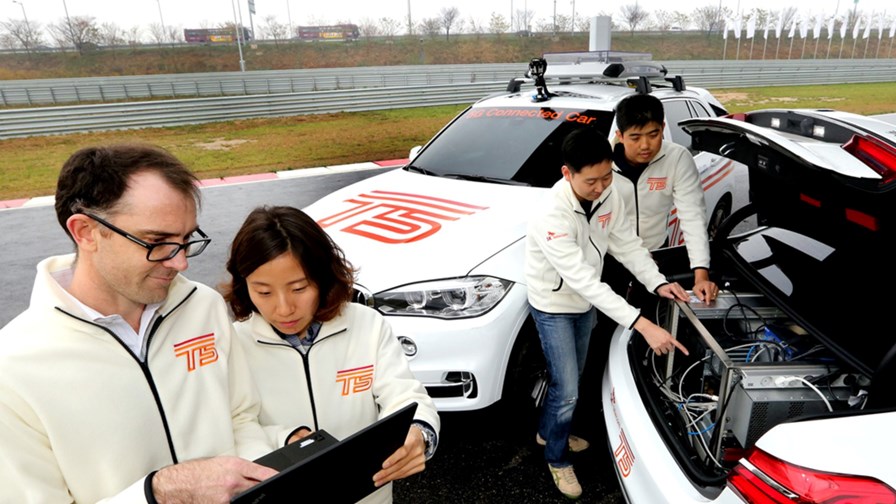 World's largest mmW 5G trial network at the BMW driving centre in Korea
28GHz trial network built in partnership with Ericsson
T5 cars equipped with "5G" and V2X technologies
Supporting 20Gbit/s speeds and "sub-millisecond" latencies
If any further proof was needed that the automotive sector represents the great new prize for 5G-invested telecoms vendors and operators, then SK Telecom has just delivered the evidence. The South Korean telco makes no secret of its intention to be in the vanguard of 5G-related activities, and is already pushing pre-standards trials via its 5G Open Trial Specification Alliance (as evidenced by our exclusive interview at this year's MWC event, which you can view as part of this feature).
Earlier today, SK Telecom announced that it has deployed the world largest mmWave 5G trial network using the 28GHz band at the BMW driving centre, located in Yeongjong Island, Incheon (close to the capitol's airport), and also demonstrated the world's first 5G-based connected car.
The centre is open to the public and offers driving courses as well as the obligatory "experience" centre, but it also houses BMW's regional R&D facility. The new 5G trial network covers all the indoor driving tracks (covering around 240,000 square meters) and supports more than 20Gbit/s peak data rates with "sub-millisecond" latency. SK Telecom jointly developed and deployed the 5G radio and core network infrastructure with its equipment partner Ericsson.
"At present, global automakers are expanding partnerships and collaborations to gain an edge in the area of future mobility realised through 5G," said Kim Hyo-joon, the CEO of BMW Group Korea. "The cooperation between BMW and SK Telecom will lay the foundation for 5G-based connected car technologies, and inspire us to achieve more innovations."
Now with Go-Faster stripes…
SK Telecom says it has also demonstrated the world's first 5G-based connected car, which it calls the T5. The vehicle uses 5G and Vehicle-to-Everything (V2X) technologies to demonstrate new features to improve road safety and the driving experience, using ultra-low latency communication between vehicles or the vehicle and the environment. SK Telecom worked with BMW Group Korea to install 5G terminals within two cars, which also feature "state-of-the-art" video recognition cameras to observe road conditions and provide notifications and assisted-driving.
The telco says it has also completed real-time uplink transmission over the "5G" network from the cars to the network of UHD video taken by the 4K cameras, as well as a 360-degree camera installed both inside and outside of the vehicle for test monitoring purposes.
"5G will offer much more than just faster data speeds," said Alex Choi, CTO and Head of Corporate R&D Center at SK Telecom, "it will serve as a true enabler for a whole new variety of powerful services that deliver unprecedented value to customers. Today's demonstration of 5G-based connected car technologies marks the very first step towards achieving fully autonomous driving in the upcoming era of 5G."
We are also rather intrigued by the news that SK Telecom has also built a 5G-based virtual reality bus. Equipped with large screen displays, audio system and video cameras to provide augmented/virtual reality multimedia, the 5G Experience Bus provides passengers with an immersive media experience while on the move. Now that sounds like something worth hopping on board for…
Watch out for plenty more 5G-ready trial networks from SK Telecom and its partners next year, as it continues its aggressive (and, in nice contrast to many other telcos, rather public) innovation spree. It's also worth noting that earlier this month SK Telecom became a member of the new 5G Automation Association (5GAA), which also includes BMW amongst its membership.
Email Newsletters
Sign up to receive TelecomTV's top news and videos, plus exclusive subscriber-only content direct to your inbox.