SK Telecom continues to transform Esports content business with 5G
SK Telecom signs LCK sponsorship contract with Riot Games Korea to actively promote its 5G brand '5GX'

The company will also enter into a contract with Riot Games Korea to obtain the rights to broadcast the League of Legends Champions Korea (LCK ) on 'oksusu' and to develop LCK-related AR and VR content in an exclusive manner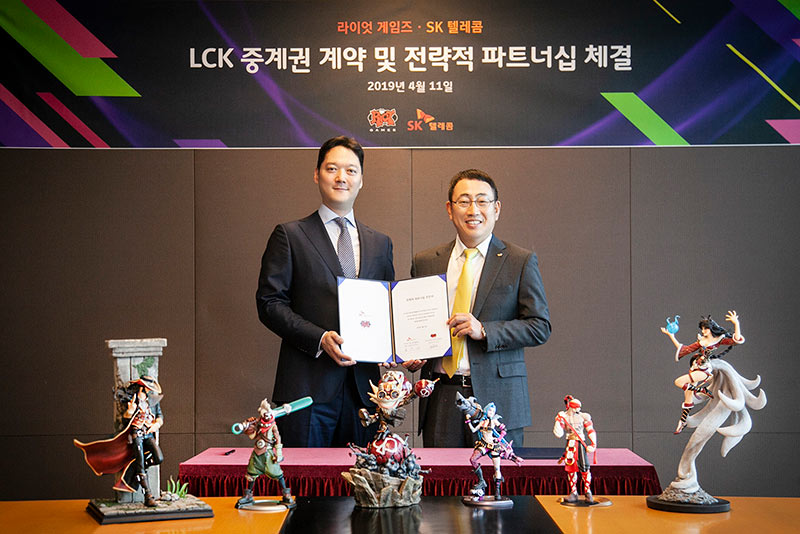 SK Telecom (NYSE:SKM) announced today that it signed a sponsorship contract with Riot Games Korea today at its Seoul headquarters located in Jung-gu, Seoul. The contract signing ceremony was attended by Ryu Young-sang, Executive Vice President and Head of MNO Business of SK Telecom, and Jaysen Park, Country Manager of Riot Games Korea.
According to the contract, SK Telecom will serve as the official sponsor of LCK until 2020. The company's 5G brand ('5GX') logo will be displayed on online banners and promotional materials related to the League of Legends Champions Korea (LCK) and diverse events will be held – e.g. experience/photo zones, Sponsor's Day, etc. – to promote SK Telecom's 5G brand.
Moreover, SK Telecom plans to form a contract with Riot Games Korea to retain the rights to broadcast all League of Legends (LoL) matches - including LCK, LoL World Championship, Mid-Season Invitational and All-Star Event - on 'oksusu,' the company's OTT video service; and to develop LCK-related AR and VR content in an exclusive manner.
SK Telecom plans to live broadcast the 2019 LCK Spring Finals scheduled to take place on April 13 at Jamsil Stadium by opening 'LoL live channel' on the front page of the 'SKT 5GX' section of oksusu. While watching live streaming of LCK matches, viewers will be able to use the touchscreen pinch zoom feature to enlarge the screen by up to four times without image quality degradation. Going forward, the company plans to offer '5GX Multi-View,' which simultaneously live-streams 10 different UHD videos – i.e. computer screen of each professional gamer- in addition to the main broadcasting video.
SK Telecom plans to begin providing live AR/VR broadcasting from the 2019 LCK Summer Split which starts in June. By wearing a VR headset, 'oksusu' viewers will gain an immersive experience, feeling as if they are watching the matches at the stadium instead of their homes.
Moreover, upon securing the exclusive rights to develop AR and VR content related to LCK, SK Telecom plans to develop LCK-related IP into VR/AR content to further enrich customers' experience. The company also plans to develop new VR/AR content such as VR match replay, one-on-one AR game with professional gamer, and virtual fan meeting based on analysis of gamers' content preference.
The contracts with Riot Games Korea, coupled with its February deal with Comcast Spectacor to establish an esports joint venture, will strengthen SK Telecom's presence and competitiveness in both the 5G and esports content markets.
"It's a great pleasure to announce that Riot Games Korea and SK Telecom were able to reach this contract," said Jaysen Park, Country Manager of Riot Games Korea. "Riot Games will continue our efforts to build a better LCK moving forward based on this partnership."
"Esports is one of the key areas where 5G can truly make a difference," said Ryu Young-Sang, Executive Vice President and Head of MNO Business of SK Telecom. "SK Telecom will realize a new level of customer experience by combining its 5G-based immersive media technologies with LoL, one of the most popular games in the world."
This content extract was originally sourced from an external website (
SK Telecom Media Centre
) and is the copyright of the external website owner. TelecomTV is not responsible for the content of external websites.
Legal Notices
Email Newsletters
Sign up to receive TelecomTV's top news and videos, plus exclusive subscriber-only content direct to your inbox.