[Updated] SK Telecom and Ericsson demonstrate 5G elastic cell technology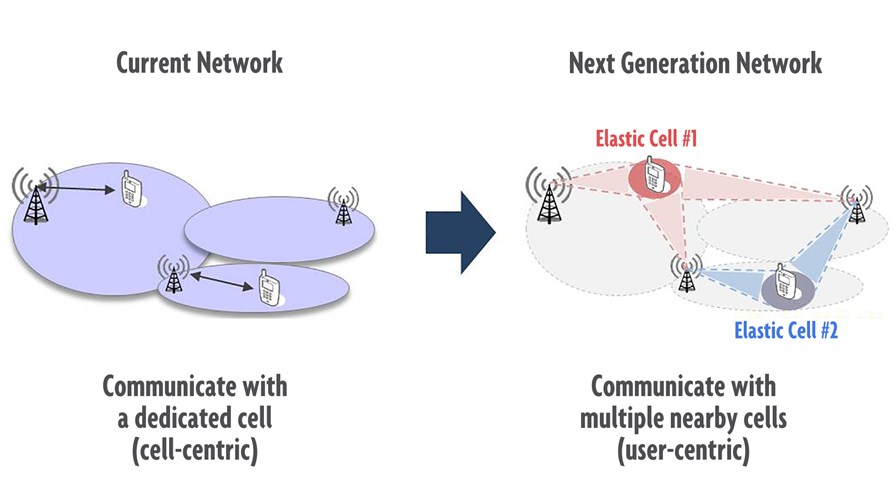 [Updated 22 July with further information from SK Telecom] As part of their ongoing 5G research partnership, Korean operator SK Telecom and Ericsson have today announced a successful demonstration of the so-called Elastic Cell technology. The technology, which they say has been demonstrated for the first time in the world, is expected to become one of the key new enablers for 5G networks.
The current cellular model is based on a cell-centric architecture, where each handset communicates with only one specific cell site at a time. With elastic cell, (or flexible cell) multiple cell sites near the handset cooperate for every transmission, thereby creating a user-centric architecture. A serving cell receives information on nearby cells from a handset and selects a group of cells that can improve the network quality in the cell-edge for transmission while temporarily turning off the cells that cause interference.
As a result, it is claimed that elastic cell technology can ensure more seamless data transmission by preventing possible quality degradation that can occur when the handset moves across cell boundaries. SK Telecom and Ericsson have shown that data transfer rates can be improved by up to 50 per cent at the cell boundary areas compared to current LTE networks.
One of the early goals of 5G research is to enable 1Gbit/s data throughput at all points in the network. The European Union's METIS project (Mobile and wireless communications Enablers for the Twenty-twenty Information Society) and South Korea's 5G Forum are both working to prove technology concepts that can later be incorporated into 5G standardisation. SK Telecom hopes to be able to commercialise elastic cell technology by 2016.
"With this new technology, consumers will benefit from the improved seamless experience wherever they are in the cell and while on the move," said Thomas Norén, VP and Head of Product Area Radio at Ericsson.
METIS has produced the following ideal set of requirements for 5G technology research:
10-100 times higher typical user data rate, where in a dense urban environment the typical user data rate will range from 1Gbit/s to 10Gbit/s;
1,000 times more mobile data per area (per user), where the volume per area (per user) will be over 100 Gbps/km2;
Support for 10-100 times more connected devices;
10 times longer battery life for low-power massive machine communications where machines such as sensors or pagers will have a battery life of a decade;
Support of ultra-fast application response times, where the end-to-end latency will be less than 5ms with high reliability;
Ability to fulfil these requirements under a similar cost and energy dissipation per area as in today's cellular systems.
UPDATE 1: This news sparked a bout of twitter frenzy today. Just how pertinent is elastic cell technology to 5G? Doesn't the 3GPP body already have pCell technology in the specification for LTE-Advanced? Well, yes it does, and as far as we can determine, elastic cell technology goes beyond the carrier aggregation function of pCell, which is used to boost data throughput from cells, by also being focused on handoffs.
Which brings us to soft handoffs, which is sort of what the CoMP (coordinate mulitople point transmission) technology was designed for. LTE doesn't support soft handoffs as there is no frequency reuse in adjacent cells.
And don't forget China Mobile's take on this, which goes by the name of "no cell" technology.
Confusing? Absolutely. If you think the architecture for LTE-A is complex, then expect a step change with the next generation of networks. It certainly looks as if the vendors and researchers are throwing everything they've got into the melting pot, to ensure telcos can do more with their limited resources.
UPDATE 2: More info from SK Telekom.
The telco has confirmed that Elastic Cell technology is based on the 3GPP Release 11 CoMP specification, but with improved scheduling, energy efficiency, and cost efficiency. SK Telecom says it has applied downlink CoMP since early 2012 and uplink CoMP in April 2014, and both technologies are proprietary technology. Because coordination between networks will still be very important in 5G technologies, SK Telecom expects that Elastic Cell will become a key enabler for 5G.
Thanks to all readers for contributing.
Email Newsletters
Sign up to receive TelecomTV's top news and videos, plus exclusive subscriber-only content direct to your inbox.