Qualcomm launches 5G Pioneer initiative with Chinese manufacturers, as it comes under further fire in Europe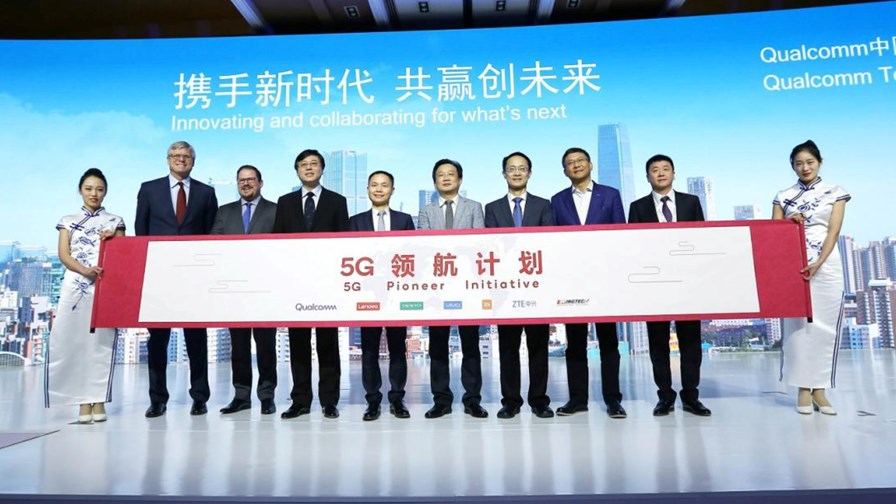 The "5G Pioneer" initiative includes Lenovo, OPPO, vivo, Xiaomi, ZTE and Wingtech
Designed to facilitate the commercial introduction of 5G NR devices in 2019
China's leading smartphone vendor absent from the initiative
Meanwhile the Europe Commission fines Qualcomm almost €1 billion
Qualcomm has announced the "5G Pioneer" initiative, as it seeks to build relationships and improve its reputation in the China market. A number of leading Chinese manufacturers have "expressed interest in working together" to support China's smartphone industry for the global opportunities that will be made available by 5G. Representatives from Lenovo, OPPO, vivo, Xiaomi, ZTE and Wingtech have joined Qualcomm in the new initiative. The only obvious absentee from the list is Huawei.
"5G will bring massive new opportunities to the mobile industry, and we are excited to work with these manufacturers on this 5G Pioneer Initiative," said Cristiano Amon, president of Qualcomm. "Qualcomm Technologies has close relationships within China's mobile and semiconductor ecosystem, and we'll continue to work with this ecosystem to drive innovation as we move from the 3G/4G era to the 5G era."
Qualcomm wants to use the new initiative to provide Chinese device manufacturers with its platform to help them develop premium tier and global 5G commercial devices. True, Qualcomm is currently in the driving seat in terms of device silicon and baseband technology, and doubtless a series of bilateral agreements would achieve similar results for the US company. But its recent run-ins with regulators and competition authorities, ongoing legal spats with major customers, not to mention the continuing disruption that all technology companies face from patent lawsuits, means that any solution to smooth business relationships is going to warmly welcomed.
"We are pleased to work closely with Qualcomm Technologies as Xiaomi has introduced generations of many smartphones powered by Qualcomm Snapdragon Mobile Platforms," said Bin Lin, co-founder and president, Xiaomi. "For more broader opportunities that 5G will bring to Xiaomi, we will keep exploring and innovating on future technologies, insist on building high-quality smartphones for users worldwide, and deliver Xiaomi's products to users in a broader range of regions."
Qualcomm and its Chinese "5G Pioneer" partners will jointly explore new mobile applications and experiences enabled by 5G, as well as focusing on other transformative technologies such as Artificial Intelligence and IoT.
"ZTE established itself as a market leader in 5G research and development with the announcement at MWC 2017 of the world's first gigabit smartphone with download speeds up to 1Gbit/s, and we are committed to being a leading supplier of 5G commercial devices and solutions, with plans to launch in 2019," said Lixin Cheng, chief executive officer, ZTE Mobile Devices. "We are excited and are honored to be a part of the 5G Pioneer Initiative."
"Lenovo started 5G technology research as well as productisation since the global communications industry began the 5G standard-setting process, and we have been working closely with Qualcomm Technologies in both aspects," said Yuanqing Yang, chairman and CEO of Lenovo. "We hope to make our personal life and work smarter, and enable intelligent transformation across multiple industries through our concerted efforts."
China relations
Qualcomm was keen to underline the importance of the China smartphone market. It reiterated that its recent 5G Consumer Survey shows that 60 per cent of Chinese consumers are likely to purchase 5G smartphones when available. It also referred to a 2017 survey from Counterpoint Research, which highlighted that seven of the top ten global 3G/4G smartphone manufacturers were from China. According to research from Canalys last year, Huawei was the leading vendor in terms of shipments within China, closely followed by OPPO. Vivo was third with Xiaomi overtaking Apple for fourth place.
"OPPO is committed to bringing superior camera smartphones to young people, and focus on technological innovation in mobile photo capturing," said Andy Wu, vice president, OPPO. "Working on 5G Pioneer Initiative will help us to better innovate 5G mobile technologies, further expanding OPPO business worldwide."
Also announced at the Qualcomm China Technology Day in Beijing was the signing of four MoUs with Lenovo, OPPO, vivo and Xiaomi that could likely lead to the purchase of Qualcomm's RF Front End (RFFE) components with a value of $2 billion over a three year period. The RFFE components constitute a portfolio of system-level modem-to-antenna RF front-end platform solutions, which are designed to enable OEMs to rapidly build mobile devices at scale for easy global expansion. They include GaAs power amplifiers, RF switches, discrete filters and antenna tuners (amongst others) across cellular and wireless technologies.
Qualcomm also provided an update on its upcoming 5G tunable RF front-end as part of its 5G roadmap, which is designed to enable OEMs to differentiate their 5G products with thinner design, higher performing system-level expertise and 5G product readiness.
See you in court
Mind you, it wasn't all good news for Qualcomm this week, as the European Commission imposed a fine of €997 million for "abusing its market dominance in LTE baseband chipsets". The Commission said that Qualcomm prevented rivals from competing in the market by making significant payments to a key customer (i.e. Apple) on condition it would not buy from rivals, which is illegal under EU antitrust rules.
"Qualcomm illegally shut out rivals from the market for LTE baseband chipsets for over five years, thereby cementing its market dominance," said Commissioner Margrethe Vestager, in charge of competition policy. "Qualcomm paid billions of US Dollars to a key customer, Apple, so that it would not buy from rivals. These payments were not just reductions in price – they were made on the condition that Apple would exclusively use Qualcomm's baseband chipsets in all its iPhones and iPads. This meant that no rival could effectively challenge Qualcomm in this market, no matter how good their products were. Qualcomm's behaviour denied consumers and other companies more choice and innovation."
Qualcomm strongly disagrees with the decision and the fine (which represents 4.9 per cent of its 2017 turnover) and says it will immediately appeal it to the General Court of the European Union. It added that the EC decision does not relate to Qualcomm's licensing business and has no impact on ongoing operations.
"We are confident this agreement did not violate EU competition rules or adversely affect market competition or European consumers," said Don Rosenberg, EVP and general counsel of Qualcomm. "We have a strong case for judicial review and we will immediately commence that process."
The fine was not, rather hilariously, the (and I quote) "approximately 997, 439,000 million Euros" printed in Qualcomm's press release, which I calculate to be €997,439,000,000,000, which is just shy of 1 quadrillion euros. For the record, that's about 8 times the value of the entire global GDP. Given that even Apple doesn't have as much cash as that (!), a fine as severe as that could be considered just a little unfair…
Email Newsletters
Stay up to date with the latest industry developments: sign up to receive TelecomTV's top news and videos plus exclusive subscriber-only content direct to your inbox – including our daily news briefing and weekly wrap.