Obama looks towards Europe to create a 5G PPP for the US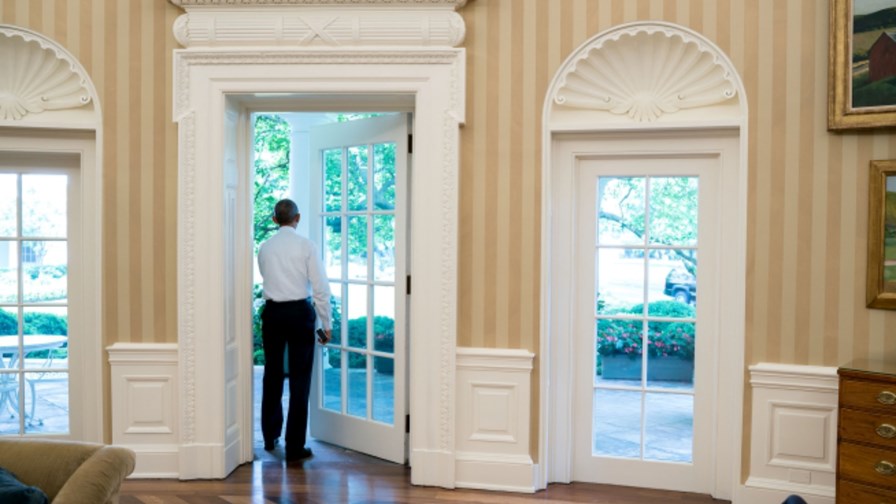 White House creates the Advanced Wireless Research Initiative
$50 million of public funding over the next five years
$35 million of cash and "in kind" funding from 21 private organisations
the creation of four city-wide test platforms, starting 2017
Don't panic! The US has a cunning plan to avoid an inglorious charge into the 5G valley of death. In a case of "if you can't beat them, join them," the US government has announced the creation of a 5G-focused public private partnership entity, designed to bridge the research gap from academic institutes to commercial deployment, which it calls the "valley of death".
The Advanced Wireless Research Initiative (AWRI) was announced by the White House in an eye-watering 3,300-word press release, which said it was building on outgoing President Obama's "legacy of forward-leaning policy". The AWRI Initiative has a relatively modest $400 million of federal funding and is being led by the National Science Foundation (NSF). The new program will enable the deployment and use of four city-scale testing platforms for advanced wireless research over the next decade and builds upon the FCC's Spectrum Frontiers rules concerning mmW spectrum last week. Breaking it down, AWRI covers:
NSF is committing $50 million over the next 5 years
Part of an $85 million investment in advanced wireless testing platforms by a public-private effort, including NSF and 21 technology companies and associations
private sector will invest $35 million in "cash and in-kind support"
$5 million of the NSF's $50 million goes towards a project office
design and build of the 4 city-scale platforms begins in 2017
plans by NSF to invest an additional $350 million over the next 7 years in academic research that can make use of these testing platforms
complementary efforts by other Federal agencies
The White House believes these platforms, and the fundamental research supported on them, will allow academics, entrepreneurs, and the wireless industry to test and develop advanced wireless technology ideas, some of which may translate into key future innovations for 5G and beyond.
Each of the four city-based platforms will deploy a network of software-defined radio antennas, in parallel to the existing cellular network, allowing new technologies to be tested, proved and refined in a real-world setting. These platforms will allow researchers to conduct at-scale experiments of laboratory or campus-based proofs of concept (PoCs), and will also allow the cities to establish themselves as global centres for wireless research and development. The four US cities will be chosen based upon open competition.
And so to the private part of the public-private partnership. There are 18 corporations that have pledged their support for AWRI, plus three industry associations. Together, they have pledged more than $35 million in cash and in-kind support to the design, development, deployment and ongoing operations of the testing platforms. They will also contribute technical expertise and hardware. Here's who they are and what they plan to offer:
AT&T: on-site mobile connectivity in the cities selected as testing grounds for advanced wireless platform research
Carlson Wireless Technologies: equipment, technology, and expertise in TV white spaces and dynamic spectrum sharing
CommScope: connectivity solutions such as antennas, RF cabling, cabinets, small cells, and fiber optics
HTC: technical expertise, mobile devices, IoT sensors and virtual reality systems
Intel: portable 5G mobile trial platform and server equipment to assist in research on mmWave, multi-antenna array, steerable beamforming, novel radio interface techniques, and anchor-booster architecture
InterDigital: financial support and access to tools focused on spectrum and bandwidth management, heterogeneous networks and backhaul
Juniper Networks: software, systems and expertise with a focus on orchestration and authentication of massively-scalable, massively-distributed IoT networks
Keysight Technologies: current and next-generation cellular and WLAN hardware and software products and wireless experts
National Instruments: software defined radio platform equipment to focus on mmWave and Massive MIMO
Nokia and Nokia Bell Labs: financial contributions, research collaborations, governance, and product platform support, and will focus on software-defined radios, IoT, remote sensing, mmWave, security, new use cases and applications and dynamic spectrum sharing
Oracle: core network controls, analytics, and network orchestration
Qualcomm: financial support and engineering equipment and guidance
Samsung: research design and engineering expertise, with a focus on future wireless networks in the 28GHz and other mmW bands, plus IoT
Shared Spectrum: technical expertise in dynamic spectrum sharing
Sprint: technical expertise on network design, use cases and architecture requirements for core and radio access networks and the devices that will access them
T-Mobile USA: technical expertise, including staff engineering assistance
Verizon: technical expertise, including staff engineering assistance
Viavi Solutions: test, measurement, assurance and optimization solutions for lab and field trials for network and services for IoT
The Alliance for Telecommunications Industry Solutions (ATIS): technical assistance and staff time on the design and deployment of the testing platforms
CTIA: engineering and technical assistance to help align industry R&D and university research
The Telecommunications Industry Association (TIA): technical and engineering expertise in wireless network deployment, IoT, interoperability and SDN
The White House says that America's success in 4G is "a story of a clear policy strategy that favoured making spectrum available early and establishing flexible-use rules to enable innovators and entrepreneurs to define the future of wireless technologies and applications". It adds that "by avoiding a rigid, top-down, standards-setting process and technology roadmap, the American spectrum strategy enabled a flourishing of technologies and ideas, and an open competition that allowed successful technologies to win in the marketplace of ideas."
In addition to its support for the testing platforms and fundamental research, the NSF is also announcing:
a prize-based challenge focused on providing rapid, large-scale wireless connectivity to restore critical communication services in the aftermath of a disaster
a prize-based challenge to provide low-cost, seamless connectivity in urban areas, leveraging optical fibres on overhead light poles
a $6 million jointly-funded solicitation with Intel Labs on information-centric wireless edge networks, with the goal of achieving response times of less than one millisecond
a $4.7 million joint NSF and Academy of Finland funded solicitation to support joint US-Finland research projects on new frameworks, architectures, protocols, methodologies, and tools for the design and analysis of robust and highly dependable wireless communication systems and networks, especially as they support and enable IoT
federal funding of a Millimeter Wave Research Coordination Network to foster biannual meetings of international researchers to identify emerging challenges, share cutting-edge research, and form collaborations around mmW wireless networks
a large-scale networking platforms "Communities of Practice" workshop designed to gather international expertise on best practices that can successfully guide the advanced wireless research testing platforms
NSF workshop on ultra-low latency networks
It was also announced that DARPA will reveal its plans to demonstrate the viability of the technologies being developed for its Spectrum Collaboration Challenge (SC2). The National Institute of Standards and Technology (NIST) is creating a Future Generation Communications Roadmap workgroup. Plus, NIST is creating a coordinated channel measurement, verification, and comparison campaign within indoor environments by the NIST-supported 5G mmWave Channel Model Alliance.
Of course, the AWRI is not a direct copy of the European Union's 5G PPP infrastructure project, but it has similar goals – namely, a politically advantageous objective of helping the national economy benefit from emerging 5G technologies. The Europeans have several years' head start on their PPP activities, and a lot more cash. The 5G PPP has received €700 million in EU public funding from the substantial (€80 billion) Horizon 2020 coffers and has already invested €125 million in 19 phase one projects, plus it is counting on an incredible €3 billion of private funding.
If President Obama really is keen on leaving a "legacy of forward-leaning broadband policy", then he and his staff may have to up the ante considerably. In telecoms, money buys an awful lot of bragging rights.
Email Newsletters
Stay up to date with the latest industry developments: sign up to receive TelecomTV's top news and videos plus exclusive subscriber-only content direct to your inbox – including our daily news briefing and weekly wrap.