Network slicing, rural testbed and massive MIMO – all in a day's work for 5G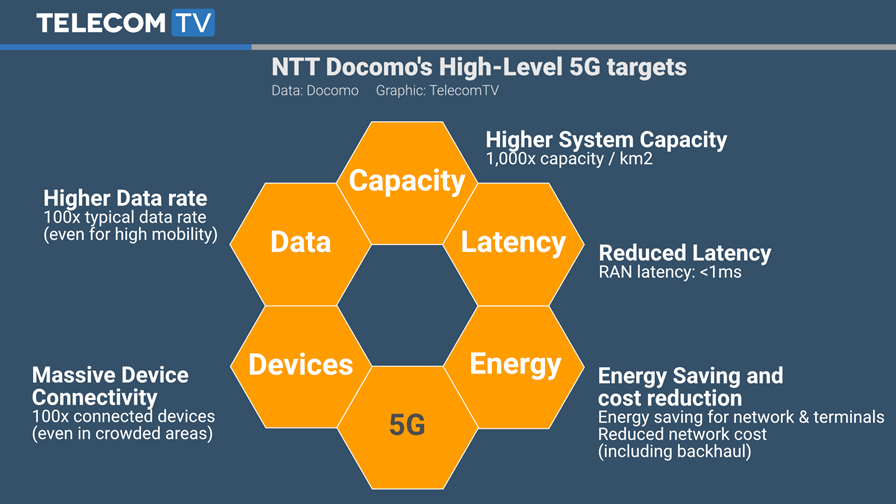 Ericsson helps Docomo slice up its virtual network
Rural 5G testbed established in the Netherlands
ZTE completes Massive MIMO tests in China
5G R&D and trial investment forecast to be worth $5bn by 2020
It's a busy day for 5G; not one but three trial announcements to cover. According to one research report just published, the market for 5G R&D and trial investment will be worth $5bn by 2020. We have no details on the methodology used for the report, but we can't help but think this figure is on the low side. And so, without further ado:
Ericsson helps Docomo slice up its virtual network
NTT Docomo and Ericsson this morning announced their successful completion of a joint Proof of Concept (PoC) of dynamic network slicing technology for 5G core networks. Network slicing is arguably the most fascinating and potentially most disruptive feature of 5G architectures, enabling virtual partitions of a physical network to be created to provide the most suitable resources and network topology to different types of services and verticals.
In the PoC, which was actually conducted last Thursday (and which will also be on show at 5G World later this month), a slice-management function and network slices based on service requirements were autonomously created, showing how 5G services could be connected flexibly between networks according to set policies in order to meet specific service requirements for latency, security or capacity. Docomo designed the network slice creation and selection functions, and Ericsson developed technologies to perform network slice lifecycle and service management.
"Network slicing has the potential to simultaneously deliver diverse cutting-edge 5G services, for enhanced entertainment as well as further effective and secure communication," said Hiroshi Nakamura, SVP and General Manager of R&D Strategy Department, NTT Docomo. "We expect the results of our PoC with Ericsson will play an important role in the realization of highly efficient and secure 5G networking technologies."
"The company has been developing network slicing technology with Ericsson since September 2014," added Håkan Djuphammar, VP and Head of Technology, Business Unit Cloud and IP, Ericsson. "Going forward, the two companies will continue to cooperate in developing and standardizing advanced network technologies for next-generation 5G networks."
Rural 5G testbed established in the Netherlands
A 5G testbed in the Dutch province of North Groningen has been established between ten partner organisations with the support of the Ministry of Economic Affairs. The "5Groningen" project is an initiative of Economic Board Groningen, KPN, the Dutch Telecommunications Agency (Agentschap Telecom), Vodafone, Ericsson, TNO, Huawei, the University of Groningen, SURF and the Hanze University of Applied Sciences.
Innovation research will focus on logistics, healthcare, the environment, energy and agriculture, with autonomous cars and the monitoring of crop diseases already announced as applications to be targeted.
"Farmers are at the forefront of technological innovation; not only with regard to the efficiency of their business operations, but also, importantly, with a view to ensuring sustainability and environmental protection," said Peter Rake, 5G programme manager at Economic Board Groningen. "Other sectors in the Netherlands and the rest of Europe are paying close attention to agricultural innovation in the fields of sensors, drones and other technologies that will benefit from 5G development."
Groningen is the only rural area in Europe where 5G tests are being carried out. The first series of tests will be launched before the end of the year at Zernike Campus, Groningen's large research complex.
"We need to ensure that our country continues to benefit from the latest developments of mobile technologies such as 5G," said Henk Kamp, the Dutch Minister for Economic Affairs. "This will bring added value for citizens, as well as businesses – not only from an economic perspective, but also by enabling key innovations in fields such as healthcare and agriculture."
ZTE completes Massive MIMO tests in China
ZTE has announced that it has completed the verification and performance tests of high-frequency systems and Massive MIMO technologies in Shanghai and Shenzhen respectively. The tests were organized by the Chinese IMT-2020 (5G) Promotion Group, as part of its three-year R&D plan.
The tests were actually completed in late May, but have only now been announced. The Massive MIMO test in Shenzhen proved that with evolved NodeB, cell throughputs can be increased exponentially and downlink gains can be up to three times greater than those in conventional macrocell base stations. Additional uplink tests showed that the uplink gain could reach four times previous levels, with ZTE claiming that it is the only supplier that has to date performed uplink Massive MIMO tests.
For the high-frequency tests in Shanghai, single-user throughputs in different noise-signal ratios in an indoor line of sight (LOS) environment were evaluated and found to meet the expected theoretical result. As did tests for indoor non-line of sight (NLOS) using different noise-signal ratios. What those theoretical results are and how closely the tests matched these results is not disclosed. However, real-world work on NLOS with cmW and mmW frequencies is essential to discover the effects of physical obstacles on these very short wavelength signals – building on the extensive modelling work and computer simulations already under way. Items such as glass windows and plasterboard walls affect high frequency signals, far more so than with today's cellular signals.
China has a three-phase 5G test programme that will run from 2016 to 2018. The first phase will test key 5G technologies, the second will focus on solution verification and the third will look at overall 5G system verification.
Email Newsletters
Stay up to date with the latest industry developments: sign up to receive TelecomTV's top news and videos plus exclusive subscriber-only content direct to your inbox – including our daily news briefing and weekly wrap.