Japan gears up for 2020 Olympics with further 5G trials at 4.5GHz and 28GHz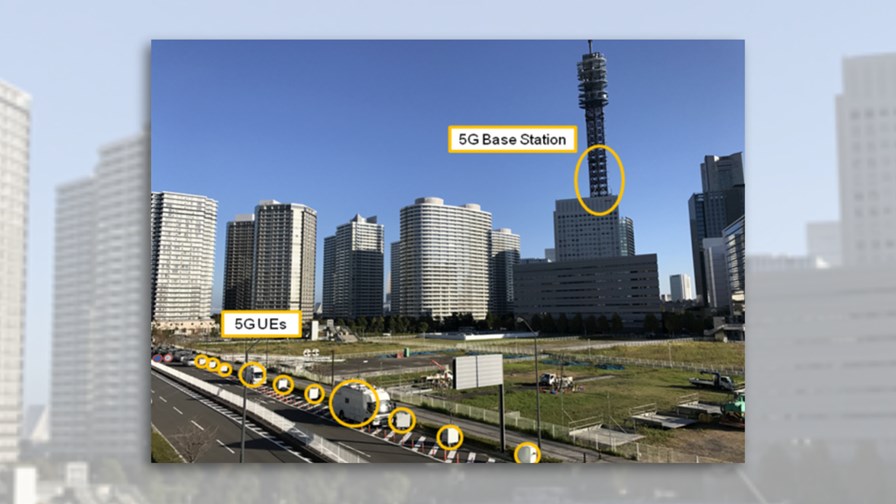 2.5Gbit/s throughput whilst travelling at 150km/h, simulating high-speed trains
23 connected devices achieved cumulative 11.29Gbit/s of throughput
One-way user plane latency below 0.5 seconds
Trials with Samsung and Huawei used 28GHz and 4.5GHz candidate bands
It's been quite a week for 5G bragging rights, with a number of major vendors and operators all releasing updates of trials and technology breakthroughs. It's incredibly important to these companies to be seen to be leading the development of 5G candidate technologies and developing new use cases – to reassure their partners and customers, to influence the standards process and (glad we can help) gain some PR coverage.
NTT docomo has joined the chorus with news of feasibility tests for cmW 5G usage on high-speed trains, as well as lower frequency cmW transmission to multiple devices. These are both vitally import to the telco as the country has pledged to provide 5G coverage in time for the 2020 Olympic Games in Tokyo – and that means stadium coverage and transport coverage.
The first trial was conducted in partnership with Samsung Electronics and took place in Fuji Speedway, a motorsport racing circuit in Shizuoka. Data speeds of more than 2.5Gbit/s were achieved with a mobile device that was in a vehicle travelling 150km/h. Whilst a car was used for the trial, the objective was to verify the feasibility of stable connectivity for 5G mobile devices in fast-moving trains. Transmissions were conducted using the 28GHz high-frequency band, one of the candidate bands that the Ministry of Internal Affairs and Communications is considering to designate for commercial 5G networks in Japan.
Docomo says that so far, no other test has achieved a successful wireless data transmission to a fast-moving device due to the large path-loss of high-frequency radio signals. It says it overcame the problem by using massive multiple-input multiple-output (MIMO) technologies that incorporate beamforming, which concentrates radio waves in a specific direction, and beam tracking, which adjusts the beam according to the mobile device's constantly changing location.
Field of dreams
In a separate trial, docomo conducted an outdoor data-transmission trial with Huawei using 4.5GHz spectrum – another candidate band for 5G. The trial involved 23 simultaneously connected mobile devices and achieved a cumulative 11.29Gbit/s of data throughput and one-way user plane latency below 0.5 seconds.
It was carried out in a field measuring 100,000 square meters in the waterfront district of Yokohama. That's equivalent to 12 soccer pitches, apparently, and coincidentally about the same size footprint as the main Olympic stadium (Kengo Kuma's replacement design will take up 72,400 square meters, then add in more coverage space outside the stadium and you pretty much arrive at 100,000 square meters).
The trial combined multi-user MIMO (MU-MIMO) technology for simultaneous multiple access and a precoding algorithm that optimises signal performance and also limits inter-user interference. It achieved a MU-MIMO transmission of a maximum 79.82bit/s per Hz per cell, which it says was 1.8 times more efficient than a similar outdoor trial conducted by the two companies in China in November 2015.
Huawei has added that the trial used new numerology and frame structure complying with the most recent proposal for 3GPP 5G New Radio (NR). The macro cell comprised a single 4.5GHz base station using 200MHz of bandwidth, with 64 TRXs and 23 user devices of both static and mobile types. The user plane latency is about one tenth that of LTE.
"Huawei is now putting a lot of resource and energy to 5G NR foundational technology development, market development and product solution development," said Dr. Wen Tong, Huawei Fellow and CTO of Huawei Wireless Networks. "With the expert team we put together, the collaboration between Huawei and docomo is now on the fast track and the progress is very encouraging. This achievement is extremely important to form the foundation of future 5G."
Huawei and docomo say they will continue their systematic verification of 5G key technologies such as Massive MIMO, ultra-reliability and low latency, mixed numerology using f-OFDM, as well as the combined performance of SCMA, Polar Code and f-OFDM.
"Our success in 5G large-scale field trial in the 4.5GHz band brought the whole industry one step closer to 5G commercialization by 2020," said Takehiro Nakamura, VP and Managing Director of NTT docomo's 5G Laboratory. "Together with Huawei, we will continue to promote 5G both from technical and ecosystem perspective."
Email Newsletters
Stay up to date with the latest industry developments: sign up to receive TelecomTV's top news and videos plus exclusive subscriber-only content direct to your inbox – including our daily news briefing and weekly wrap.