In the UK, 5G's main user impact is outside London, finds OpenSignal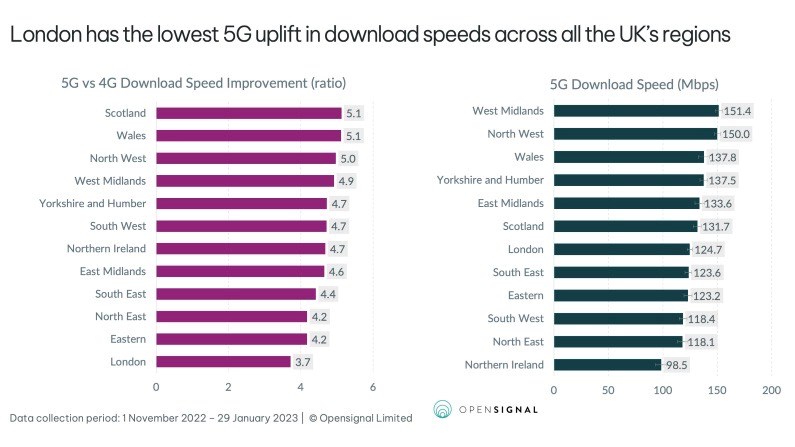 New report analyses 4G and 5G experience across 15 of UK's biggest cities
Biggest download speed 'uplift' from 5G compared with 4G is in Scotland and Wales
Real-life data from client devices builds picture of network service metrics as actually experienced by its users
London remains best place in Britain for 5G availability, with a 15.9% availability score
New analysis by Opensignal of real-life, on-the-street and in-building 5G and 4G mobile broadband speeds across 15 of the UK's largest cities and their regions shows that 5G is having considerably more of an impact on smartphone users outside the metropolis of London than within it.
Widely available in the UK, 4G services are robust and the technology is very popular – so popular in fact that increasing numbers of potential 5G customers are questioning whether it will be worth their while opting for a premium-priced service that might offer only a perceived marginal improvement over what they already get with 4G. Compelling apps remain elusive.
The latest research from Opensignal, which collects real-world data, rather than analysing figures trotted out in advertising and public relations collateral from mobile service providers, quantifies the 'uplift' improvements that consumers experience when using 5G services compared with their 4G experience. The data used was collected between 1 November 2022 and 29 January 2023 from Opensignal apps installed by users on their devices. Users of Opensignal's original app can test the speed of a mobile or Wi-Fi connection, run a video test, and view signal maps to compare the performance of networks in their area, while those who use the company's Meteor app can see whether the quality of their connection supports the download and upload speeds needed for their favoured apps.
Interestingly, users in London, the UK's capital and largest city, experience the smallest incremental 5G download speed increase over 4G – the largest gains are experienced by users in cities and regions in Northern Ireland, Scotland and Wales – though Londoners with 5G subscriptions spend more time connected to 5G signals than 5G users in other parts of the UK. Furthermore, and unsurprisingly, city-dwellers have better access to 5G and enjoy faster 4G and 5G speeds than their suburban and rural peers.
It has long been par for the course that mobile operators and service providers routinely stake their claims to having the best network and fastest download speeds, but the evidence adduced to prove those assertions is so disparate and so hedged around with conditional caveats in a welter of "if this… then that", "could be", "might be" small print explanatory notes as to be quite baffling to consumers. Indeed such claims frequently bear no more than a passing resemblance to the real quality of service received by end users, not least because the tools and metrics operators used to determine service speeds and other attributes can be based on obsolescent networks engineering tests rather than the measurement of end-to-end experience, as well as on outmoded methodologies in the compilation of coverage maps and partial and, dare one say it, biased data analysis.
Opensignal, an independent analytics company headquartered in Boston, Massachusetts, with offices in London, Singapore, and Victoria, Canada, claims to provide quantifiable mobile-network experience measurements via a standardised process based on crowdsourced signal data from users of the company's free apps to measure the true state of carrier coverage. Opensignal says such crowdsourcing of real-life data from client devices allows it to build a picture of the network as it is actually experienced by its users.
Opensignal's latest mobile network experience report shows that the biggest improvement in download speed attained by users of 5G services is apparent in Scotland and Wales, followed by the north-west of England. Meanwhile, users in the West Midlands and the north-west are top of the pile in terms of 5G download speeds, with 151.4 Mbit/s and 150 Mbit/s respectively. Northern Ireland has the slowest speed at 98.5Mbit/s and is the only country in the UK with average 5G download speeds below 100 Mbit/s.
Overall, users' 5G download speeds are 3.7 to 5.5 times faster than 4G, with users in the large town of Reading enjoying the greatest speed "uplift", and those in London getting the smallest 4G-to-5G uplift. (For overseas readers who may not know, Reading, a big market town some 45 miles west of London, is pronounced as 'redding" and not as in 'reading' a book.)
4G very popular across Britain but "good" rural mobile coverage up by just 0.3% year on year
The report shows that in four of the 15 cities surveyed, users experience a 5G uplift of five times or greater, while the uplift is lower than four times in only two cities, London and Bristol.
Average 5G download speeds range from 121.8 Mbit/s in Bristol to 162.7 Mbit/s in Birmingham, while average 4G download speeds range from 27 Mbit/s in Edinburgh to 37.8 Mbit/s in Leicester. As high uplifts are driven by both high 5G download speeds and low 4G download speeds, the fact that London's 4G download speed of 33.6 Mbit/s is toward the high end of this range helps to explain why it is at the bottom of the table for 5G versus 4G download speed improvement.
And while users in London see the smallest uplift from 5G in terms of download speeds compared to other, more rural, regions, there is actually little difference in the uplift in average download speeds seen by users in rural and urban areas with 5G compared to 4G, with increases of 4.7 times and 4.5 times respectively.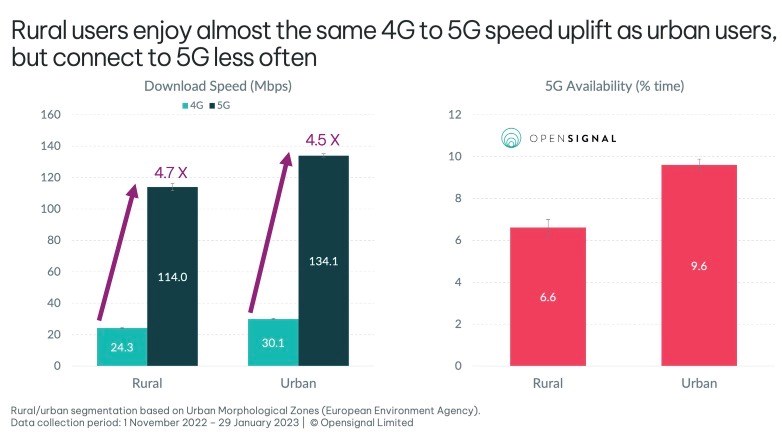 What's more, urban users get significantly faster download speeds on both 5G and 4G than their rural counterparts: Urban download speeds for 5G are on average 20.1 Mbit/s faster than those in rural areas (some 17.6% faster), while urban download speeds for 4G are 5.8 Mbit/s faster (23.7% faster).
In addition, urban 5G users spend 9.6% of their time with an active 5G connection, which is far more than rural users, who have an active connection for 6.6% of their time. This is a matter of considerable importance given that users can only experience the increased speeds they see with 5G when they are actually connected to a 5G signal. In terms of that analysis, the Opensignal report segments rural and urban users based on urban morphological zones, as defined by the European Environment Agency.
Overall, London is the best place in Britain for 5G availability, with a 15.9% score, which is 6.7 percentage points ahead of the UK's four regions that statistically tie for second place – Yorkshire and Humberside, the north-west, the West Midlands and the East Midlands. As with 5G download speed, Northern Ireland is currently the least well served region, and is in joint last place in the 5G league along with England's south-west.
On the rural front, much work is underway to improve what, in too many places, really can be poor mobile connectivity. The report cites as an example the Shared Rural Network (SRN) programme, through which mobile network operators and the UK government are working to increase the geographic footprint of 4G. According to Ofcom's Connected Nations 2022 UK report, the SRN, in combination with operators' individual initiatives, has resulted in "good" mobile coverage from "at least" one operator across 92.2% of the UK, up from the 91.9% that was reported in 2021.
Email Newsletters
Stay up to date with the latest industry developments: sign up to receive TelecomTV's top news and videos plus exclusive subscriber-only content direct to your inbox – including our daily news briefing and weekly wrap.