Huawei advances its Smart Factory push with 5G-based Robot as a Service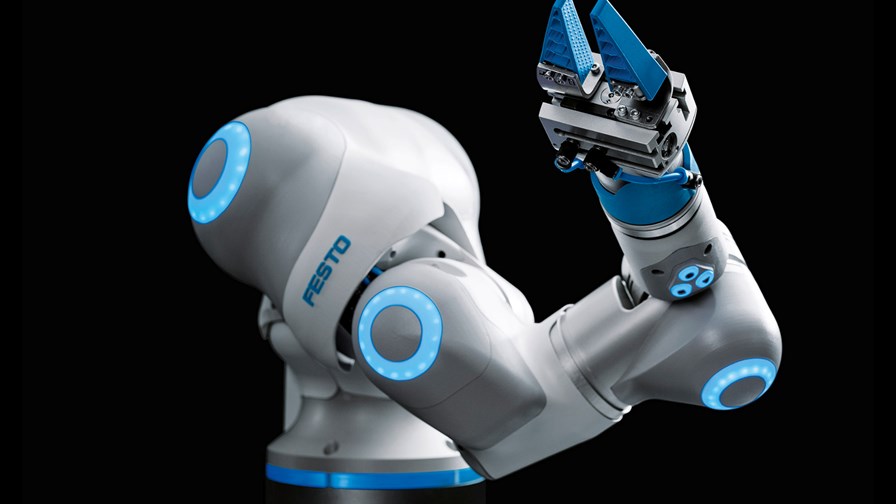 Huawei and Festo sign MoU for smart manufacturing collaboration
Cloud-based robotics will test new Robot as a Service (RaaS) concept
Moves computation from the robot to the fabrication cloud
Concept uses 5G slicing technology for ultra reliability and low latency
Huawei has signed an MoU with German industrial control and automation company Festo to jointly explore the 5G network application of manufacturing. Their joint aim is to promote the digital transformation of the manufacturing industry with 5G slicing technology, as well as further Huawei's ongoing commitment to what it calls the Smart Factory.
The MoU is based on 5G Cloud Robotics to test a Robot as a Service (RaaS) concept, which is part of the digital transformation within the manufacturing industry that supports the shift from mass production to mass customisation and offers value-based services in smart factories. The idea is that computation is moved from the robot to the fabrication cloud and that due to the requirements for low latency in the control loop, 5G must be used to link both cloud and robot.
"5G will meet the diversified network needs of industry, enabling more vertical industry applications with end-to-end slicing solutions," said Yang Chaobin, President of Huawei's 5G Network Product Line. "Huawei will work with vertical industries to explore new 5G applications and create greater value. Our cooperation with Festo will promote development of an intelligent manufacturing industry."
The 5G Cloud Robot project is based on a moving robot platform that consists of a handling apparatus (i.e. a robotic arm) with six degrees of freedom. An uRLLC (Ultra Reliable and Low Latency Communications) network slice is used to achieve the real-time and high reliability requirements of the closed control loop for the arm. Trajectories and control messages are calculated in the fabrication cloud and ensures the scalability of the computing power and energy savings on the robot platform.
"In the factory of the future, everyone and everything will stay connected to rely on manufacturing services provided in industrial clouds," said Dirk Pensky, Head of Festo's Software Engineering Department. "On the one hand, some of those services need high bandwidth to transfer information to and/or from the cloud (e.g. image processing and AR/VR services). On the other hand, industrial control services require low to ultra-low latency and highest reliability."
The two partners say that 5G-based RaaS in combination with factory clouds decouples the capability of industrial robots from the very fast changing computing requirements. 5G slicing technology can guarantee service level agreements (SLA) to meet the diversified business requirements, which can also enable dynamic engineering solutions on demand tailored with QoS to dynamically assigned safety levels.
"Festo is involved in different activities to shape the future of our factories," added Pensky. "5G will become the communication technology for smart manufacturing and we aim to prove that with this cooperation."
Email Newsletters
Sign up to receive TelecomTV's top news and videos, plus exclusive subscriber-only content direct to your inbox.