Global telecoms equipment market powers ahead despite Covid-19: Dell'Oro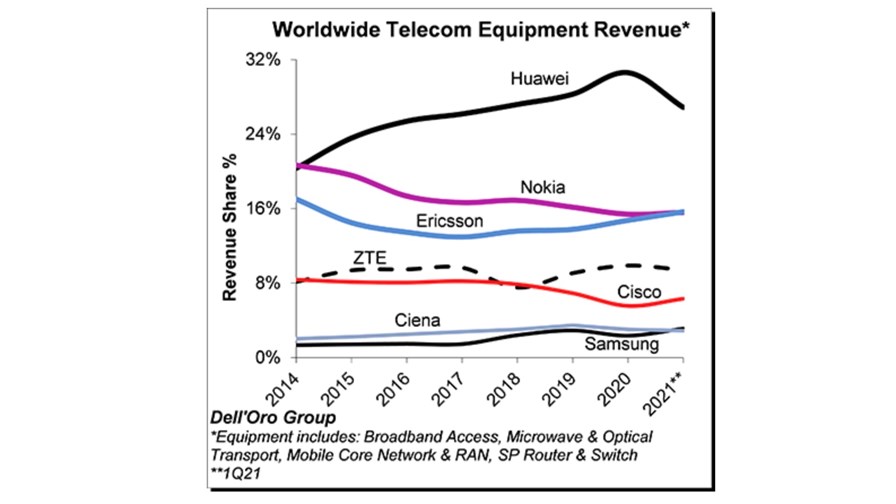 Q1 2021 figures show a year-on-year growth of 15 per cent, according to Dell'Oro Group
Huawei still the king of the hill with a 36 per cent market share
The industry has helped the world through unparalleled times
The global telecoms infrastructure market is buoyant and resilient and have a strong start to the year, despite the ongoing pressures of the Covid-19 pandemic, according to independently-owned telecoms market analysis and research company Dell'Oro Group, which recently concluded a detailed examination of the market for the first quarter of 2021.
Its analysis, which covers the Broadband Access, Microwave and Optical Transport, Mobile Core and Radio Access Network. SP Router and Switch sectors, showed the market grew by 15 per cent year-on-year, thanks in the main to ongoing planned investments and deployments across a wide variety of countries and industry segments. This was further sustained in part by a generally weaker US dollar.
The report shows that the collective global market share held by the leading manufacturers and vendors remained broadly stable, with the top seven companies controlling some 80 per cent of the total global market during the first three months of this year. The leading seven suppliers are Huawei, Nokia, Ericsson, ZTE, Cisco, Samsung and Ciena.
Huawei hung on to the top spot, with its continuing problems in the US, the UK, mainland Europe and Australasia being offset by gains in its home market and increasing penetration in Africa: Excluding North America, Dell'Oro estimates that Huawei has a 36 per cent overall market share, which is roughly equivalent to Nokia, Ericsson and ZTE combined.
In Europe, both Nokia and Ericsson did well, often at the expense of Huawei as the Chinese company's equipment was sidelined and removed from networks where it had already been installed or where orders had been placed and subsequently cancelled. Nokia and Ericsson have been competing intensely in recent years and while Nokia had been ahead on the rails Ericsson has caught up and the two are now running neck-to-neck.
2018 through to 2020 were three consecutive years of growth despite the emergence of the coronavirus and, as the report says, "preliminary readings suggest the positive momentum that characterised the overall telco market in much of 2020 extended into the first quarter [of 2021] underpinned by double-digit growth on a year-on-year basis in both wireless and wireline technologies including Broadband Access, Microwave Transport, Mobile Core Network, RAN, and SP Router and Switch."
Overall in Q1 this year, the North American and Asia Pacific regions demonstrated a growth in excess of 15 per cent year-on-year, where double-digit expansion happened in the Broadband Access, RAN, and SP Routers and Switch segments. Another spur to the continuing growth was, of course, 5G, where investment in RAN technology continued unabated even as service providers and telcos continued to spend on both core and transport networks. What's more, widely anticipated supply change shortages had little effect, but vendors added the caveat that they may well feel the effects of the slow-down later this year and perhaps into next.
Having made their analysis, the Dell'Oro team felt secure enough in their conclusions to adjust the aggregate forecast upward and now project the total telecom equipment market will increase by between five per cent and 10 per cent over the course of this year.
Telecoms fundamental to keeping the world going through the pandemic
It seems that the importance and strategic value of robust modern global telecoms has only increased as a direct result of its proven overall resilience in a time of unparalleled enterprise and domestic demand during the pandemic. It is no exaggeration to say that telecoms kept entire economies going, and the world spinning on its social axis during even the worst of the outbreaks to date. The industry already knew it is fundamental to the maintenance of modern life on this planet, now the general public have been made aware of it too.
Being essential, telecoms is to a considerable extent insulated from the downturns, job losses and commercial collapses that have been the corollary to Covid-19, however, it is not entirely immune. For example, there has been a marked reduction in non-essential spending by business customers during successive lockdowns, but households and individuals have been spending more than they normally would have on broadband access and data to work and earn, to keep in video contact with family and friends and to stream entertainment (films, theatre, concerts, music, tv etc.) Easy access to stress-tested networks and their services has also been a boon for public health and mitigating at least some of the effects of the pandemic despite successive waves of the virus rolling around the globe.
What's more, the pandemic has accelerated changes that were underway at a slower pace before Covid-19 struck, this is particularly true and evident in the case of the heavily increased reliance on the cloud as offices were abandoned, enterprise LANs became redundant and home working became the new norm.
Some countries are now experiencing what might be at least the end of the beginning of the pandemic and expectations (and forecasts) are that the global telecoms sector will continue to prosper as recovery gathers pace and some sort of sort of normality emerges.
At the end of last year, the value of the global telecoms services market was calculated to be US$1.658 trillion and a compound annual growth rate of 5.4 per cent until at least 2028 was forecast. That was before Covid-19. In June 2021 it is too early to tell whether or not that forecast can still be realised given that there are just so many unknowns and variables that will apply in a post-pandemic but perpetually Covid-19 endemic world. The good news is that the first half of this year has exceeded expectations and we should be duly grateful for that.
Email Newsletters
Stay up to date with the latest industry developments: sign up to receive TelecomTV's top news and videos plus exclusive subscriber-only content direct to your inbox – including our daily news briefing and weekly wrap.