Get ready for Industry 5G: telcos prepare to meet the Vertical challenge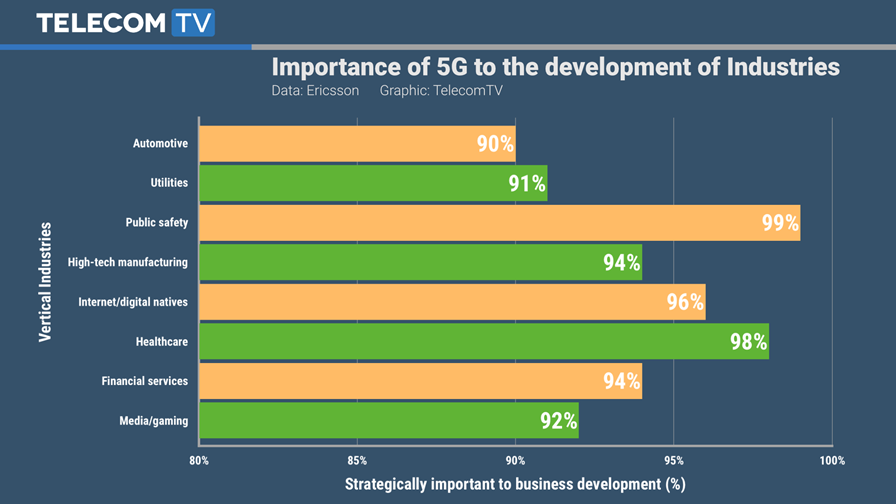 Eight key industries reveal their views on 5G
Public safety and healthcare rate 5G as a "game changer"
94% of healthcare executives will make "significant changes" to their business
5G an "innovation engine" for industry verticals
We've been saying it for a couple of years now, but 5G will represent a watershed in the relationship between telcos and vertical market industries. New 5G business models are going to need the verticals – they are going to be essential to all three classes of use cases: enhanced mobile broadband, ultra-reliable and low latency communications, and (eventually, after NB-IoT plays out) massive IoT. But telcos can no longer adopt an "if we build it they will come" approach; they need to engage with verticals in the 5G standards process and early trials.
We are calling this "Industry 5G" – the convergence of 5G-powered telecoms with vertical industry applications and services. A new report from Ericsson released this morning supports our thinking. The report, "Opportunities in 5G: The view from eight industries", reveals the anticipated impact of 5G on specific industries, examining how these industries expect to apply 5G, which specific uses of the new technology are likely to dominate in their industry, and what business reasons will drive them to move to 5G. It makes for interesting reading.
"Emerging technologies, such as IoT, are becoming integral parts of our economy and lifestyle, and this is driving major change across industries," said Rima Qureshi, Head of Region North America and Chief Strategy Officer at Ericsson. "5G will accelerate this transformation and create new uses, new revenue streams, and new business models for industries and consumers alike. With 5G, industries will have connectivity that is customised for their requirements and the agility to move quickly to meet customer needs and be innovative."
The report concludes that 5G is seen as an "innovation engine" by executives in these key industries, bringing disruptive change across industries and society. Industries that will benefit the most from 5G are those that connect something in the physical world to the internet in order to create innovative products or services, provide a better customer experience, increase efficiency, or improve safety.
Ericsson believes that with 5G, industries will have connectivity that is customised for their requirements (say hello to Network Slicing) and the agility to move quickly to meet customer needs and stay ahead of the competition (which is where NFV plays a crucial role).
Key markets
The eight key industries covered in the report, and the ones Ericsson believes most likely to be impacted by 5G, are:
automotive
utilities
public safety
high-tech manufacturing
Internet/digital natives
healthcare
financial services
media/gaming
Automotive is perhaps one of the easiest to grasp, with connectivity moving on from the "connected car" to real-time support for autonomous driving. Utilities (as TelecomTV has learned first-hand from several power companies) are more concerned with cost reduction, with sensor-based remote monitoring and maintenance also important – although telcos have a fight on their hands to prise control of this away from existing private IoT networks.
Public safety use is really linked to the phasing out of dedicated private cellular networks, which is starting already with LTE. Manufacturing is linked with IoT and improvements to the customer experience. The financial services industry expects 5G to boost real-time mobile trading and more secure transactions. Media and Gaming is looking at new immersive experiences, such as UHD 4K and virtual reality on mobile devices, plus more future-based services such as live personal 360 view broadcasting.
Healthcare is very interesting. According to the report, 94 per cent of respondents said they will make significant changes to their business to take advantage of 5G networks, believing 5G will allow them to implement new services and products that will improve quality of life for the public.
And finally, "Internet/Digital Natives" refers to online stores, social networks, organisation and collaboration tools, and travel and ride-sharing services – anything digital first. 96 per cent of respondents from this sector confirm they are investing to take advantage of 5G, and that an enhanced customer experience is the leading expected benefit.
With 9 billion mobile subscriptions and 1.5 billion cellular-based IoT devices expected by 2021, the pressure is on the telecoms industry to cope with this vastly expanded anticipated capacity and take advantage of the new opportunities presented. This new report shows the potential of vertical market engagement, but telcos will still have to listen carefully to their requirements and offer them suitable services – there are plenty of concerns from the verticals about 5G, as well as misconceptions about what it can offer, and these issues need to be addressed sooner rather than later. Industry 5G is a great opportunity for telcos – if they can deliver.
Email Newsletters
Stay up to date with the latest industry developments: sign up to receive TelecomTV's top news and videos plus exclusive subscriber-only content direct to your inbox – including our daily news briefing and weekly wrap.