Europe signs 5G collaboration agreement with South Korea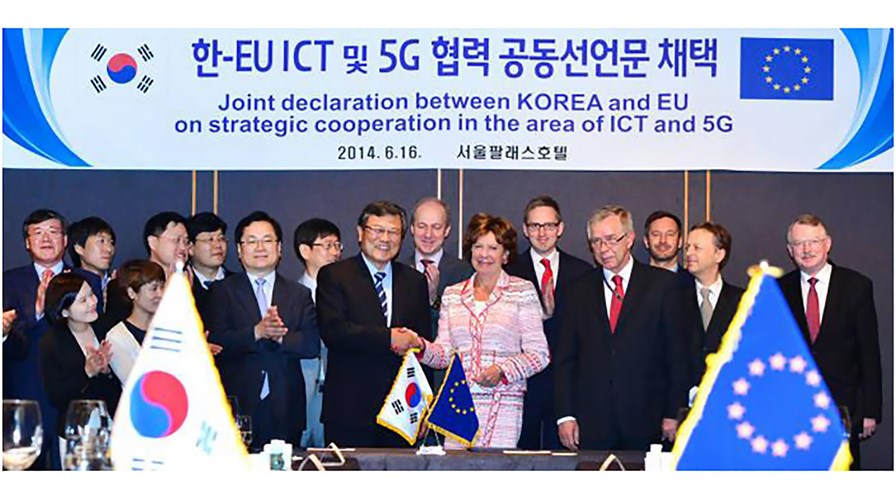 The European Commission and South Korea yesterday signed a Joint Declaration on Strategic Cooperation in ICT and 5G. Both parties have agreed to work towards a global definition of 5G and to cooperate in associated research, in support of ongoing standardisation by organisations such as 3GPP and ITU. By the end of 2015, they want to have reached a global consensus on the broad definition, the key functionalities, and target timetable for 5G.
They also agreed on the need for harmonised radio spectrum to ensure global interoperability and to meet the additional spectrum requirements for 5G, cooperating in the WRC activities.
As well as 5G, collaboration will also cover cloud computing and more general network and communications areas. Both sides will also work towards a coordinated call for research project proposals, to be launched in 2016. An industry MoU will be signed between the EU's 5G Infrastructure Association (whose members include Alcatel-Lucent, Atos, Deutsche Telekom, Ericsson, Nokia, Orange, Telecom Italia, Telenor and Telefonica) and South Korea's 5G Forum.
"5G will become the new lifeblood of the digital economy and digital society once it is established. Both Europe and South Korea recognise this," said Neelie Kroes, Vice-President of the European Commission for the Digital Agenda. "This is the first time ever that public authorities have joined together in this way, with the support of private industry, to push forward the process of standardisation. Today's declaration signals our commitment to being global digital leaders."
The agreement was also signed by Mr Mun-Kee Choi, South Korea's Minister of Science, ICT and Future Planning (MSIP).
The announcement strengthens the agreement signed by both parties back in November 2013, where they agreed to promote R&D collaboration in the area of ICT. The intention is to launch jointly funded R&D programmes in 2016-2017, which would include 5G and the Internet of Things.
The EU is investing €700 million over the next seven years into its 5G Public-Private Partnership scheme through the Horizon 2020 programme. It believes that industry will match this investment by up to 5 times, to more than €3 billion. South Korea is investing and coordinating research its efforts through the 5G Forum.
NGMN white paper
Meanwhile, the Next Generation Mobile Networks (NGMN) Alliance yesterday presented its end-to-end requirements for 5G at its meeting in Frankfurt.
Earlier this year, the NGMN Board, comprising CTOs from 20 leading international operators, had made the decision to focus its future activities on defining the end-to-end requirements for 5G. It is now working to define these consolidated operator requirements, which are intended to support the standardisation of 5G, and will publish them in a white paper.
"The 5G initiative achieved to present an early view on its vision for '2020 and beyond' and the 5G operator expectations in terms of technology performance and capabilities", said Rachid El Hattachi, SVP at Deutsche Telekom and Steering Committee Chairman of the NGMN 5G Initiative. "The forum feedback will serve as an extremely valuable input to guide our team's work on the requirements in the upcoming months."
The NGMN Forum will be the starting point the further development and refinement of the final 5G white paper.
"The high attendance level and the in-depth discussions in the NGMN Forum again reflects the importance of the upcoming 5G white paper", said Peter Meissner, CEO of the NGMN Alliance. "We are now looking forward to further align with all our industry and research partners establishing 5G targets for the successful long-term future of our industry".
Email Newsletters
Sign up to receive TelecomTV's top news and videos, plus exclusive subscriber-only content direct to your inbox.