Europe and China sign major agreement in the race towards 5G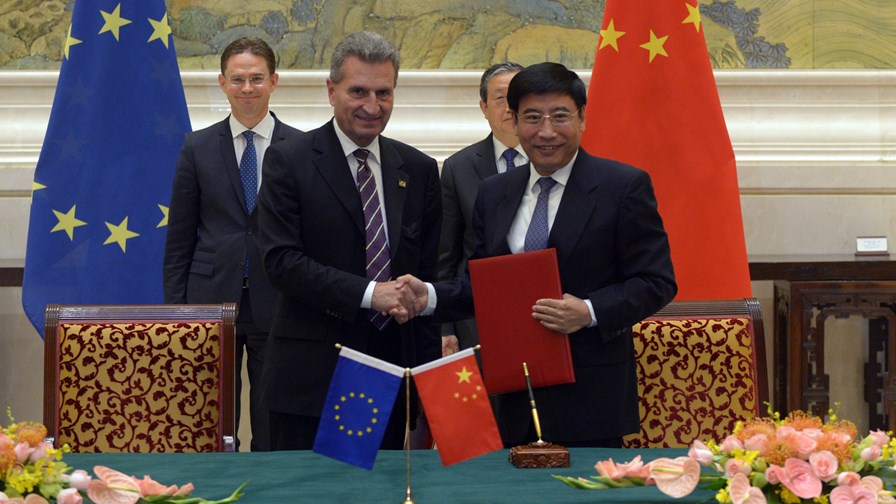 Follows earlier EU agreements with South Korea and Japan
Joint collaboration and equal access between China and Europe
Industrial agreement between 5G PPP and China's IMT-2020 Promotion associations
Move towards 5G technology standards consensus
Europe and Asia show no signs of complacency in the race towards 5G, with politicians in both regions anxious to collaborate rather than compete – at least for now. North America needs to wake up and get more involved at the Presidential level. Following similar agreements with South Korea last year and Japan in May, the European Union has now signed a key partnership with China.
The deal was signed earlier today by Günther Oettinger, European Commissioner in charge of the Digital Economy and Society, and Miao Wei, Chinese Minister of Industry and Information Technology, during the EU-China High Level Economic and Trade Dialogue meeting in Beijing. Under the terms of this official Declaration, the EU and China agree to strengthen cooperation to:
reach a global understanding, by the end of this year, on the concept, basic functionalities, key technologies and time plan for 5G;
explore possibilities in cooperating and implementing joint research actions in the area of 5G and to facilitate bilateral participation of enterprises in 5G research projects in China and the EU;
jointly promote global standardisation for 5G, in support of ongoing standardisation work in relevant organisations such as the 3GPP and ITU;
cooperate in facilitating the identification of the most promising radio frequency bands to meet the new spectrum requirements for 5G;
explore jointly the possibilities for cooperative research on the services and applications for 5G, especially in the area of IoT.
Both parties say they are committed to reciprocity and openness in terms of access to 5G networks research funding, market access as well as in membership of Chinese and EU 5G associations.
"5G will be the backbone of our digital economies and societies worldwide," said Commissioner Oettinger. "This is why we strongly support and seek a global consensus and cooperation on 5G. With today's signature with China, the EU has now teamed up with the most important Asian partners in a global race to make 5G a reality by 2020. It's a crucial step in making 5G a success."
5G central to EU's economic plans
Under this agreement, EU companies are likely to have easier access to the Chinese market, and will be able to access and participate in China's publicly funded 5G research, development and innovation initiatives on the same terms as Chinese companies currently participate in the EU's 5G activities. To support this, Europe's 5G PPP Association and China's IMT-2020 (5G) Promotion Association have prepared, and are ready to sign, an industrial agreement as soon as the EU-China joint agreement on 5G is in place.
The European Commission is investing €700m through the Horizon 2020 Programme to support research and innovation in 5G – which is intended to be matched by up to five times this value by commercial companies to €3bn). The EU has also made a commitment to improve spectrum coordination in the EU, particularly in view of future 5G needs, through its Digital Single Market Strategy.
Commissioner Oettinger is quoted on his blog page as saying that the agreement "is a milestone on the global journey to 5G". He wrote: "It means that the EU has now teamed up with the most important Asian partners in a global race to make 5G a reality by 2020. If we want to fulfil the EU vision that 5G will be the ultimate digital infrastructure, used by all sectors from industry to transport, utilities and media, we cannot afford to have competing standards between different regions of the world. Both from a technical and economic point of view, it would be too complicated and too expensive to have devices having to handle different 5G standards."
He added: "We may not agree on everything with China and there will still be a lot of discussion, but we have now all the cards in our hand to make 5G a success. 5G is also a success from which the European telecom industry will benefit greatly, if only because we will be able to sell our network technologies globally."
Commissioner Oettinger will host a global workshop on 5G standards and spectrum with representatives from the US, South Korea, Japan and China during the ICT-2015 conference in Lisbon on at the end of October.
Email Newsletters
Sign up to receive TelecomTV's top news and videos, plus exclusive subscriber-only content direct to your inbox.