Ericsson projects 550m 5G subs by 2022, as it focuses research on the utilities sector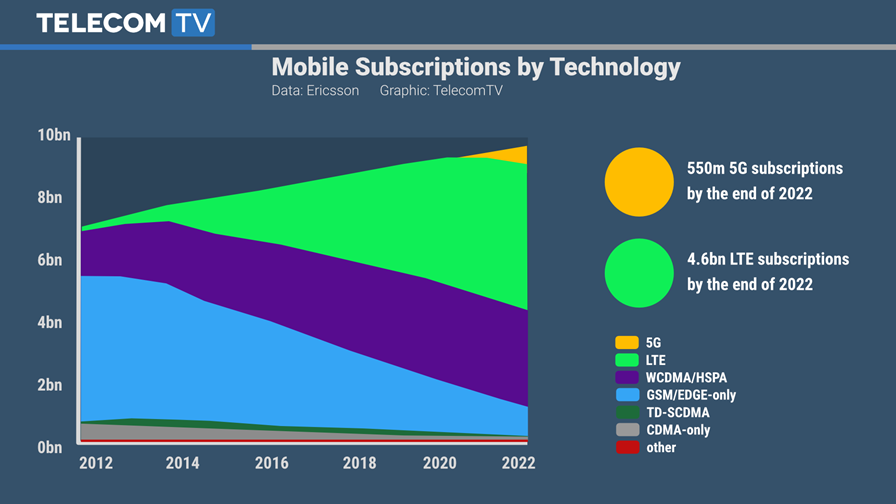 550m 5G subscriptions by 2022, with the highest penetration in North America
29bn connected devices by 2022, of which around 18bn will be IoT
Ericsson awarded two Horizon 2020 projects for the utilities sector
SUCCESS and RE-SERVE will develop new 5G solutions for utilities companies
The latest edition of the Ericsson Mobility Report, released this week, forecasts that there will be 550m 5G subscriptions in 2022. North America will lead the way, where a quarter of all mobile subscriptions are forecast to be for 5G in 2022, followed by Asia Pacific with 10 per cent of all subscriptions being 5G. Meanwhile, the MEA region will still be laboriously making the transition from being majority GSM/EDGE to 80 per cent of all subscriptions on WCDMA/HSPA and LTE.
"Almost 90 percent of smartphone subscriptions are on 3G and 4G networks today and standardized 5G networks are expected to be available in 2020," said Ulf Ewaldsson, Chief Strategy and Technology Officer, Ericsson. "We are already seeing a great interest among operators in launching pre-standard 5G networks. 5G will accelerate the digital transformation in many industries, enabling new use cases in areas such as IoT, automation, transport and big data."
By the end of 2016 there will be 3.9bn smartphone subscriptions globally, though by 2022 this is expected to reach 6.8bn, with more than 95 per cent of the subscriptions registered on WCDMA/HSPA, LTE and 5G networks. And lest we forget the humble non-smartphone, Ericsson says there will be 8.9bn mobile subscriptions in total by 2022, of which 90 per cent will be for mobile broadband. Removing multiple subscriptions from the figures, this should leave 6.1bn unique subscribers.
The report also predicts around 29bn connected devices by 2022, of which around 18bn will be related to IoT. There are expected to be around 400m IoT devices with cellular connections at the end of 2016 and that number should reach 1.5bn in 2022, or around 70 per cent of the wide-area category (i.e. 3GPP-based and unlicensed LPWA networks such as Sigfox, LoRa and Ingenu). Ericsson says this growth is due to increased industry focus and 3GPP standardisation of cellular IoT technologies.
Today, LTE's share of cellular IoT devices is a lowly 5 per cent. Declining modem costs, evolving LTE functionality and 5G capabilities are all expected to extend the range of applications for critical IoT deployments.
New Horizon 2020 projects for utilities sector
Ericsson has also announced that it has been awarded two European Commission funded projects as part of the Horizon 2020 Programme, to explore how 5G technologies can be used to solve the challenges faced by the utilities industry.
The SUCCESS project (the EC loves its clever acronyms) is aimed at developing new solutions based on 5G technologies to ensure the security of energy networks and grids with a particular focus on smart metering. The project has 16 partners from industry, academia and utilities and runs until July 2018.
The RE-SERVE project is aimed at developing new techniques and solutions based on 5G technology to assist energy providers with balancing the voltage and frequency of the power grid to maintain a stable power supply to society, while at the same time increasing the proportion of power generated by volatile renewable energy sources such as solar and wind energy. It runs until April 2019.
Ericsson Eurolab in Aachen, Germany, will take the lead on both projects, with Professor Antonello Monti from the RWTH Aachen University as the Technical Manager. ESB Networks, a leading company in the energy and smart metering sectors in Ireland, is a key partner across both projects and will implement trials in the resulting solutions from the projects in their home market. Field trials will also take place in Romania and Italy in collaboration with project partners.
"Future grids will be customer-centric infrastructures: end-users now prosumers will interact with grid operations," said Professor Antonello Monti, Technical Manager, RWTH Aachen University. "RE-SERVE and SUCCESS are two perfectly complementary projects to paint the picture of these futuristic systems. While RE-SERVE will define how the technical interaction should happen, SUCCESS will define how to make sure this interaction is secure, where the end goal is to create a flexible and secure system ready for a carbon-free society."
"With the ongoing transformation of all industries being enabled by 5G, the Internet of Things and Cloud technologies, Ericsson is committed to engaging with leading industry partners in researching and innovating for the world in which everything that can benefit from a connection will be connected," said Charlotta Sund, Head of Customer Group Industry & Society, Ericsson.
Email Newsletters
Stay up to date with the latest industry developments: sign up to receive TelecomTV's top news and videos plus exclusive subscriber-only content direct to your inbox – including our daily news briefing and weekly wrap.