Deutsche Telekom creates 5G test network in central Berlin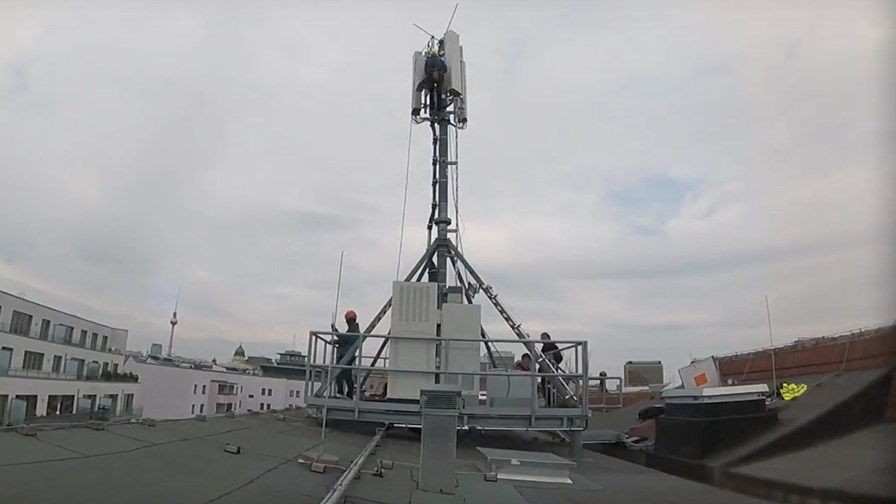 Europe's first 5G data connection in a live network
Six cells with commercial 5G antennas in the centre of Berlin
More than 70 antennas form a 5G cluster from Berlin Mitte to Schöneberg
Clear pathway to the commercial introduction of 5G
Deutsche Telekom this morning set out its plans for testing 5G in Germany ahead of a wider service deployment, reminding us all of its credentials and leadership. It says that the first 5G antennas in Europe to fully support the new 5G NR radio standard are now operating, in real-world conditions, in Deutsche Telekom's network in downtown Berlin – specifically in cells located in Leipziger Straße and Winterfeldtstraße. Using this arrangement, Deutsche Telekom has already demonstrated Europe's first 5G data connection over a live network, and is deploying an entire 5G cluster in the centre of Berlin.
"We're continuing on our strong preparation course for the rollout of 5G in 2020," said Claudia Nemat, Deutsche Telekom Board member for Technology and Innovation. "Today, right in the heart of Berlin, we're taking the next decisive step – with the successful integration of commercial 5G technology into our network. We want to ensure that 5G is going to deliver on its promise of enhanced mobility, high speed and low latency."
Deutsche Telekom's 5G cluster in downtown Berlin will initially span an area of up to 5km in diameter. The first six commercial antennas are now installed in sites in Berlin's Mitte and Schöneberg districts for test operations. An additional 70 cells are to be installed by the middle of this year, across a total of more than 20 sites.
"5G NR in Berlin is another major step towards 5G for all", added Walter Goldenits, CTO at Telekom Deutschland. "This 5G cluster in Berlin will serve as the basis for our future commercial 5G rollout in Germany. The antennas are providing important test results. At the same time, they are real elements of what will be our future 5G network. We are preparing the ground so that our network will be ready when the first 5G-capable smartphones appear on the market."
Currently, the antennas operate over the 3.7GHz spectrum band under a test license from the Bundesnetzagentur. The 3GHz band is recognised in Europe as a major 5G spectrum contender and looks like playing the lead role in early 5G system rollouts. The Berlin testbed runs on commercial 5G equipment from Huawei, as well as 3GPP-compliant software and terminals (using 5GNR in the current non-standalone mode), interconnected with the telco's LTE network.
To accelerate the development of new 5G applications, the telco says it is cooperating with its Berlin-based hub:raum start-up incubator to launch the 5G Prototyping Program. Another related program, focused on low latency, is already underway. Both programs are geared towards application developers seeking to use the strengths of Edge Computing and 5G network performance, and who will now have the opportunity to verify their concepts on a live environment in the 5G cluster in Berlin.
On a final note, Deutsche Telekom reminds us that it has established MobiledgeX, a new subsidiary that aims to tap into the potential of Edge Computing and extremely low latencies.
It is becoming increasingly apparent that the key use case for 5G will likely be focused on connecting Industry 4.0, creating a new post-smartphone paradigm for the industry. Closely tied to this will be edge computing, or MEC. In other words, we are going to see a lot more coverage of "5G+Edge" technology and solutions. TelecomTV will be debating this issue at our next Super Panel around MWC Americas. In the meantime, please take a look at our 5G survey and help us shape our continued coverage of 5G.
Email Newsletters
Sign up to receive TelecomTV's top news and videos, plus exclusive subscriber-only content direct to your inbox.