Build it and someone will monetise it: how 5G-ready are the telcos?
Ericsson's 5G readiness survey explores the actions service providers are taking now and what will be needed to achieve leadership in 5G
While the consumer is still king, the survey points to unexplored opportunities for operators in the industrial and enterprise markets to monetize 5G
Selecting a trusted partner to help operators identify and develop new use cases and expand service opportunities is key to assuring a smooth transition to 5G
There may be a pretty good understanding of the range of technologies being worked on under the 5G banner, but many operators are generally still unsure about how they're going to apply them, what sectors they're going to tackle and what 'monetisation' is going to look like.
That's the overall conclusion drawn from a 5G Readiness Survey recently undertaken by Ericsson following interviews of 50 executives at 29 global operators.
The survey shows that carriers expect that new use cases - mostly IoT/machine to machine - will have to be roped in to make the whole 5G adventure viable in the long run. For many, however, the immediate future is about using the technology to provide faster, more capable consumer services. That's where the known money is and operators want to stay ahead of the bandwidth game and use 5G in the initial stages to maintain their market shares.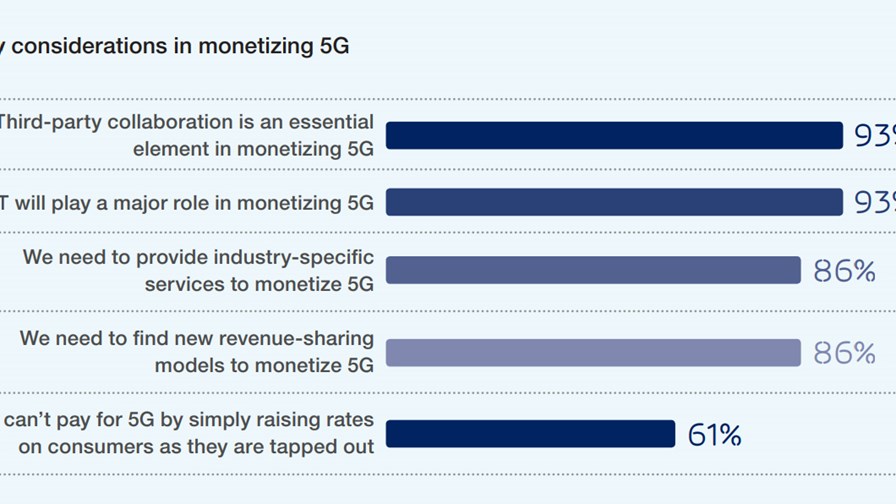 Slightly further out is whole range of known unknowns. For instance, just over half of respondents claim they do have a clear strategy in place for use cases, but they're not quite sure about which industries they're going to tackle and what business models they might use to do so - do they partner and revenue share, acquire vertical specialists to get into IoT markets? all that sort of thing.
Ericsson says about "half (the mobile operators) are in the process of developing strategy for industries (54%) and business models (46%) but haven't yet formulated them."
The kicker is that a "significant minority have yet to start developing a strategy of any type, whether for use cases, industries or business models".
It all sounds slightly cart before horse - the technologies are being developed, but the specific needs have, in many cases, yet to be defined, let alone interpreted into services… but then, it was always thus in telecoms. Build it and they will (eventually) come.
The full survey can be downloaded here
Email Newsletters
Sign up to receive TelecomTV's top news and videos, plus exclusive subscriber-only content direct to your inbox.