Broadcom's expansion plans dashed by Trump: but at least it has a new switch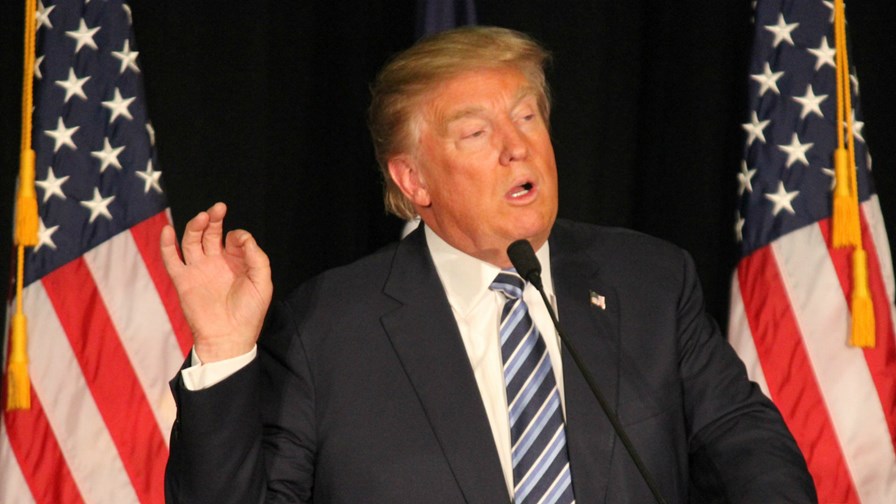 Trump kills Broadcom's bid for Qualcomm
Industry stunned and slightly confused over why Trump has acted
Broadcom's technical life goes on - a powerful Ethernet switch for front haul applications
In the week that Broadcom's bid for Qualcomm appears to have crashed and burned following the intervention of the US president, Broadcom has launched what it claims is a revolutionary addition to the fast-growing technology stack currently being developed to enable 5G.
It claims its Monterey Ethernet switch is the industry's first Ethernet switch built specifically for cellular fronthaul networks. What remains unclear is whether the switch will support actual 5G standards for fronthaul, an issue which may underlie worries about Qualcomm being bought by Broadcom and changing the focus of its research.
Broadcom stresses in all its communications how much store it sets by 5G as the important new market, but fifth generation networking can be defined as a superset of network technologies of which the 3GPP standards makes up an important, but not the only, part. We have reached out to Broadcom for clarification on this but as yet have received no reply (its beleaguered press office is probably busy fielding terabytes of comment requests). If this changes we'll update the story.
Unpresidented action
First, the presidential intervention. The order came yesterday and Trump cited national security concerns, claiming he had credible evidence that Broadcom's ownership of Qualcomm might impair the security of the US.
In the US the move seems to be viewed as yet another protectionist measure from Trump to go with the steel and aluminium tariffs he slapped on last week. But Broadcom had already set in motion the process of 'redomiciliation' - moving the corporate HQ back to the US. Trump's intervention seems to point to a deeper worry - so far unexplained by him, but thought to be an expression of his long-standing distrust and hostility towards China and his apparent need to shore up US defenses against foreign takeovers of US companies due to the alleged appropriation of US technology.
That he felt able to interfere with a complex financial transaction in pursuit of this goal has the US corporate world in a fluster. If he can do this, what else might he do? What effect will it have on America's commercial standing in the world, particularly in the highly globalised IT industry?
Still, he may not have to explain since he tends to obscure one heavily criticised presidential move by coming up with another headline-grabber to knock the first one off the front pages. That has already happened with the firing of Secretary of State, Rex (King no more) Tillerson, whether the furore over the Broadcom intervention will be killed off so easily is too early to say, especially as Broadcom may have more to say (and litigate) on the matter.
Broadcom's big switch
The Monterey Ethernet switch is a good example of where non-3GPP protocols, in particular those built around IEEE standards, might be brought into play simply because they provide the best economics by adopting the commodity underpinnings enjoyed in the IT world. In this case Broadcom's Ethernet switching engine which takes advantage of commodity silicon and the existing Broadcom APIs and software tools. Broadcom claims this enables cellular-system designers to leverage the merchant-silicon-based Ethernet ecosystem.
The reason an Ethernet switch hasn't been used before for front haul applications, claims Broadcom, is because it couldn't naturally satisfy synchronisation and jitter requirements for CPRI-to-Ethernet bridging (CPRI is the accepted internal interface between radio base station and radio equipment control).
However the Monterey Ethernet switch and the IEEE's new 802.1CM (Time-Sensitive Networking for Fronthaul) standard provides a synchronization solution that solves this problem. Broadcom claims the cellular network can now be upgraded to an end-to-end Ethernet-based architecture that meets the cost, capacity, and performance requirements of 5G.
"5G will drive an order of magnitude increase in network-bandwidth requirements owing to faster radios and denser networks coupled with larger base stations serving more radios," said Bob Wheeler, principal analyst at The Linley Group. "As a result, the industry is moving away from point-to-point CPRI radio links and towards a switched Ethernet infrastructure based on new protocols like eCPRI and IEEE 1914. Broadcom has developed a unique solution by extending its terabit Ethernet switch to address this new radio fronthaul application by adding support for Ethernet-based 5G radios as well as installed CPRI-based LTE radios."
Email Newsletters
Stay up to date with the latest industry developments: sign up to receive TelecomTV's top news and videos plus exclusive subscriber-only content direct to your inbox – including our daily news briefing and weekly wrap.