Anritsu announces the evolution of the ME7834 protocol test system to support 5G new radio (NR)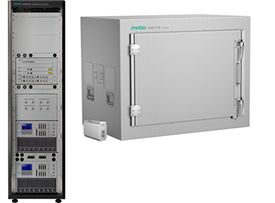 Luton, United Kingdom – August 30, 2018 – Anritsu Corporation is pleased to announce the introduction of the ME7834NR test system to support Protocol Conformance Testing (PCT) and Carrier Acceptance Testing (CAT) of terminals incorporating the 5G New Radio (NR) technology. The ME7834NR will add support for 3GPP TS 38.523 test cases for all configurations of 5G NR, including both Non-Standalone (NSA) and Standalone (SA) modes
Building on the success of the ME7834LA Mobile Device Test Platform, Anritsu's leading-edge product for protocol conformance and acceptance testing, the ME7834NR provides a smooth transition to 5G whilst continuing to support LTE, LTE-Advanced (LTE-A), LTE-A Pro and legacy Universal Mobile Telecommunications System (UMTS) technologies. This enables existing customers to upgrade to 5G whilst capitalizing on a well proven LTE-A test environment and stay abreast of the latest technology evolution.
The ME7834NR Test Platform has already been registered with the Global Certification Forum (GCF) in readiness for 5G test case validations. It can be identified as GCF Test Platform TP251. The ME7834NR will also be made available for PCS Type Certification Review Board (PTCRB) certifications. In addition to supporting all existing technologies, the ME7834NR system covers the full range of 5G frequency bands defined by 3GPP including sub-6 GHz and millimeter Wave (24 GHz and above) when combined with Anritsu's new OTA chamber, MA8171A.
Mr. Tsutomu Tokuke, General Manager of Mobile Solutions Division said: "By introducing the ME7834NR, Anritsu has demonstrated continued commitment to the mobile industry by providing leading edge test solutions to facilitate early launch of new technologies like 5G NR. We are also assuring our existing ME7834 customers that their investment in our products is secured for the long term."
This content extract was originally sourced from an external website (
Anritsu News
) and is the copyright of the external website owner. TelecomTV is not responsible for the content of external websites.
Legal Notices
Email Newsletters
Sign up to receive TelecomTV's top news and videos, plus exclusive subscriber-only content direct to your inbox.