Anritsu and Samsung achieves 5G NR full stack IODT with MT8000A platform
Radio Communication Test Station MT8000A supports 5G NR UE development for smooth rollout of 5G services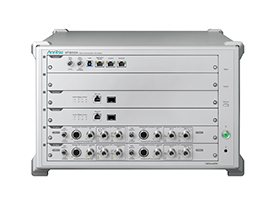 Luton, United Kingdom – October 17, 2018 - Anritsu Corporation, a leading supplier of mobile communications test technology, is pleased to announce that Samsung's System LSI Business has successfully completed 5G NR full stack IODT (Interoperability Development Testing) with their recently announced Exynos Modem 5100 using Anritsu's market-leading Radio Communication Test Station MT8000A and protocol test/RF measurement software.
This demonstrates Anritsu's support for full stack connectivity testing with Samsung's 5G NR UE modem, helping 5G NR UE development for early rollout of 5G services.
Anritsu's MT8000A platform enables protocol testing and RF measurement of leading-edge technologies for 5G NR more flexible and faster than other solutions. Anritsu's Rapid Test Designer (RTD) solution for GUI-based protocol tests simulates various protocol sequences and parameters for both 5G NR and LTE-Advanced (LTE-A), as well as for existing legacy technologies. Now, both UE modem and UE device manufacturers alike can access leading-edge 5G and 4G tests with a single solution, helping development teams work together to achieve cost-efficient testing and timely real-world 5G and 4G deployment.
"Anritsu delivers ideal test solutions for our leading-edge 5G technology," said Woonhaing Hur, Vice President of System LSI Protocol Development at Samsung Electronics. "Anritsu's solutions have helped us evolve our 5G implementation quickly and have been a major contributor to our advancements in 5G, as in the LTE-A device market."

"Anritsu is delighted that Samsung continues to rely on Anritsu for verifying implementation of leading-edge capability in its devices," said Yoshiyuki Amano, Anritsu's Vice President. "This joint collaboration shows once again how Anritsu delivers leading technologies helping 5G mobile device manufacturers reduce their product launch times—a critical factor for success in this intensely competitive market."
This content extract was originally sourced from an external website (
Anritsu News
) and is the copyright of the external website owner. TelecomTV is not responsible for the content of external websites.
Legal Notices
Email Newsletters
Sign up to receive TelecomTV's top news and videos, plus exclusive subscriber-only content direct to your inbox.