An F for the Gs: 5G discontent surfaces for 2023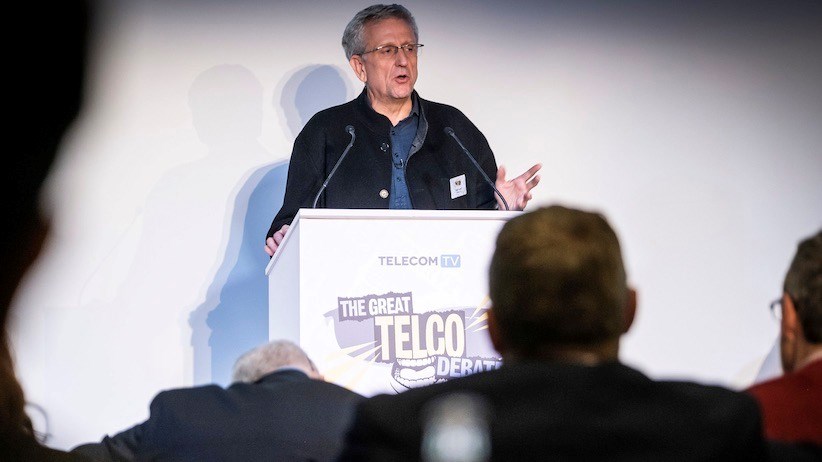 The cloud natives are revolting against what they see as the straight-jacket imposed by the 3GPP's 10-year mobile standards cycle
With 5G still far from mature and often defined by hardware design, many in the telecom industry are urging a more flexible, modular and incremental standards schedule in future, based, where possible, on software and standardised silicon
They also want less complexity, more automation and more network interoperability. Can the ecosystem deliver?
There was a distinct end-of-term atmosphere at TelecomTV's most recent Great Telco Debate, held in London last month. Along with the traditional pre-Christmas frivolity, came an urge to stick the knife into any telecom sacred cow that might wander carelessly into the discussion.
The first ruminant to cop it was the industry's 10-year G (mobile standards generation) cycle, of which 5G is the current, with 6G looming. Appledore Research principal analyst Francis Haysom stabbed first: "Is it now time to abandon the Gs?" he asked.
It seemed many in the room agreed. Neil McCrae, who was still BT's network architect at the time (he has since left the UK operator), added his voice, exclaiming: "No more Gs!"
Why are we seeing this polite rebellion against what many regard, rightly or wrongly, as the mainspring for telecoms innovation and investment?
For telcos, today's big problem is profitability. 5G was supposed to provide a boost by furnishing the networks with more and faster low-latency bandwidth upon which to develop valuable enterprise applications. Although it's still early days, there are few signs that the sought-after killer applications are lining up on the 5G starting blocks. In essence, 5G has not performed as hyped and many delegates at The Great Telco Debate were looking for ways to "better align the cellular technology standards with both telco and user requirements" in the hope of better returns in future.
So what has gone wrong? What aspects of 5G – its build-up, promotion and its trajectory towards 6G – need a major rethink?
Getting the bandwidth demand calculation right is probably a good place to start. 5G (and indeed all the Gs) were predicated on the notion of a sustained and fairly predictable global increase in demand for bandwidth. That originally made the ROI calculations behind the eye-wateringly expensive rollouts of new generations of mobile technology stack up. But it now looks as though mobile bandwidth consumption is beginning to plateau, and that spells trouble.
According to wireless expert William Webb – who has combined an academic career with stints at PA Consulting Group and Ofcom, and somehow made time to co-found Cambridge, UK-based wireless company Neul – the end of the mobile data growth era is nigh. He points to research that shows growth rates across most countries are slowing down to around 15% to 20%, a far cry, he writes, from the era of 40% or 50% annual growth rates. Webb predicts further data consumption reductions, accompanied by a softening in average revenue per user (ARPU) numbers, plus a combination of nasties – global inflation, power consumption costs, and changes in access device behaviour amongst them. All of this will put pressure on telco profitability.
Such forces are likely to see data consumption figures plateau in the UK by 2027 and the underlying reason is obvious: "Absent any new way of using our phones, then the most data-intensive usage is video, and there are only so many hours a day when anyone wants to watch video on a mobile device," said Webb. "Of course, radical new applications are always possible, but none are likely for mass adoption in the next few years."
It may sound dire, but a data plateau has its upsides. Operators already wallowing in spectrum have only to double capacity up to 2027, a feat easily achievable with the spectrum most already hold, claimed Webb. Operators, he says, need to batten down the hatches and respond to developments on the demand side as they occur – at least in the medium term.
But in the longer term there's no doubt that the Gs, and the expectation of increasing data demand around which 5G was designed, make it ever harder to respond to changes in telcos' target markets and the needs of their customers.
According to Diego Lopez, senior technology expert at Telefónica, "This game of the Gs was applicable 14 years ago," but he believes the standards process is now an "enormous problem and stops us from having a healthy innovation ecosystem."
McCrae added, "We must learn from the past… Let's not have standards that define the design [and] that take us too long to implement. 5G has been a disaster in that regard. What's the point of [us all] working to a hardware cycle?" he asked. "I believe we have to move to a model where we are constantly innovating… otherwise why are we doing software? What's the point? If we've done all the software adaptation and we're still going to work to a hardware cycle… That seems nuts to me."
The hope now is that the industry will throw out the Gs and introduce a more granular pick-and-mix standards schedule that works on shorter timescales. Importantly, such a radical change must be marketed as a beneficial approach for the entire ecosystem. So, rather than trying to excite customers into funding big bang generational changes through new smartphone purchases and broadband service upgrades, a smoother and more sustainable ethos based on upgrades, rather than expensive and 'bigger, faster, better' kit swap-outs, must be seen as the way ahead.
Email Newsletters
Sign up to receive TelecomTV's top news and videos, plus exclusive subscriber-only content direct to your inbox.