5G handsets too expensive for users? Vendors beware of the Profit Drain Zone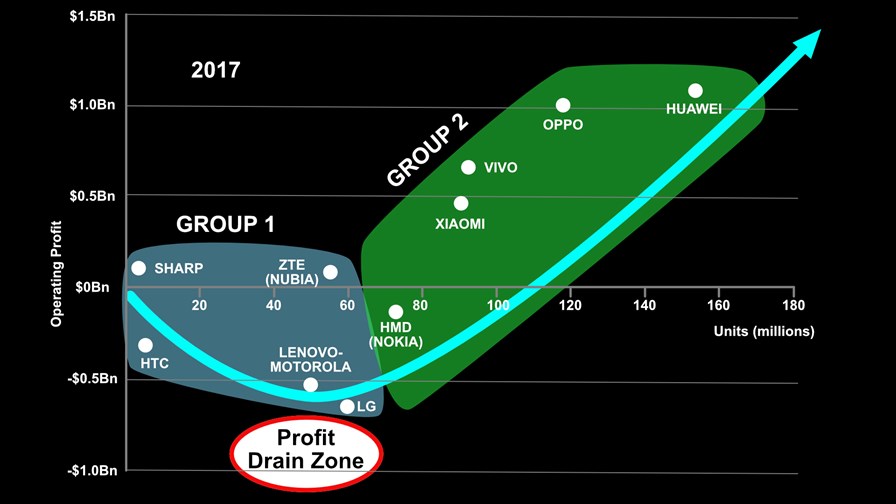 Strategy Analytics believes that 5G handsets will require subsidies
5G device prices will limit adoption in the short term
However, the major device vendors will face disruption
5G Android smartphones from Samsung and Huawei will cost over $1,000
Who thought Apple's latest smartphones were too expense with their price tags of over $1,000? The fact is, this could herald a new period of highly-priced mobile devices, if reports about the cost of next generation 5G handsets proves to be accurate. A new research report from Strategy Analytics predicts that 5G smartphones will carry wholesale costs of more than $750 when they are introduced in 2019, translating to retail prices of as much as $1,000 or more.
The analyst firm adds that 5G device prices will decline at a much slower pace compared to 3G and 4G handsets, and that subsidies will be necessary to make 5G smartphones affordable to the mass market. Given that 5G consumer services will struggle to command a premium price over 4G alternatives (who really wants to pay more for a slightly faster mobile broadband experience?), the report adds even more pressure on CSPs to make the correct investment calls on 5G deployments.
Strategy Analytics also argues that the transition to 5G will result in a reordering of the current list of top smartphone manufacturers, just as happened with 2G, 3G and 4G. It advises vendors to strive to be global and minimise market specific SKUs where possible, building from a global platform or be local, focused and niche. The so-called "profit drain zone" is positioned at the bottom of the U-curve on the graph above, with volume between 40 and 60 million where profits are almost impossible to realise.
"5G has many more risks than rewards for most vendors in the short term," said Ville-Petteri Ukonaho, senior analyst at Strategy Analytics. "We believe caution about the speed of 5G ramp up and slope of the price/performance curve for devices is critical. Unlike current generation smartphones, 5G devices will require a number of changes in order to provide the best performance, including new chipsets and additional antennas. 5G devices will be the most complex and expensive ever."
The company says Lenovo-Motorola, LG and ZTE are amongst those vendors in "perilous positions" and must carefully execute a pragmatic 5G strategy or risk suffering major losses. Even Samsung and Huawei each have challenges to maintain growth with 5G due to their limited presence in China and USA respectively.
"It requires magical thinking to expect that consumers are going to rush to buy 5G smartphones that are bigger, and more expensive than any phone that they've ever bought before," said Ken Hyers, Director of Emerging Device Technologies. "Only 9 per cent of Chinese customers, for example, buy phones whose wholesale prices start at $500 and up. Without scale from China to drive device prices lower, can 5G forecasts from operators and device vendors really live up to their lofty ambitions? Slower uptake is a real threat unless someone closes the gap to 4G performance."
Here at TelecomTV we're not the same logic applies to Apple and its iPhone range, as despite all the pessimistic warnings, the company still manages to attract huge numbers of buyers for whatever flagship device it puts out and at whatever price point – the iPhone XS Max being a case in point. The presence of a 5G NR modem (whenever that happens) would probably be of less interest to Apple buyers than improvements to the camera and a new colour scheme.
Meanwhile, the smart 5G play for CSPs is to either venture into fixed wireless access use cases or tread water until 5G-enabled Edge deployments are up to scratch and ready to start offering a new generation of enterprise-focused agile services. The profit in eMBB use cases remains as elusive as ever.
Email Newsletters
Sign up to receive TelecomTV's top news and videos, plus exclusive subscriber-only content direct to your inbox.